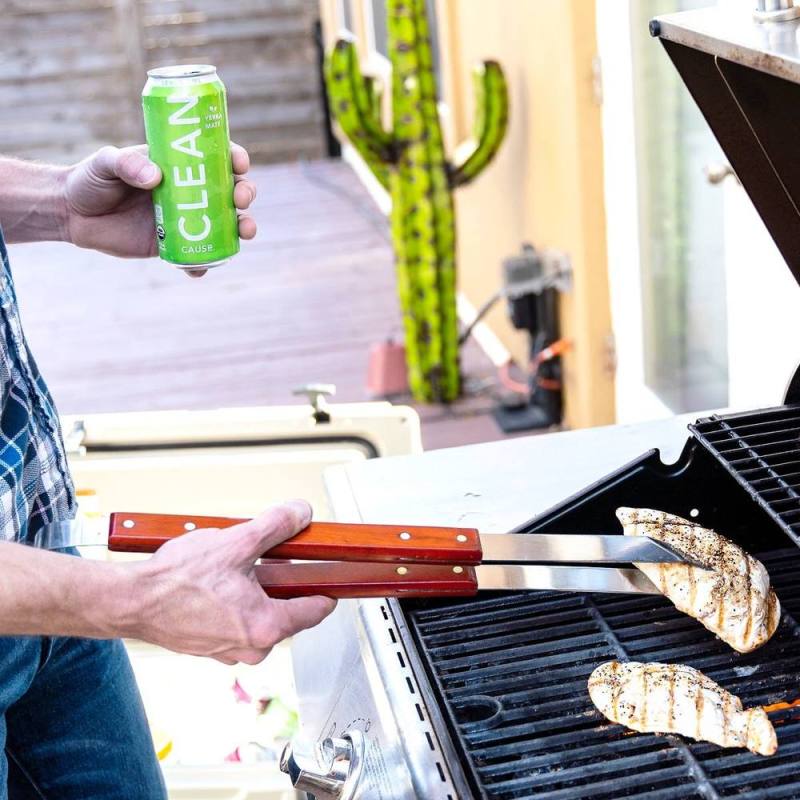 Unfortunately, we've probably all experienced jet lag — that dreaded exhaustion from traveling that threatens to steal all of our precious vacation time. I remember the first time I experienced true jet lag after a 10-hour flight to Hawaii. We arrived to the most beautiful scenery my eyes have ever experienced, yet I truly couldn't keep them open and the exhaustion was so extreme I felt sick. Sadly, I skipped the first night's events to sleep and vowed to be more prepared for jet lag in the future.
Since then, I've tried many jet lag remedies. I'm not someone that can sleep well on a plane, so most involved consuming an above-recommended amount of caffeine. While it solved the issue short term, I hated the jittery, anxious feeling, followed by the subsequent crash. I also hated consuming all the artificial ingredients that, without fail, would upset my stomach.
That's why when I first heard about CLEAN Cause energy drinks, I was a bit skeptical. So far, I'd had the same over-caffeinated, upset stomach feeling from the popular energy drink brands. But, after reading about Clean Cause's emphasis on natural ingredients, I decided to give it a shot — and whoa, talk about a difference! Finally, someone figured out the formula for a clean boost of energy without all the side effects.
CLEAN Cause Energy Drinks
CLEAN Cause energy drinks feel different because they truly are. The 160mg of caffeine in one drink is equal to about two cups of coffee, so the boost is there without going overboard. My husband and I took a case of 12 cans, 16 ounces each, with us on our last 12-hour road trip and, while we didn't need a jet lag cure, we needed to simply stay awake! CLEAN had our backs and we enjoyed ourselves: alert but not agitated, and neither of us experienced a crippling crash.
CLEAN Cause Ingredients
While most popular drinks are full of sugar and lab-manufactured ingredients, the additives in CLEAN are organic and actually pronounceable. The drinks' main ingredient is sparkling water, which provides a crisp and refreshing flavor.
Speaking of flavor, the company currently offer nine organically produced flavors, including creative tastes like Watermelon Mint and Orange Ginger (but CLEAN offers basic flavors like Raspberry and Lemon Lime, too). The creators of CLEAN offer both low sugar and no sugar options, but even with the low sugar drinks use only organic cane sugar.
Organic Yerba Mate
One of the main active ingredients in CLEAN Cause is yerba mate, a plant native to South America often made into tea for human consumption thanks to the many natural health benefits. Yerba mate is rich in nutrients, including saponins (an anti-inflammatory), polyphenols (a dietary antioxidant), caffeoyl derivatives (also an antioxidant), and — most importantly — xanthines (a natural stimulant). The xanthines, which are often also found in things like chocolate, contain caffeine to produce the organic boost. Yerba mate also includes seven of the nine amino acids and multiple vitamins and minerals, although in lower doses, to aid in health overall.
How CLEAN Helps The Cause
In case you need more of a reason to love CLEAN Cause beyond the energy boost, the company truly backs the "Cause" in its name. In fact, 50% of all profits go directly to assisting individuals with overcoming drug and alcohol abuse. CLEAN donates these funds to Sober Living Scholarships, called "CLEAN Kickstarts". The scholarships support recovering addicts following their rehab and as they reintegrate into society sober. In doing so, they provide a supportive, understanding, and safe environment while helping people get back on their feet through gainful employment and encouraging them into a healthy life routine.
Support the Cause today and try CLEAN energy for yourself. TravelAwaits readers save 10% with code: WELCOME10.