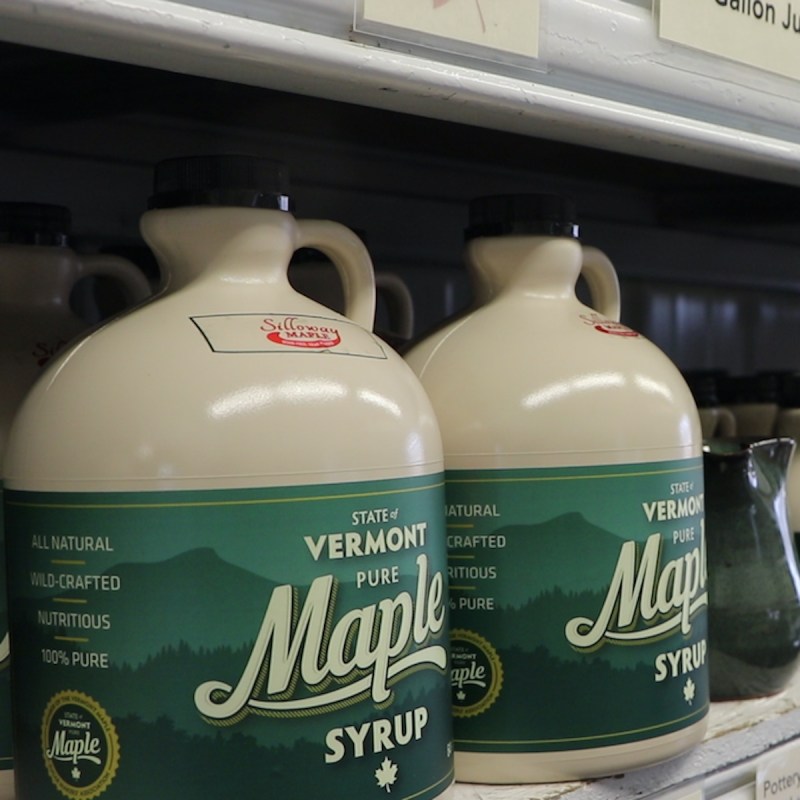 When you think about maple syrup, you may immediately picture a thick, sticky, amber-colored liquid being poured over a tall stack of pancakes. And while this naturally gluten-free and vegan-approved sweetener is best known for slowly cascading down the side of a popular breakfast dish, the syrup produced from tree sap is so much more.
For starters, maple syrup naturally includes vitamins and minerals like manganese (good for your brain and nervous system), riboflavin (a B vitamin that helps your body metabolize fats and proteins), and magnesium (which helps regulate your nervous system). While maple syrup is still a sugar (and should therefore be consumed in moderation to maintain a healthy lifestyle), it's important to note that other common sweeteners, like corn syrup, honey, brown sugar, and white sugar have essentially no health benefits.
From glazing a ham to dressing up a salad, you may already have several favorite recipes that feature Vermont maple syrup. But these Vermont-made maple syrup products can open new horizons for your taste buds.
Note: Locations that produce the delicious and unique maple syrup items listed below are shared in clockwise order from Burlington, Vermont's largest city.
1. Maple Popcorn, Maple City Candy, Swanton
Using locally produced maple syrup, Maple City Candy spins the amber-colored liquid into a variety of confections. Enjoy maple leaf-shaped hard candies, moose-shaped lollipops, and chocolate maple bark when you visit their gift shop on Brooklyn St. in Swanton. But if you like caramel corn, you'll love their maple popcorn.
Pro Tip: If you need to walk off a few calories after enjoying these delicious maple syrup products, these are the most stunning hikes in Vermont.
2. Maple Buffalo Sauce, Branon Family Maple Orchards, Fairfield
About 40 miles north of Burlington, the trees in the Branon family maple orchards have been in the family for seven generations. Branon family maple syrup is tapped, collected, and produced following Vermont organic standards, and their woods have been deemed bird friendly by the Vermont Audubon Society.
One of my favorite maple syrup products at Branon Family Maple Orchards is the maple buffalo sauce. With the perfect balance of spicy and sweet, my family loves using it to make buffalo nachos by baking layers of blue corn tortilla chips, chunks of chicken breast, and shredded cheese for about 10 minutes at 400 degrees F. As soon as the pan comes out of the oven, we sprinkle blue cheese crumbles, diced celery, thinly sliced green onions, and cilantro over the top and then drizzle maple buffalo sauce and ranch dressing over the entire dish.
Pro Tip: Maple syrup fans will love the Branon Family's Maple to Go! This resealable pouch fits in the palm of your hand and is perfect for campers, hikers, and travelers who love maple syrup.
3. Jed's Maple Mudd, Jed's Maple Products, Derby
You'll find Jed's Maple Products nestled on 110 acres of mapled forest, where the Wheeler Family has been making pure Vermont maple syrup for six generations. Of course you'll find delicious organic syrup in everything from glass maple leaf bottles to half-gallon jugs in their shop near Lake Derby. But you'll also discover several infused syrup flavors, including bourbon, cinnamon, vanilla, and habanero.
But my favorite Vermont maple syrup item at Jed's is the maple mudd, made using an old family recipe. Although it's technically an ice cream topping, this maple syrup-sweetened peanut butter sauce can be enjoyed in so many other ways. Use it as a dip for sliced apples, or spread it on toast or waffles. My family also enjoys drizzling a spoonful (or two) into unsweetened yogurt and adding a handful of granola and fresh berries for a quick breakfast or afternoon snack. And if you like chocolate added to all things peanut butter, pick up a jar of Jed's Chocolate Maple Mudd as well! Both Jed's regular mudd and his chocolate variety are made with certified organic ingredients and can be shipped anywhere in the U.S.
Pro Tip: If you think about maple syrup using educational system grades of A, B, and C, that's so 2013. The alphabet ratings were overhauled in 2014 to this new, more descriptive classification system.
4. VT Maple Wicked Peppa', The Vermont Maple Farm, West Topsham
You may not think to pair maple syrup with eggs, but I promise you that the VT Maple Wicked Peppa' from The Vermont Maple Farm will immediately change your mind. Made with certified organic, 100% pure Vermont maple syrup produced at The Vermont Maple Farm, this spice mix is the perfect blend of sweet, salty, and spicy, and it's wicked good on my eggs each morning.
The original Wicked Peppa' is a blend of maple sugar, black pepper, and Himalayan sea salt. There's also a garlic Wicked Peppa' that adds granulated garlic into the mix. But my absolute favorite is the spicy Wicked Peppa' that includes red chile pepper flakes.
In addition to sprinkling your favorite Wicked Peppa' blend over eggs, try it on anything you grill — burgers, steaks, or fish — or sprinkled over buttered corn on the cob.
Fun Fact: Maple syrup is such a big deal in Vermont that it was named the official state flavor in 1994. Yes, it's the only state with an official flavor!
5. Vermont Maple Caramel Sauce, Fat Toad Farm, Brookfield
In Brookfield, Vermont, Fat Toad Farm slowly stirs goat's milk into small batches of velvety caramel sauce. Flavors include salted bourbon, cold brew coffee, cinnamon, Irish whiskey cream, and spicy dark chocolate — and, of course, Vermont maple. No Vermont-based specialty food company worth its weight in sap could get by without a maple syrup flavor. Cold Hollow maple syrup provides the not-too-sweet maple goodness that makes this goat's milk caramel sauce a deliciously unique Vermont maple syrup product.
Fun Fact: It takes about 40 gallons of sap to make one gallon of pure Vermont maple syrup.
6. Pure Maple Granulated Sugar, Silloway Maple, Randolph Center
The Silloway family has been sugaring maples in Randolph Center since the 1940s and produces everything from bourbon barrel-aged maple syrup to maple sugar-coated nuts (plus pure Vermont maple syrup, of course). One of the easiest ways to satisfy your sweet tooth (but tap into the vitamins and minerals that occur naturally in maple syrup) is to substitute Silloway Maple pure maple granulated sugar for granulated cane sugar in your favorite recipes. To make the switch, it's a simple one-to-one swap. So if you want to make Ina Garten's blueberry coffee cake muffins using maple sugar, simply substitute one and a half cups of sugar with one and a half cups of maple sugar.
Pro Tip: You can also swap Vermont maple syrup for brown sugar, honey, and corn syrup in many recipes. While you may need to make modifications to get the recipe adjusted to your liking, the general rule is to use a three-fourths cup of maple syrup for each cup of other sweetener. I substitute one-third of a cup of Vermont maple syrup in lieu of the two tablespoons of brown sugar and one-third of a cup of honey in my favorite granola recipe. (I also omit the dried cranberries because they are gross, but that's a different story … )
7. No. 14 Bourbon, Vermont Spirits, Quechee
After pouring maple syrup over pancakes at breakfast, snacking on maple popcorn, seasoning your entree with Wicked Peppa,' and exploring beautiful Vermont, you'll likely need a maple syrup-flavored nightcap. And Vermont Spirits in Quechee is ready to make your day!
Their smooth No. 14 bourbon is softened by the natural sweetness of maple syrup and is perfect to sip solo, stir or shake into a cocktail. Try No. 14 bourbon in a maple bourbon milkshake or in a peachy bourbon smash. Our family is old fashioned and loves sipping Vermont Spirits' maple bourbon in this classic cocktail using orange bitters and garnishing with a Luxardo maraschino cherry.
Pro Tip: Quechee is one of several quaint Vermont towns you won't want to miss when you explore The Green Mountain State.
8. Maple Creemee, Mildred's Dairy Bar, Weston
No trip to Vermont is complete without a maple creemee, and one of the best places to enjoy this sweet treat is at Mildred's Dairy Bar. If you haven't tried a maple creemee before, it masterfully blends Vermont's two most famous food products — sweet maple syrup and rich cream — into soft-serve ice cream that is swirled into a sugar or waffle cone.
Fun Fact: Not only is a maple creemee sweetened with a better option than cane sugar, like most soft-serve ice creams, it's also lower in fat than another famous Vermont-based ice cream company's offerings.
From spice blends to sugared nuts and from ice cream toppings to smooth bourbon poured over ice, these eight Vermont maple syrup items will show your taste buds that Vermont's state flavor is more than a pancake topping.