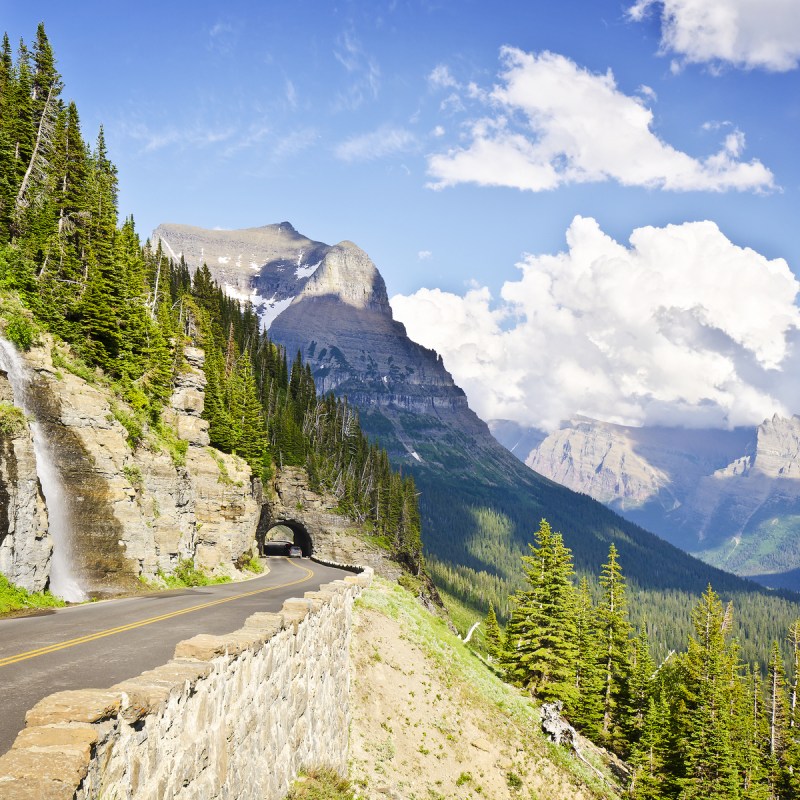 National parks and I go way back. One of my very first memories is riding in the backseat of the family car on a road trip to North Dakota's Theodore Roosevelt National Park. It was likely my first family trip, and certainly my first time at a national park.
I vaguely remember being captivated by the park's prairie dog town, and ever since then I've been smitten with national parks. Over the years, I've visited as many as possible, often taking multi-day road trips to get there.
At this point, I have visited about half of the 63 national parks in the United States — and a few in Canada. I have realized that, although I've loved moments in every one of them, there are a few experiences that stand out — those times when you pinch yourself, take a deep breath, and realize that you're doing your heart good.
As a life-long national park lover, here are 10 of my favorite experiences.
1. Red Bus Tour, Glacier National Park
It didn't take long into my Red Bus Tour drive along Glacier National Park's Going-to-the-Sun Road to realize that I was on a special excursion. There was something about the combination of those sleek vintage buses, the unbelievably beautiful scenery outside, and the fun camaraderie inside that made for a wonderfully enjoyable national park experience.
I took the Western Alpine tour that started at the park's Lake McDonald Valley and climbed the stunning roadway to Glacier Park's Logan Pass. Having never driven the Going-to-the-Sun Road before, the tour was a revelation.
A big part of the fun is the informative narration and entertaining banter from the driver. Later, I was fascinated to read TravelAwaits writer Mike Owens's story Why I Spend My Summers As A Glacier Red Bus Driver.
2. Ribbon Falls, Grand Canyon National Park
For much of my adult life, I've lived about two hours from the Grand Canyon National Park — in my mind, the epitome of a U.S. national park. I've had all sorts of hiking, dining, and camping experiences at the Grand Canyon over the years, but the one that really sticks with me is standing beneath the cascading water of Ribbon Falls, deep in the canyon.
A visit to Ribbon Falls is far from easy — it requires a hike from either the Canyon's South Rim or North Rim — both extremely strenuous hikes that amount to roundtrips of between 14 and 28 miles and thousands of feet in elevation.
Still, if you are set on a Rim-to-Rim hike through the Grand Canyon and have done the training and planning, my advice is to make the mile-long detour to Ribbon Falls.
Pro Tip: For tips on the iconic Rim-to-Rim hike, see my story, 11 Things To Know Before Hiking Rim To Rim In The Grand Canyon.
3. Sunrise Over A Volcano, Haleakala National Park
Despite the chilly temperatures, the gusty winds, and the cold mist — or maybe because of them — I simply loved watching the sunrise from the Haleakala National Park's 10,000-foot-summit volcano in Maui, Hawaii.
Getting there takes some pre-planning, because a reservation is required, and tickets become available 60 days in advance. You also need to arrive at the summit well before sunrise (occurring between 5:45 and 6:30 a.m., depending on the time of year).
Pro Tip: I headed out at 3 a.m. and made it in time to get a good spot for the eerily beautiful sunrise. For ideas on how to spend the rest of the day, see A Day At Haleakala National Park, From Sunrise To Sunset.
4. Sunset Over The Dunes, White Sands National Park
Speaking of the sun, its evening presentation at White Sands National Park in southern New Mexico is equally spectacular.
On my recent visit to the park, I and hundreds of other visitors spread out over the ghostly white sand dunes to watch the sun slowly slide toward the horizon. Sitting high on a dune, facing the rugged San Andres Mountains to the west, is one of my new favorite national park moments, and it is among the 9 Best Experiences At New Mexico's White Sands National Park.
Pro Tip: Check online ahead of time for the sunset time and stake out a viewing spot an hour or so beforehand.
5. Prince Of Wales, Waterton Lakes National Park
I find it hard to resist a unique historic hotel when I'm traveling, and the Prince of Wales in Alberta, Canada's Waterton Lakes National Park fits the description and I decided that I had to spend a night at this picturesque 1927–era railroad hotel.
Add in the stunning lake views and the great hiking nearby, and you have the makings of an unforgettable stay. From the sound of a harpist playing in the lobby to the fabulous dinner in the lakeside Royal Stewart Dining Room and the morning hike overlooking the hotel, for me, the Prince of Wales lived up to the hype.
Pro Tip: Other ideas on what to do in this gorgeous national park are available in my story Exploring Waterton Lakes National Park, Canada's Best-Kept Secret.
6. Vernal Falls Mist Trail, Yosemite National Park
There was something about the name — the Mist Trail — that intrigued me immediately as I was planning my trip to California's Yosemite National Park. The hike turned out to be even cooler than I anticipated. As you near the overlook to Vernal Falls, you are greeted by a wonderfully refreshing mist.
Even though the falls were relatively tame during my September visit, the hike was a highpoint for me in a park known for its pinnacles.
7. Strolling Sand Beach, Acadia National Park
There are so many things to love about Maine's Acadia National Park that I have a difficult time choosing just one experience. But when it comes to pure pleasure, I would have to go with a walk on the lovely Sand Beach.
I visited Acadia in early May a few years back, and the timing turned out to be advantageous for several reasons. Even though the park was just opening up after the winter season, most of its attractions were open, but relatively free of crowds. That allowed me to have the usually busy Sand Beach virtually to myself for a long leisurely walk.
Pro Tip: Ideas about Acadia and its gateway town of Bar Harbor are available in the stories How To Spend A Day In Acadia National Park and The Best Time To Visit Bar Harbor, Maine.
8. Driving The North Unit Scenic Route, Theodore Roosevelt National Park
Over the years, I've returned many times to the site of my first national park visit at Theodore Roosevelt National Park. But it wasn't until a few years ago that I ventured beyond the popular and easily accessible South Unit to the park's out-of-the-way North Unit.
From the bison grazing alongside the road to the multi-colored buttes of the badlands and the wildflowers that bordered the road, I found the drive to be simply splendid.
Pro Tip: For other things to enjoy in this ruggedly beautiful park, see 8 Reasons To Fall In Love With Theodore Roosevelt National Park.
9. Walking Badwater Flat, Death Valley National Park
I love a national park that offers an experience unlike any other. That was the case with my walk across Badwater Salt Flat at California's Death Valley National Park.
In the midst of an unusually hot April (even for Death Valley), I experienced an unforgettable early-morning walk through the surreal ridges of the salt flat.
Pro Tip: For more otherworldly experiences in the park, see 9 Death Valley Hikes With The Best Views.
10. Finishing Angels Landing, Zion National Park
I say finishing the hike because, although Angels Landing in Utah's Zion National Park is completely amazing, it was the feeling of relief and accomplishment I felt after descending the spiny ridgeline that I remember most about the hike.
The Angels Landing Trail is known for its long climb up the steep ridgeline, sometimes aided by chains and sometimes featuring brief exposed chasms on both sides.
Pro Tip: Angels Land is known as a bucket list-worthy hike, and it attracts thrill seekers from around the world. For preparation tips, see 12 Things To Know Before Hiking Angels Landing.