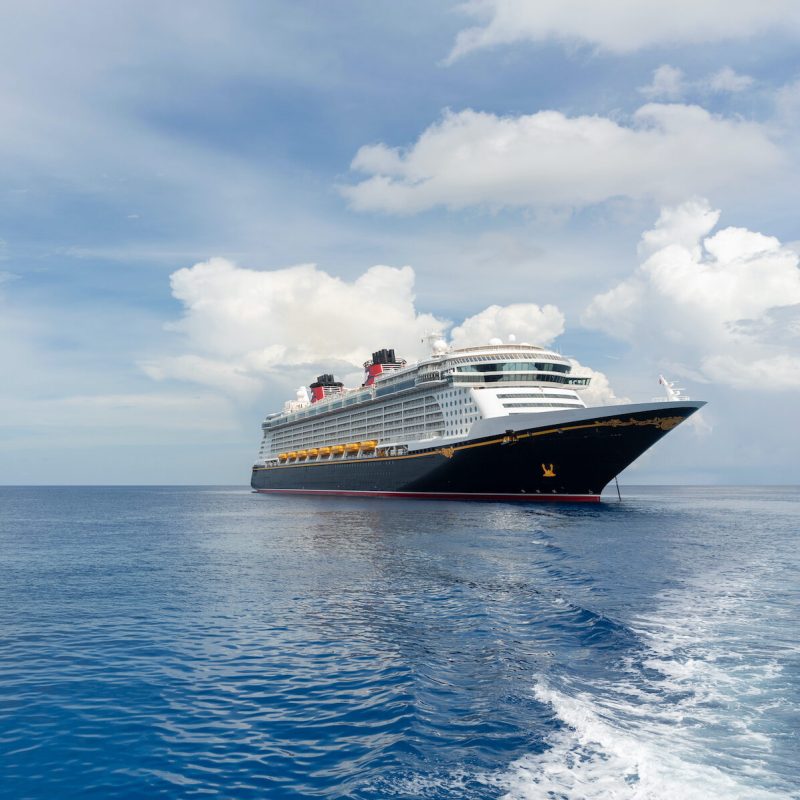 After pausing cruise ship operations more than 16 months ago when COVID-19 disrupted travel worldwide, Disney Cruise Line will once again sail from a U.S. port beginning August 9.
The Disney Dream will resume voyages from Florida departing from Port Canaveral. The 3- and 4-night cruises will visit Disney's private island, Disney Castaway Cay in the Bahamas.
Disney Encourages Passengers To Get Vaccinated
Passengers are not required to be vaccinated against COVID-19 in order to sail on the Disney Dream, however, the company is "strongly" encouraging travelers to do so.
Unvaccinated passengers will need to provide proof of a negative COVID-19 PCR test (paid for by the passenger) taken between 5 days and 24 hour hours prior to the sail date, says Disney.
Unvaccinated passengers will also need to take a rapid PCR COVID-19 test at the cruise terminal on the day of embarkation. Any guests with positive results, as well as those in their travel party, will be denied boarding. Guests who are 12 and up will have a $65 fee charged to their folio for this day-of-embarkation test.
In addition, all cruise ship passengers who are age 12 and up must obtain travel insurance with a minimum of $10,000 in medical expense coverage and $30,000 coverage for emergency medical evacuation with no COVID-19 exclusions.
Passengers can show proof of vaccination to avoid having to undergo COVID-19 testing. Vaccinated passengers do not have to purchase the required travel insurance.
Face Masks Required Indoors On Ship
All Disney Dream cruise ship passengers ages 2 and up, including those who are fully vaccinated against COVID-19, will be required to wear face coverings indoors, except when in their staterooms or actively eating or drinking. Face coverings are not required for passengers while they're outdoors on board the ship and at Disney Castaway Cay.
Disney notes that "neck gaiters, open-chin triangle bandanas and face coverings containing valves, mesh material or holes of any kind are not acceptable face coverings. Costume masks are not considered appropriate and are prohibited from being worn."
Disney Institutes Other Health And Safety Measures
To promote physical distancing on the ship, Disney is requesting that guests download the latest Disney Cruise Line Navigator App to make advance reservations for experiences such as the kids clubs and adults-only dining. Passengers can use the app to live chat with guest services and use a virtual queue system for disembarkation.
There won't be any close-up character meet-and-greets on board, and signage will remind passengers to keep their distance from others. Capacity will be limited in public spaces such as dining rooms, theaters, and pools.
Disney says that each stateroom has its own air circulation system, so there's no air coming into rooms from adjacent common areas. Each room is cleaned twice daily during the cruise and will undergo "enhanced protocols" in between cruises. High-touch loose soft goods, such as sofa pillows and paper stationery, have been removed from the staterooms.
Considering a Disney cruise? Here's more scoop: