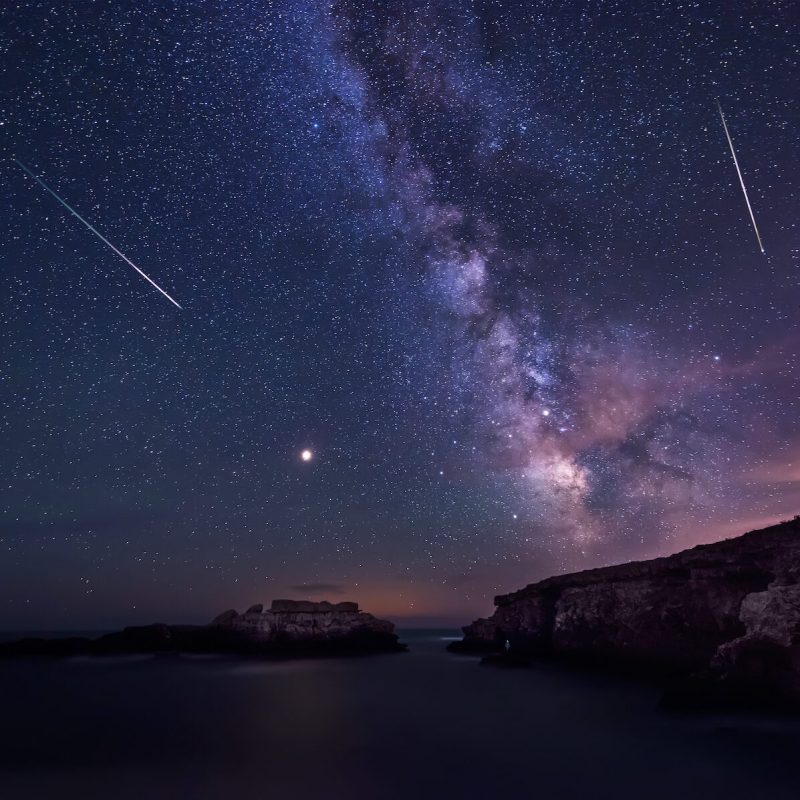 If you enjoy stargazing, you need to mark August 11 and 12 on your calendar. That's because the Perseid meteor shower, which NASA calls the "best meteor shower of the year," will peak in the overnight hours of August 11 and in the pre-dawn hours of August 12.
You can expect to see 50 to 100 meteors shoot across the sky per hour — traveling at 37 miles per second. You may even see fireballs, which are large and bright explosions of light and color that appear for a longer time than the typical meteor streak.
What's more, on August 11, the moon will only be 13 percent full, so the sky will be dark, which makes watching the meteors easier, the American Meteor Society explains.
Why Meteor Showers Occur
A comet, essentially, is a giant "dirty snowball" made of frozen gasses with embedded rock and dust particles, NASA explains. They originate outside the orbit of the outermost planets and then follow an elliptical orbit around the sun.
As comets orbit the sun, they leave what can be thought of as a debris trail behind. Every year, when Earth passes through these debris trails on its own orbit of the sun, those debris particles collide with Earth's atmosphere. When this happens, the particles disintegrate, creating bright streaks across the sky.
The Perseid Meteor Shower
The pieces of space debris that collide with Earth's atmosphere to create the Perseid meteor shower were left behind by a comet named 109P/Swift-Tuttle, which was discovered in 1862 independently by both Lewis Swift and Horace Tuttle, NASA explains.
Swift-Tuttle is a large comet, with a nucleus that is 16 miles wide. Interestingly, it takes 133 years for Swift-Tuttle to orbit the sun.
Meteor showers aren't named after comets, however. Instead, they are named after their radiant — or where they appear to come from. The Perseids are named after the constellation Perseus.
How To Watch The Meteor Shower
Watching a meteor shower is simple — and you don't need a telescope. You don't even need to know where the constellation Perseus is because the meteors will appear to come from all directions across the sky.
All you need to do is go outside, lie down on your back or recline in a chair, and look up at the sky. After about 30 minutes, your eyes will adjust to the dark, and you will begin to see meteors. But don't check your phone to see what time it is because your eyes will then need to adjust to the dark all over again.
If you don't want to stay up late on August 11 to watch the meteor shower, that's OK. You can also wake up early on August 12 to watch the shower because the pre-dawn hours will also provide good viewing.
Pro Tip: To really increase your chances of seeing the meteor shower, you'll want to be somewhere dark — away from city lights. A map of dark places for optimal stargazing may be found here.
While you're thinking about the Perseid meteor shower, be sure to check out all of our stargazing coverage, including my "August's Blue Moon Is Extra Special In This Unique Way" and "Saturn, Jupiter Put On A Show In August, Here's How You Can See Them" articles.