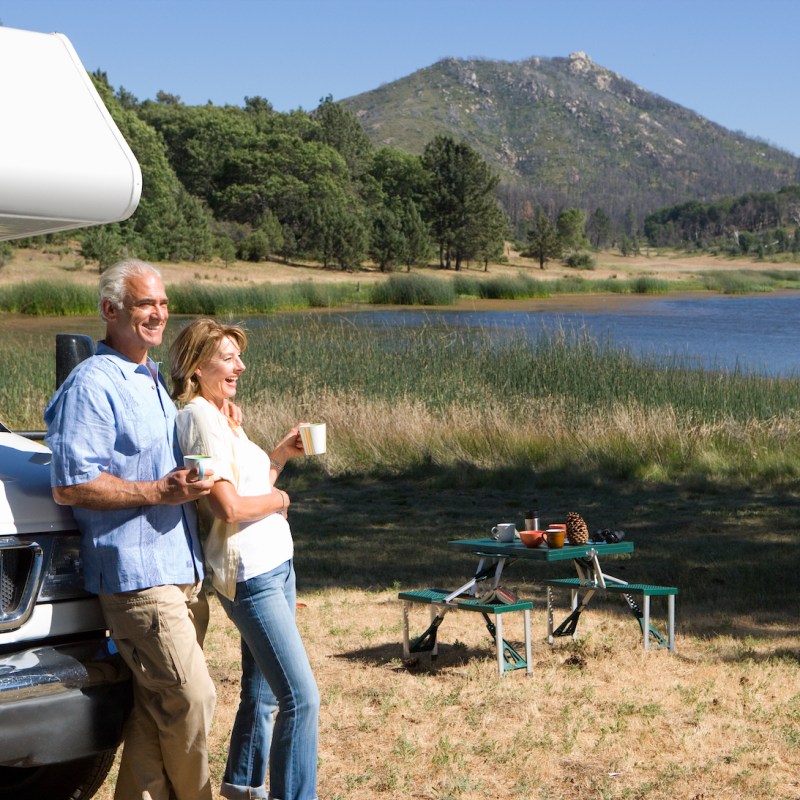 RV camping offers the comforts of home while being surrounded by nature. Camping in an RV is even better next to a lake. Imagine waking up and sipping your coffee while enjoying serene views of the water. From kayaking to parasailing, lakes also offer plenty of activities you can take advantage of while camping. Here are six lakes that would be perfect for your next camping adventure and some great RVs to do it in!
1. Lake George
New York State
Lake George offers plenty of things to do. Take a step back in time at Fort William Henry. Hop a trolley or mosey around the shops, restaurants, and beaches of Village of Lake George. Take a sightseeing tour or dinner cruise on the water. You may even catch a fireworks show over the lake or some live music while you're there.
2. Lake Havasu
Arizona
Lake Havasu City is known as "Arizona's playground" because of all of the recreational activities that are available when you combine a lake with year-round warm temps. With the Arizona heat, you can't help but cool off in the Colorado River reservoir. Reserve a beachfront RV camping site at Lake Havasu State Park where you can park this cute little Catalina camper.
Head over to the London Bridge to rent a boat and cruise on over to Copper Canyon. Take the ferry to cross over to California and try your luck at the casino. Jet skiing is so popular that Havasu hosts the International Jet Sports Boating Association's (IJSBA) annual World Finals competition each October. In addition to water sports, the area offers hiking, biking, fishing, golfing, and offroading as well as shopping and dining.
3. Lake Tahoe
California & Nevada
When you think of Lake Tahoe, the Sierra Nevada Mountains probably come to mind before its eponymous freshwater lake. Known as a popular place for winter sports such as snow skiing, in the summer, Lake Tahoe is also a popular spot for water sports, like water skiing. From paddleboard yoga to sailing, there's no shortage of things to do on North America's largest alpine lake. Camp lakeside in an RV like Max's Space Ship and hike or bike to explore the area's majestic natural beauty.
Straddling the border between California and Nevada, the area is not just divided by state. If you like the nightlife, the casinos of South Lake Tahoe are for you. North Lake Tahoe offers a more laid-back, relaxed vibe. We recommend visiting both and sampling the local cuisine while you're at it.
4. Lake Berryessa
Northern California
Nestled in Napa County, Lake Berryessa is about an hour and a half west of Sacramento. Known for its open bell-mouth spillway, dubbed the Glory Hole, this man-made reservoir in the Vaca Mountains is one of the largest bodies of fresh water in California. Year-round recreation opportunities include water sports, swimming, fishing, boating, and camping. Park this Classy Coachmen at Pleasure Cove Marina.
With black bears around, you'll be glad you're camping in an RV instead of a tent! Grill, picnic, hike, fish, or swim at the two day-use areas, Oak Shores and Smittle Creek. Bird watching is best during the spring and fall. Keep an eye out for eagles, hawks, and turkeys as well as geese, blue herons, and ducks.
5. Crater Lake
Southern Oregon
One of the most gorgeous lakes on earth, Crater Lake is also one of the most breathtaking natural wonders in the U.S. Its mesmerizing sapphire waters are the deepest in the U.S. and some of the bluest in the world. Filled with melted snow and rain, Crater Lake was formed when Mount Mazama erupted 7,700 years ago. Located in southern Oregon, it makes Crater Lake National Park the number-one must-see landmark in Oregon. Make the most of your visit by camping at Mazama Campground in this marvelous Minnie Winnie!
Cleetwood Cove Trail provides the only access to the shores of the lake, where swimming and fishing are permitted. However, water activities such as snorkeling and kayaking are prohibited to protect the pristineness of the lake. Visit between early July and late October when Rim Drive is open, which allows you to drive around the canyon, stopping for photos at spots such as Hillman Peak and Wizard Island along the way. During the Ride the Rim event, roads are free of vehicles to make way for hikers and bikers. Crater Lake also features 90 miles of picturesque hiking trails.
6. Mammoth Lakes
East Central California
Nestled in the eastern Sierra Nevada mountains of California, Mammoth Lakes sits just south of Yosemite National Park, about a six-hour drive inland from the Bay Area and a five-hour drive from Los Angeles. This winter sports mecca is home to one of the country's largest ski resorts, Mammoth Mountain. However, this adorable mountain town is lovely to visit in the summer and fall as well. Mammoth Mountain RV Park offers full hookups fit for The King fifth-wheel camper.
Mammoth Lakes offers something for everyone. Boutiques and restaurants line The Village at Mammoth, which also hosts live entertainment. Golfers can tee off surrounded by stunning mountain views at Sierra Star Golf Course. Outdoorsmen will appreciate the hundreds of hiking trails in the area, ranging in distance and difficulty. Mountain bikers can have plenty of downhill fun at Mammoth Bike Park.
One of the biggest nearby attractions is Devils Postpile National Monument. These basalt columns formed when flowing lava met up with a glacial dam. Be sure to check out Rainbow Falls while you're there! Rent a kayak and enjoy the mountain views from the water. Lake Mary, Lake George, and June Lake all offer boat rentals.
RVshare is the world's first and largest peer-to-peer RV rental marketplace. With thousands of satisfied customers and a broad inventory ranging from travel trailers to luxury motorhomes, RVshare has the perfect RV for your vacation, tailgate, or temporary lodging needs.