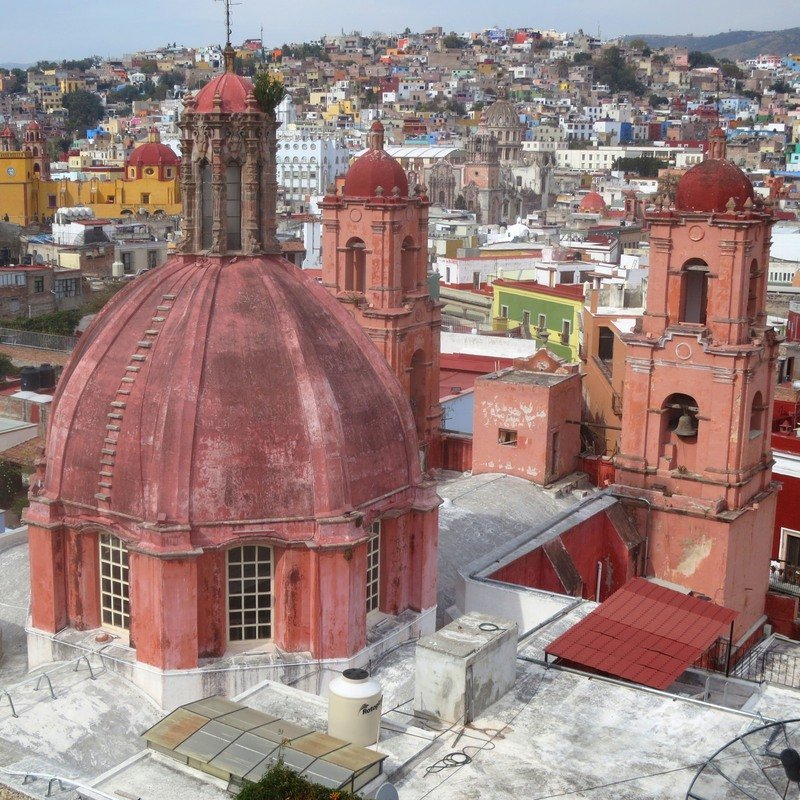 Guanajuato, Mexico, the UNESCO World Heritage city in central Mexico where my husband Barry and I are fortunate to own a home, is currently my happiest place on earth. Its vibrant colors, labyrinthine pedestrian alleys, and friendly people make it a magical city. But one afternoon, gazing out our kitchen window at the dome of the San Francisco church, I started musing about other happy places I'd experienced over my life. Along with Guanajuato, here are eight more, in chronological order:
1. Quito, Ecuador
My father, a diplomat, was assigned to Quito in 1959, the year I was eight. For a year and a half, my family lived in a former factory that offered hidden passageways, alcoves, and a high inner balcony from where my sisters and I delighted in placing the star on top of the Christmas tree. We roller-skated back and forth on the upstairs balcony, played hide and seek in all the hallways, and yelled "Kick the Can!" in the yard. I walked or rode my bike to our bilingual school, Colegio Americano, where I had both American and Ecuadorian friends, with whom I spoke eight-year-old Spanish and whose names I still remember: Esperanza Suarez, Gioconda Faini, Alicia Davalos, Luisa Chiriboga, and Rocio Ruales. Quito was my favorite childhood "posting," because I loved my friends, my school life, and my home.
2. New Orleans
At Tulane, I majored in Communications/Linguistics, but my informal major was the city itself. New Orleans was where I discovered it was possible to fall in love with a physical environment. Riding the "Freret Jet," the city bus that meandered from the Tulane campus to the French Quarter, and the St. Charles streetcar (only 5 cents a ride!), I was mesmerized by the street names. As the trolley rumbled along, I'd roll the musical consonants and vowels around my tongue: Dryades. Carondelet. Napoleon. Evenings, I'd stretch out on the rug of my dorm room studying my city map. Prytania, Annunciation, Tchoupitoulas, Piety, Esplanade, Fontainebleau, Frenchmen, and, of course, Louisa.
In the spring of my freshman year, I bought a used one-speed bicycle. Early mornings before my English Literature class, I'd explore nearby streets lined with lacy houses. On Sundays, I'd choose a street, say, Bienville, and wander its entirety on foot, admiring the front porches, architectural frills, and changing economic levels.
3. The Canadian Gulf Islands
After graduating, I took the train from New Orleans to Vancouver, B.C., where I lived for over 4 years. Soon after arriving, I heard about an archipelago of islands off the coast. On our first outing, my then-boyfriend (now husband) Barry and I took the old Mayne Queen ferry to the island, where we cycled around the green, rolling countryside. Later we explored Pender, Saturna, Galiano, and Saltspring Islands, and later still, when we moved to Bellingham, we visited the equally lovely U.S. San Juans. But the gulf islands have a special place in my heart because they were the first place where Barry and I experienced natural beauty together — a value we still share.
4. The Small Towns Near Boston, Massachusetts
Barry and I lived in the North End of Boston for a year, on the same street where Rose Kennedy was born and with a view of the Old North Church from the bedroom window of our 5-story walkup. On October weekends, we'd take the train out of the city to one of the nearby small New England towns with their iconic village squares and white-steepled churches, like historic Lincoln and Concord, home of Thoreau's Walden Pond. We'd cycle from one town to another on quiet roads, passing furious crimson and gold trees. Forty years later, I love living part-time in Guanajuato, and the rest of the year near California's Avenue of the Giants, with its ancient redwoods, but every October I daydream wistfully of those auburn and russet New England leaves.
5. Pembrokeshire Coast, Wales
Few people I know are aware of the raw beauty and undeveloped countryside you can find in many parts of Britain. Although I lived in North Wales during college, it was only when Barry and I bought a secondhand van in Britain in the mid-1970s and spent 3 months exploring the wild beauty of the country that I discovered the Pembrokeshire Coast National Park in South Wales. The trail, which climbs to high cliffs, then drops to rocky headlands, is punctuated with swaths of green landscape and pubs, like the one we stopped at in the historic village of Trefin.
6. Kotor, Montenegro
Fifteen years ago, Barry and I flew to Split, a coastal town in Croatia, and cycled through the charming, unspoiled islands of Croatia and on to Montenegro, where Kotor, a small medieval maze of a town perched on the shores of a fjord-like part of the Adriatic Sea, took our breath away. If you've never heard of the old walled city of Kotor — well, neither had we! We spent 10 euros staying with a sweet older couple who spoke no English but brought us Turkish coffee every morning. Each morning, we'd climb Kotor's green hills dotted with sheep, cycle quiet roads along the bay, or wheel our bikes up a steep highway to a monastery (once! Never again!). Evenings, we'd dine on seafood and Greek salads at bargain prices in local outdoor restaurants. Kotor is now a cruise ship destination, but if you want to avoid the crowds, check out the cruise ship calendar here and visit Kotor on days when no ship is arriving.
7. Southern Oregon Coast
Living only 2 hours south of the Oregon border, once or twice a year we explore its southern coastline. First, we'd drive to Crescent City, 25 miles south of the border, with a harbor whose sea lions on Castle Rock serenaded us as we paddled around. Then on to Brookings, the southernmost town in Oregon, where we'd drive the Samuel Boardman Scenic Highway to Gold Beach, with its French-inspired seven-arch Rogue River Bridge. Sometimes we'd head east to the tiny hamlet of Agness, to paddle down the Rogue. After 15 years of visits, I'm thrilled that many beaches and trails still remain to be discovered!
8. Stromness, Orkney, Scotland
We spent a week in Stromness, a town on wild, rugged Orkney Island, wandering around the village and the nearby countryside. From our Airbnb windows, we could see the NorthLink Ferries come and go. Some days we took ferries to even smaller islands, such as Graemsay and Hoy, famous for its sea stack, the 449-foot "Old Man of Hoy," and even smaller islands, where we cycled or walked on narrow lanes that looked like they'd fit in a dollhouse.
As I ponder what these places have in common, I realize they're all visually appealing and most are outright beautiful. Study after study has shown how important the environment is to our quality of life, wellbeing, and happiness. As Dr. Jolanda Maas, Assistant Professor of Behavior and Movement Sciences at VU Amsterdam University in the Netherlands says, nature is "Vitamin G" (for green). I'd add "Vitamin B" for blue, as many of the places that bring me joy are near water. I'm only one individual, but it seems my experience of a happy place is universal.
Many favorite destinations have several things in common like stunning landscapes and intriguing activities: