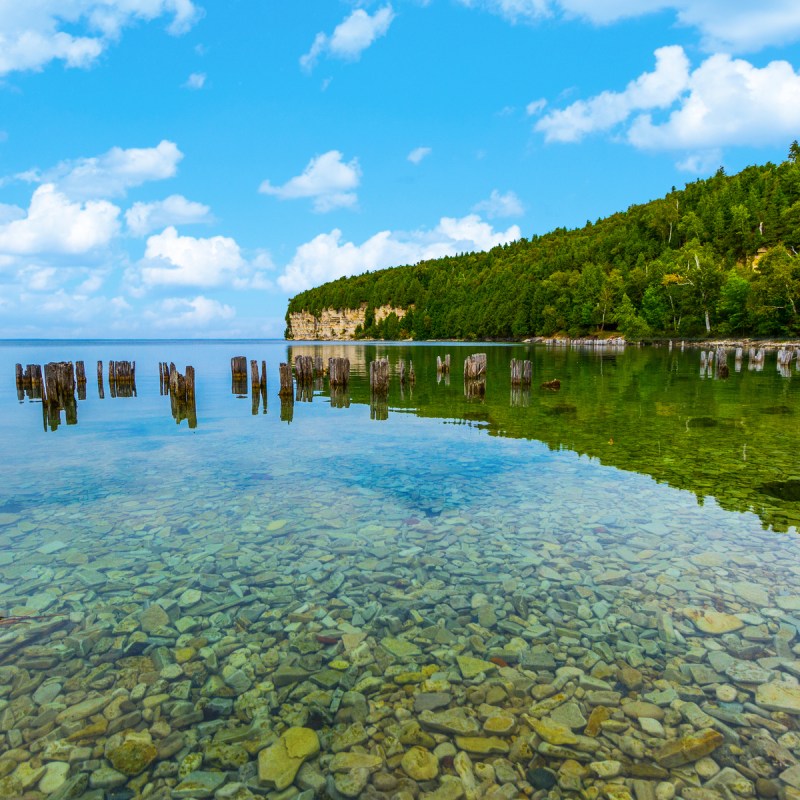 Michigan State Parks feature the best of the Great Lakes and include year-round fun. Winter in Michigan's State Parks offers cross-country skiing, snowmobiling, ice fishing, snowshoeing, and fat-tire biking. In the spring, from mid-May through mid-June, foodies will enjoy foraging for morel mushrooms. Summer is my favorite time, with boating, paddle sports, and general fun in the sun. Fall is an excellent time for hiking the trails and enjoying the spectacular autumn color.
With over 75 parks in the Michigan State Parks system, you'll find some unique activities that add to the outdoor fun you typically find in the Great Lakes State. While these sites offer trails, boating, and other outdoor activities, they also have something extra. Here are nine fantastic adventures in Michigan State Parks, arranged starting from the north to the southernmost.
1. Ride The Raft At Palms Book State Park, Manistique
Tucked away in Michigan's Upper Peninsula, about 11 miles off Highway 2, at the end of Highway 149, near Manistique, is Palms Book State Park, home to Kitch-iti-kipi, translated to Big Springs. What makes this special is the clear water with Caribbean-like colors. The water is so clear that you can easily watch the brown trout swimming below the water's surface. Water bubbles from crevices in the limestone at more than 10,000 gallons a minute. The pond measures 40-feet deep and over 200-feet wide, making it the largest freshwater spring in Michigan.
A self-propelled observation raft designed for groups allows you to get an up-close view of the springs. The raft has an open center with guard rails for added viewing. They have the raft attached to a cable rigged so that a visitor can drive the group to the center of the pool for optimum viewing.
Pro Tip: The raft and the path leading to the springs are ADA accessible.
2. Discover The Old Iron Smelting Town At Fayette Historic State Park, Garden
Located in Michigan's Upper Peninsula, between Manistique and Escanaba, about 17 miles off Highway 2, you'll find the abandoned town of Fayette. Fayette Historic State Park is a well-preserved town with 20 historic buildings on display. From about 1867 to 1891, the community focused on manufacturing charcoal pig iron. Some of the manufacturing buildings featured are the machine shop and the blast furnace. They also have other original facilities, including a hotel, various offices, the town hall, and homes. In addition, they offer guided tours, or if you prefer, take a self-guided tour.
Although admission to the village is free, you'll need a Michigan State Parks Recreation Passport to enter the park. My favorite day to visit is the second Saturday in August when they celebrate Heritage Day. Additional activities add to the experience then.
Pro Tip: If you plan to stay overnight in the area but don't love camping, another option is Fayette Furnace Hill Lodge. Initially the manager's home, this cabin sleeps up to 10 people, features a remodeled kitchen and one four-piece bathroom that includes a flush toilet.
3. Hike To Tahquamenon Falls At Tahquamenon Falls State Park, Paradise
Located in Paradise, a town in Michigan's Upper Peninsula, Tahquamenon Falls State Park offers two waterfalls and 35 miles of trails. I enjoy the park during autumn when the colorful fall foliage accents the stunning Upper Tahquamenon Falls. At more than 200 feet across and a drop of 50 feet, it ranks as the largest waterfall in Michigan and the third-largest east of the Mississippi River. The Lower Tahquamenon Falls is four miles downstream, featuring several smaller drops. At the lower falls, you can rent rowboats. In addition, this state park has interpreters that offer guided tours of the falls.
Pro Tip: The Park offers track chairs at no cost to those with mobility challenges so that they too can explore the park.
4. Explore The Fort At Mackinac Island State Park, Mackinac Island
History buffs will want to take time out to explore Michigan's first state park, Mackinac Island State Park. To make history come alive in Fort Mackinac, they feature period demonstrations and re-enactments. The fort, a military compound, has a history beginning with the Revolutionary War. Its history continues through the War of 1812 and the Civil War. It features 14 restored structures, including the oldest in Michigan. I enjoy learning history from the docents dressed in period clothing through their demonstrations and tours. In addition, they showed what the life of a Fort Mackinac soldier was like, through an electrifying Drill, Tactics, and Firearms program.
Pro Tip: Mackinac Island is accessible by ferry and airplane. There isn't a bridge. Motor vehicles are not allowed on the island. Walking, horseback, and bicycling are typical ways to get around the island.
5. Have An Adventure At Historic Mill Creek Discovery Park, Mackinaw City
Once called Historic Mill Creek State Park, Historic Mill Creek Discovery Park is a Michigan State Park and historic site located in Mackinaw City. The more than 600-acre park was once an 18th-century water-powered sawmill. We saw what life was like through tours and demonstrations through Mill Creek's At Work Sawpit and Sawmill Demonstrations. In addition, guided walking tours shed light on life beyond the sawmill, with more than 3 miles of trails.
Pro Tip: Historic Creek Discovery Park usually takes at least 2 hours to experience.
6. Watch Archeologists At Work At Michilimackinac State Park, Mackinaw City
While we were in the area, we also stopped by Colonial Fort Michilimackinac, located in downtown Mackinaw City. Michilimackinac State Park is a separate state park from Historic Mill Creek Discovery Park. The fort features 13 reconstructed buildings demonstrating life in the late 18th century where the area was important in fur trading.
An interesting fact about this site is that it is one of the most extended continuous archaeological digs in North America. Archeologists are busy at work every day at Colonial Fort Michilimackinac. In addition, professional archeologists work on-site and answer questions about their work.
Pro Tip: You'll find the entrance to the Visitor's Center under the Mackinac Bridge.
7. Star Gaze At A Dark-Sky State Park, Alpena and Rogers City
You don't need to travel to Iceland or Alaska to experience the Northern Lights. Michigan has several dark-sky state parks in the northernmost part of Michigan's Lower Peninsula where you can sometimes see the aurora borealis. Negwegon State Park, Thompson's Harbor State Park, and the Rockport State Recreation Area feature the lowest measurable light pollution in the Great Lakes region.
Negwegon State Park in Alpena is under dark sky protection, making it a great place to stargaze with the naked eye. With luck, you'll be able to see the swirling Milky Way.
If you want to camp out to continue your stargazing, Thompson's Harbor State Park features two cabins. Each rustic cottage sleeps up to six people with a pull-out couch and two sets of bunk beds. Both places include a gas stove and lanterns, outdoor hand pumps, and vault toilets. Although you're roughing it, it's a bit more shelter than a tent.
Pro Tip: While the Headlands International Dark Sky Park in Mackinaw City isn't a state park, it is a prime place to view the night sky and the only one in Michigan to have the international designation. Even if you've been to Headlands International Dark Sky Park before, a new season brings a new set of stars into view. With a different group of glittering stars on display, you're destined to get a whole new show each time you go. Sometimes even the northern lights are on display.
8. Decode The Petroglyphs At Sanilac Petroglyphs Historic State Park, Cass City
Situated in Cass City, a town in Michigan's Thumb Region, Sanilac Petroglyphs Historic State Park features a series of petroglyphs. These petroglyphs are rock carvings made by chiseling into the rock's surface, while painting on the surface of a stone is called a pictograph. Native Americans in the region created these petroglyphs. The enclosure protecting the petroglyphs is open seasonally, but the park is open year-round. In addition, the park offers free guided tours every half hour Wednesday through Sunday. Tours begin at 10 a.m., with the final tour leaving at 4:30 p.m.
The park also offers a mile-long trail that features a 110-year-old white pine, the Michigan state tree, and the remnants of a 19th-century logging camp.
Pro Tip: Admission to the petroglyphs is free and doesn't require a Michigan State Parks Recreation Passport.
9. Explore Walker Tavern At Cambridge Junction Historic State Park, Brooklyn
Located in Brooklyn in Michigan's Irish Hills, Cambridge Junction Historic State Park, and Walker Tavern Historic Site, you'll find a modest story-and-a-half farmhouse. Built about 1832, The Walker Tavern was a respite for travelers' arduous five-day trip from Detroit to Chicago. Today the tavern and two other historic buildings make up the 80-acre state park. A reconstructed barn and the tavern contain exhibits about travel and work in the 1840s and 50s. In addition, the Visitors Center housed in the 1929 colonial-revival Hewitt House tells the story of early automobile tourism in the Irish Hills through quirky roadside attractions, including the Prehistoric Forest, the Frontier City, and Mystery Hill.
Pro Tip: While you're in southeast Michigan, you'll find several wineries to investigate. Cherry Creek Cellars is the one closest to the state park and is also in Brooklyn, where the Burtka family has been making wine for four generations. The winery is a fun one to explore as the winery is in an old schoolhouse.