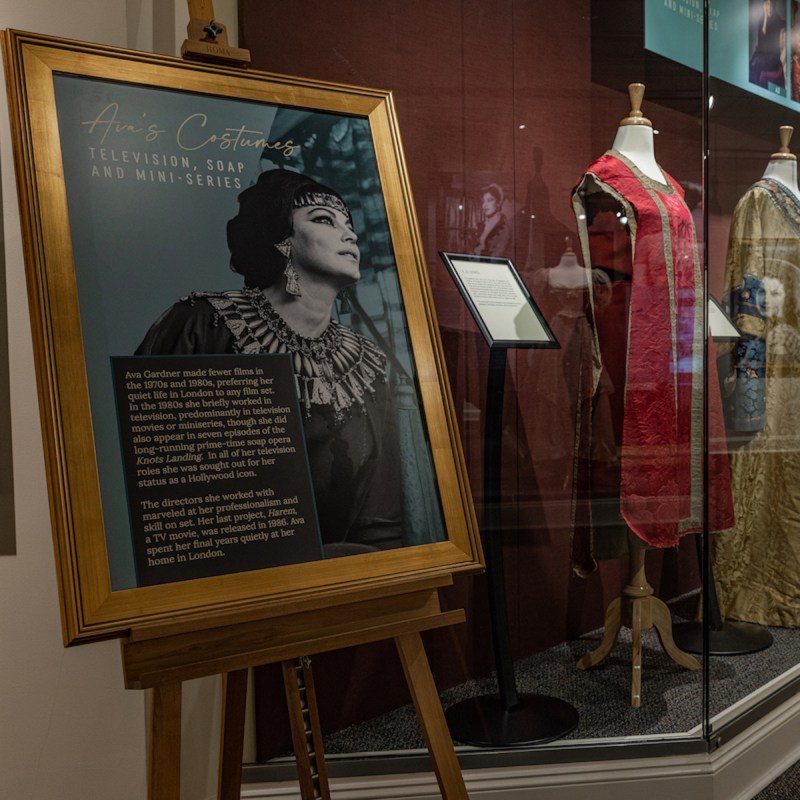 If I told you "I love Lucy," you'd have a certain redhead in mind. Or if I suggested you click your heels together three times and say "There's no place like home," I'm sure Judy Garland in the Wizard of Oz would enter your head.
The following actresses may not be your all-time favorites, but their work has transcended time to enter our collective imagination. Their hometowns have established museums in their honor in order to learn more about their cultural impact and immerse us in their Hollywood glamor.
1. The Lucy-Desi Center For Comedy, Jamestown, New York
Lucille Ball (1911-1989) was born in Jamestown. After her death, her hometown opened the Lucille Ball Desi Arnaz Museum in 1996. The museum pays tribute to Ball's life and Desi Arnaz, her husband.
Ball starred in the sitcom I Love Lucy. We all loved Lucy. Oh, how she would roll her wide delft-blue eyes and contort her classically beautiful face into goofy expressions. The sitcom aired from 1951-1957, but the show is credited as the longest-broadcasted TV show of all time due to reruns.
Lucy and Desi divorced in 1960, but Lucy bought Desi out, becoming the first woman to run a major television studio. This fact is one of the fascinating tidbits you learn at this museum. See the original costumes, video clips, scripts, and recreations of the I Love Lucy television studio sets. Mimic Lucy in the famous Vitameatavegamin scene and have someone film your antics. Browse the gift shop that sells 1950s vintage clothes in a range of sizes, such as The Ricardo Polka Dot Swing Dress, Starlet Jumpsuit, and Lucy wigs!
Take the Lucytown Tour past huge Lucy murals to the site of her high school and childhood home at 59 Lucy Lane. The house is not open to the public, but the owners offer a virtual tour and online shop. The young girl inside me wants one of those Lucy dolls. One of the last stops is Lucy's grave at Lake View Cemetery, located by following the trail of hearts, a group of markers in the shape of hearts with an "L" in the center.
Ball had a vision her hometown would become THE destination to celebrate comedy. In 2018, Jamestown opened the National Comedy Center, fulfilling her dream. More than 50 exhibits take visitors on a journey through comedy history, from early vaudeville to the latest viral memes. Technology gauges users' humor profiles, directing them to exhibitions that will make them laugh the most. Try cartooning, comedy writing, or deliver your own gags in comedy karaoke. Visitors leave with tears of laughter rolling down their cheeks. No wonder this attraction was selected by USA Today as the "Best New Museum" and by TIME as one of its "World's Greatest Places."
The Chautauqua Harbor Hotel offers Hilarious Getaway packages that include tickets to the Lucy-inspired attractions and Groucho Marx glasses. Plus, the suggestion you wear these glasses to dinner for a complimentary dessert. Photos of Lucy adorn hallways, and there's a mini-Lucy exhibition. The hotel is close to the Scary Lucy and Lovely Lucy statues. Ask for a room with a lake view.
Pro Tips: Good times to visit Jamestown for extra festivities is on National I Love Lucy Day and during the Lucille Ball Comedy Festival.
2. Ava Gardner Museum, Smithfield, North Carolina
Ava Gardner visited Australia in 1959 to co-star with Gregory Peck in Stanley Kramer's On the Beach. She allegedly said: "On the Beach is a story about the end of the world, and Melbourne sure is the right place to film it." In those early days, Melbourne was quite isolated and it probably felt like the end of the world to her.
Even as an Australian, I'd be the first to rush into this Ava Gardner Museum in Smithfield to pay my respects.
Gardner was one of the great movie stars from the 1940s through to the '60s. Her smoldering good looks made men swoon.
The beginnings of the museum date back to an infatuation. Tommy Banks was 12 years old when he met a young Ava Gardner in 1939. He and his friends would tease her until Gardner responded by chasing Tommy and kissing him on the cheek. Two years later, he read a newspaper and saw his heartthrob had been "discovered" by MGM. He continued to clip every article he could on her career and high-profile marriages. Gardner married Mickey Rooney while still a teenager, the bandleader Artie Shaw (another short-lived marriage), and Frank Sinatra. Her marriage to Sinatra lasted six years, but they remained close even after their divorce. Little Tommy Banks grew up to be Dr. Tom Banks, and his collection formed the beginnings of the museum's exhibits.
Gardner's extended family still lives in the area and added photos and mementos to the collection. The Dutch artist Bert Pfeiffer never met Gardner but was so smitten when he saw her in One Touch of Venus (1948) he vowed to paint a portrait of her every year of his life. He died 53 years later in 2001. His paintings and the huge number of clippings, movie posters, and autographed images he also amassed are in the museum's collection.
Visit the Ava Gardner Museum to be similarly smitten. Recent renovations include five new exhibits. Two are on Ava Gardner's costumes. Some are by noted designers Walter Plunkett (Show Boat) and Irene Lentz (The Great Sinner). Plus a recreation of Ava's slinky black dress from The Killers.
Pro Tip: The museum suggests an itinerary to enjoy the many charms of Ava Gardner's hometown.
3. The Katharine Hepburn Cultural Arts Center, Old Saybrook, Connecticut
Katharine Hepburn's close-knit family kept a summer home in the Fenwick section of Old Saybrook. One of the oldest and most beautiful towns in Connecticut, the athletic actress loved to come here to swim, play golf, and to escape Hollywood. She played tennis into her 80s. As well as spending her summers at Fenwick, she chose to retire here seven years before her death. Hepburn died in 2003 at the age of 96.
Old Saybrook honors its famous resident with the Katharine Hepburn Cultural Arts Center, housed in a former town hall. "The Kate," as it is lovingly referred to, is an impressive 1911 Colonial Revival building with Grecian columns. Inside is an intimate theater for performances, concerts, and screenings of Hepburn's movies such as On Golden Pond (1981) and her classic The African Queen (1951).
The free-to-enter museum is in the first-floor lobby and features photographs, Kate's Emmy award, and a self portrait. See the photo of Kate that sat on Howard Hughes's desk, the magnate's favorite photo of her. But her most significant romance was with Spencer Tracy, her co-star in nine films. Their relationship lasted 26 years, ending with Tracy's death after making their last movie together — Guess Who's Coming to Dinner (1967).
See the Spirit of Katharine Hepburn Award given annually to an individual who exemplifies Hepburn's independent spirit. The last recipient was Cher in 2020. The award is a replica of Hepburn sitting cross-legged on the floor. Hepburn bristled against societal expectations for women. She was outspoken, assertive, and wore trousers before they were fashionable for women, meaning she could sit any way she damn-well pleased. She was a clever verbal sparring partner with each of her leading men. Her mother, Katharine Martha Houghton Hepburn, was a notable suffragette, and Kate adopted her feminist views. As Mary McNamara wrote in her eulogy in 2003, "Katharine Hepburn was the patron saint of the independent American female."
The museum has recently been renovated, with plans to reopen in the fall of 2021. Until reopening, the museum is streaming a free virtual exhibition.
Pro Tip: Stay in The Katharine Hepburn Room at the Saybrook Point Inn & Spa in the 3-story guesthouse.
4. Judy Garland Museum, Grand Rapids, Minnesota
The Judy Garland Museum opened in 1975 as one of the first celebrity museums in the United States. The museum pays homage to the legendary actress and singer Judy Garland, born Frances Ethel Gumm, to vaudeville entertainers in 1922.
Organizers shifted the original 2-story white clapboard house where Garland spent the first 4 years of her life to the site. The home's 1920 interior was restored based on local's recollections of the original decor. The bottom step of the staircase is where Judy made her theatrical debut, accompanied by her mother on the piano.
A covered walkway connects the house to the museum where you can see items from Judy Garland's life, including letters, scripts, and props from the classic 1939 film Wizard of Oz. See dresses she wore in the movie, and the beautiful carriage Dorothy and her companions rode in through the Emerald City. The complex also has a Children's Discovery Museum, a large interactive play area with games and dress-ups.
But it's not all magic and make believe, as a section of the museum covers Garland's struggles with addiction, relationship issues, and career challenges.
You may remember when the museum hit the headlines in 2005 when thieves broke in and stole Dorothy's ruby slippers worth millions of dollars. The FBI recovered them in 2018, but the case remains an unsolved crime.
Pro Tip: In June, locals and fans of the 1939 film celebrate at the Judy Garland Festival.
Hollywood film locations are interesting places to visit and reminisce: