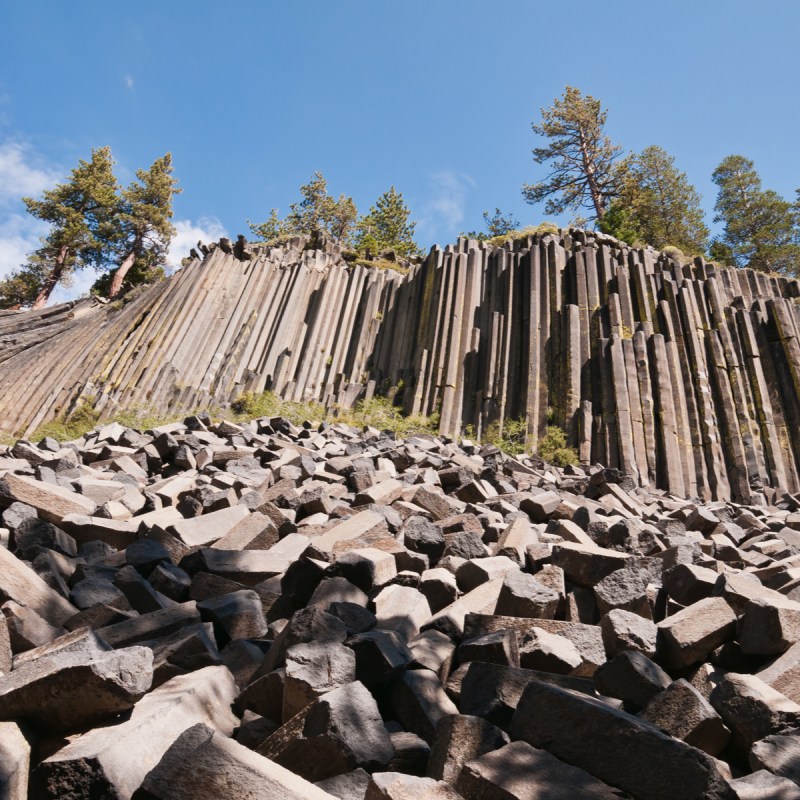 Located in the Sierra Nevada Mountain Range between Yosemite National Park and Mammoth Lakes is the lesser-known geological gem, Devils Postpile. Towering 60 feet in the air, this formation is one of the world's finest examples of columnar basalt rock. To the untrained eye, it looks like hundreds of logs standing on end just waiting to tip over. In reality, it's the result of a cooling lava flow that took place over 100,000 years ago.
Devils Postpile National Monument had a long road to becoming protected. At first, it was a part of Yosemite National Park but was removed when mining interests lobbied the government. A 1910 request sought to blast the entire rock formation to create a dam, which compelled the Sierra Club to fight for its permanent protection. In 1911, it received National Monument status.
Today, this 798-acre monument is visited by just 130,000 people each year — a fraction of the millions of visitors to nearby Yosemite. If you're visiting Mammoth Lakes, be sure to set aside a half-day to explore this natural wonder.
1. Explore Devils Postpile
The focus of any visit to the monument is the Devils Postpile rock formation. The trail from the parking lot to the base of the formation is just 0.8 miles. This flat trail is both easy and scenic and follows the San Joaquin River. To fully appreciate the unique shape of the basalt columns, hike the quarter-mile trail to the top. Here you can see the hexagonal shapes of each column linked together like a honeycomb. On a clear day, this is also a great view of the valley below.
2. Hike To Rainbow Falls
After the rock formation, Rainbow Falls is the most popular site at the national monument. The hike to the falls is 2.5 miles each way and is considered fairly easy, with just 300 feet of elevation gain. The trail continues along the river and sort of rolls up and down the entire way. Visitors will hear the falls long before seeing them, giving hikers an inkling of how large they are.
Named for the rainbow that appears most sunny afternoons in the mist, this 101-foot waterfall is definitely worth the hike. If you're coming at midday, consider packing a lunch to enjoy this scenic spot. If you hike an additional half-mile, you'll also see the Lower Falls. Most people ignore this part of the trail, so it's typically less crowded.
Pro Tip: This is among the most popular trails in the region, so to avoid crowds and beat the heat, come early. Much of the trail is exposed, so bring plenty of water to stay hydrated.
3. Hike To Minaret Falls
If you're looking for an easier waterfall hike, then Minaret Falls Trail is a good option. This 1.4-mile hike has less than 100 feet of elevation gain. At the trail's end, sit down and admire the 250-foot falls that tumble over a broad granite rock formation.
Along the Minaret Falls Trail, hikers have the chance to extend their trek along either the Pacific Crest or John Muir long-distance trails. The first is 2,650 miles long, starting at the U.S./Mexico border and ending at the Canadian border, while the second is 221 miles traversing the Sierra Nevada Mountain range.
4. Search For Wildlife
According to the National Park Service, there are 47 species of animals in the monument, including black bears, coyotes, mule deer, and pine martens. In addition, there are over 100 species of birds. So if spotting wildlife is one of your goals, you're in the right place. Part of the attraction for both mammals and birds is the San Joaquin River, which provides a welcomed respite to the area wildlife. The best time to spot wildlife in this area is at dawn or dusk.
It's important to remember that wild animals should not be fed and should be given plenty of space. Never approach a wild animal. If you're packing food, don't leave it unattended.
5. Go Horseback Riding
If you're looking for an alternative to hiking to Rainbow Falls, why not try horseback riding instead? The nearby Red's Meadow Resort offers horseback rides to the falls that generally last about 2 hours. If you have more time, consider a 4-hour ride to Minaret Falls. No experience is needed, and children 6 and older are welcome to participate. It is recommended that you make reservations at least one day in advance.
6. Fish For Trout
The San Joaquin River is a designated Wild Trout River with ample fishing opportunities for all abilities. Its small size and shallow waters mean easy accessibility while still offering exceptional fishing. Expect to find plentiful rainbow, brown, and brook trout. With a valid California fishing license, anglers can keep up to five fish. Fishing licenses can be purchased online.
If you'd prefer to fish with a guide, or even learn to fly fish, try booking a trip with Mammoth Fly Fishing Adventures or Fish Mammoth. These expert guides know the best spots and times of day to get the perfect catch.
7. Explore The Valley On A Bike
Road cycling is a popular activity at the monument. Cyclists can roll through the scenic Reds Meadow Valley along the paved roads. Entering the valley is a long downhill road that provides an exhilarating ride. If you prefer not to return the same way, hop on one of the shuttles for a ride home.
A variety of bikes — including electric — can be rented in nearby Mammoth Lakes at Footloose Sports or Aso Mammoth.
The National Park Service recommends cyclists explore the park during less crowded times of day early in the morning or late in the afternoon. And since cyclists will be sharing the road with cars and shuttles, wearing a helmet and reflective gear is critical.
Devils Postpile Accommodations
To spend more time at Devils Postpile and explore it with few people around, consider camping or lodging in the area.
While there is a campground in Devils Postpile, it is currently not in use. However, the National Forest Service manages five surrounding campgrounds including Upper Soda Springs, Pumice Flat, Pumice Flat Group, Minaret Falls, and Reds Meadow. Reservations can be made at Recreation.gov.
If you'd prefer to stay in a cabin but still hike into the monument, make reservations at Red's Meadow Resort. This family owned resort offers a variety of accommodations, an onsite restaurant, and plenty of outdoor adventures.
Luxury hotel options are available in Mammoth Lakes and include the Westin Monache Resort and the Village Lodge.
More Devils Postpile Pro Tips
Getting to Devils Postpile National Monument definitely takes some planning. First, check the National Park's Website to be sure the main road into the valley is open. The road typically opens in early summer — after all the snow and ice have cleared — but the exact date will vary each year depending on the weather.
Most years, the monument restricts the use of private cars in the area to protect the ecosystem and wildlife. Instead, a shuttle is available from Mammoth Lakes Village or the Mammoth Adventure Center. Thanks to this shuttle system, 437,799 miles worth of vehicle emissions are avoided each year. There is a cost for the shuttle, and on weekends advanced reservations are recommended. Handicapped individuals are permitted to drive their own car into the monument and use the specially designated parking spots.
There are no services in the monument, so plan to bring all food and water with you. If you'll be hiking, it's also essential to bring sunscreen and a hat since long stretches of the hiking trails are exposed. Trash cans are limited, so plan to pack out your trash if you're unable to find one.