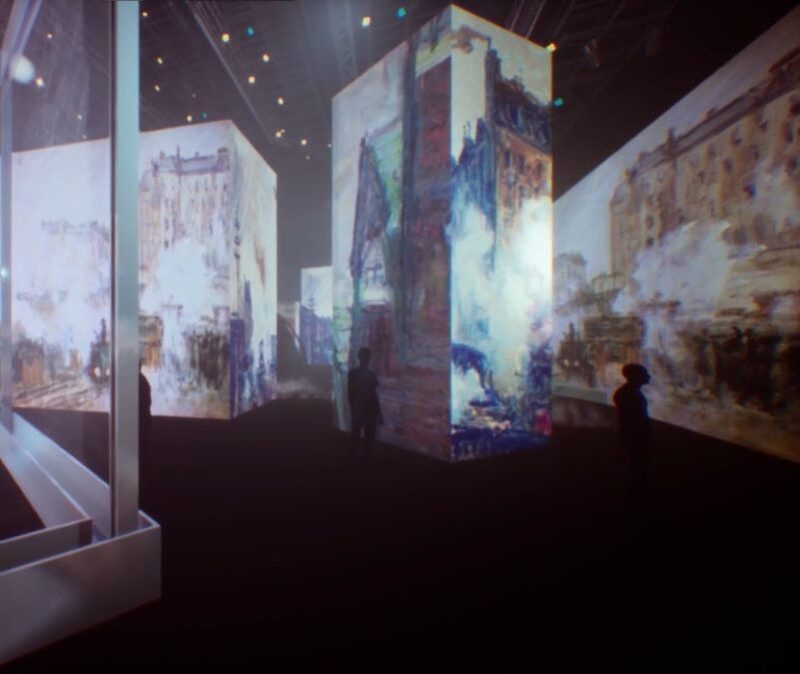 Following the success of multiple interactive Vincent Van Gogh exhibits making their way across the United States — including Immersive Van Gogh and Van Gogh Alive — a new immersive art exhibition featuring the work of French painter Claude Monet will debut in San Francisco in December.
Monet by the Water commemorates the 180th anniversary of the French painter's birth. Other stops on the multi-city tour include Minneapolis, Atlanta, Seattle, Miami, Denver, St. Louis, and Philadelphia.
Similar to the immersive exhibits featuring Dutch painter Van Gogh, the traveling Monet exhibit will use 21st-century technology to bring Monet's impressionist paintings, such as his famous Water Lilies series, to life.
According to one of the exhibit producers CBF Productions, the "360-degree, multisensory experience" will include more than 300 pieces of Monet's art projected on 26-foot-high screens accompanied by original music and sound effects. It will cover 40,000 square feet, and visitors will be able to wander through the 60-minute experience.
Details On Dates, Locations Not Revealed Yet
Information on specific locations and dates for Monet by the Water is still under wraps. In fact, the event space for the San Francisco debut is being described only as a "secret location."
Interested in getting the scoop sooner than later? Enter your email at the event's website to be among the first to learn about the San Francisco exhibit location, purchase early bird tickets, and receive special offers.
CBF Productions says the exhibit is designed to create a consistent experience for guests, unlike some immersive exhibits that adapt their experiences to the venue.
"We see Monet as a pioneer of immersion, completely surrounding people with the beauty and precision of his colors," said Ricardo Dotta, co-founder of Mira, the Museum of Immersive Roaming Arts, another event producer. "In honor of this thought, with Monet by the Water we aim to extend his work through technological possibilities, generating spaces where the landscape fits the viewer's scale."
Another Immersive Monet Exhibit Coming To The United States
Like the competing Van Gogh immersive exhibitions, there are multiple Monet digital exhibits.
Currently Claude Monet: The Immersive Experience is in Naples, Italy. It is scheduled to debut in Los Angeles in November — also at a "secret location." Tickets are on sale for the Los Angeles show for $44.90 each. Details on dates and a location for a Chicago exhibit are forthcoming.
For more artist inspiration: