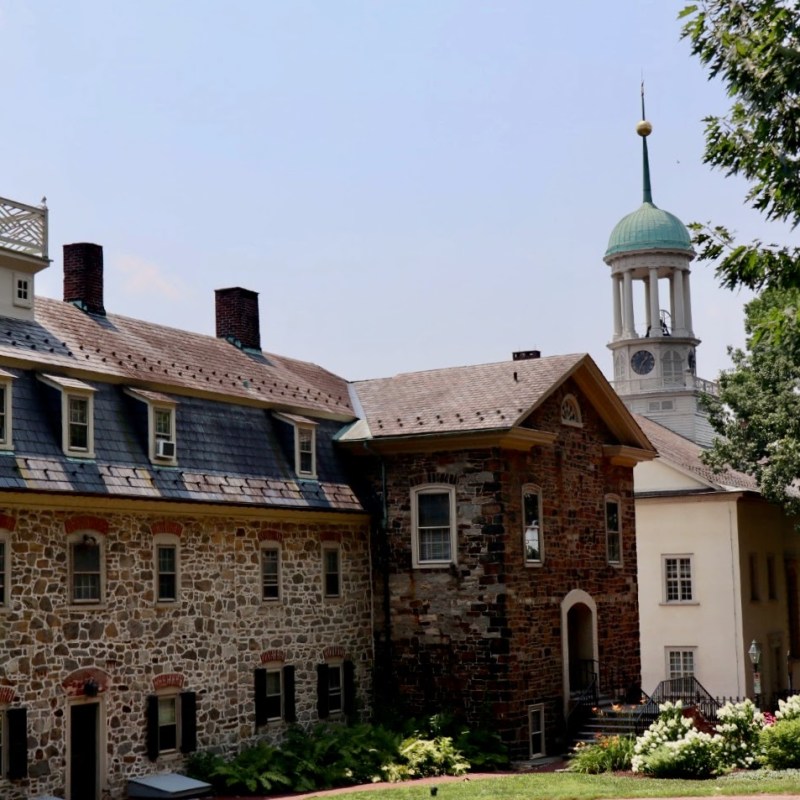 Since 1937, Bethlehem, Pennsylvania, has been known as Christmas City USA. With two Christmas fairs, displays in all of the store windows, and walking tours of the historical areas, Bethlehem lives up to its moniker. It is the place to be for Christmas.
This past year presented a quandary. Christmas was canceled due to COVID restrictions. What do you do if you are Christmas City USA?
Well, you move Christmas to July, of course. We were invited by the Downtown Bethlehem Association to come by for a preview of the festivities and to stay at the Hotel Bethlehem. Here is what we learned about Bethlehem's Christmas in July.
1. The First Reason To Celebrate Christmas In July
Well, because you can. For Christmas in the Northern Hemisphere, it's always cold and you have to bundle up. Coats, gloves, hats. and boots. Dodging the wind and snowflakes. Christmas in the summer: shorts, sunglasses, sandals. It is very cool — in a much different way.
2. Take A Selfie With (Many) Elfie(s)
There are dozens of elves hidden in plain sight in the windows on Main Street. They are fun to find. Some are on trees. Others are upside down. Some red. Some green. They brought smiles to our faces. As you stroll, take a #SelfieWithAnElfie. You'll have a chance to win a gift certificate if you post it on social media with the hashtag.
3. Enjoy The Window Decorations
As we strolled down Main Street, we enjoyed the creative window decorations. Our favorite was the display of pink flamingos with Santa hats. Another display had a model train passing through a winter scene with reindeer. There were 11 stores with decorations. You can also vote for the window that you like best.
4. Fest Of The Seven Fishes
The Fest of the Seven Fishes runs from July 22 to 24. This is a July version of the Feast of the Seven Fishes traditionally served on Christmas Eve. Seven restaurants are participating and will be preparing signature dishes. Some have already revealed their offerings, others haven't.
We were able to sample the lobster rice specialty at Casa del Mofongo (very tasty and tons of lobster) and the fish tacos (we love fish tacos) at Urbano Mexican Kitchen and Bar. We also had a meal at Tapas on Main but not the Seven Fest dish. If you are of age, we highly recommend the sangria flight at Tapas on Main. On July 24, the Bethlehem restaurants will also have food that you can eat while strolling.
5. Participate In The Snowball Scramble
As you wander around town, you'll see letters in windows. No, it's not a health grade. The signs are all part of the Snowball Scramble. The letters spell out a phrase that you'll be able to figure out once you've "collected" them all. You have to download a Scramble Card from the website before you go. This is a great activity for children and families. It will have you walking all over the downtown area.
6. Get A Jump On Your Christmas Shopping
You can also use Christmas in July to prepare for Christmas in December. There are cute shops all over Main Street. You'll find handmade chocolate, gourmet popcorn, olive oil and balsamic vinegar, jewelry, clothing, art galleries, home goods, and more. There's even a Celtic gift shop named Donegal Square.
7. Visit The Oldest Bookstore In The U.S.
In 1745, the Moravian Church in Bethlehem established the Moravian Bookstore. It has been in continuous operation since 1745, making it the oldest bookstore in the U.S. and the second oldest in the world. In the 1700s, it catered to the Moravian community. Now it has something for everyone.
8. Learn About The Moravians, One of the Oldest Communities in The U.S.
Since we are on the topic of the Moravian Church, it's worth mentioning that its historical buildings are a must-see when you are in Bethlehem. As you wander around during Christmas in July, take a moment to learn about the history of Bethlehem, including the influence of the Slavic people who settled in the area. 
Gemeinhaus, built in 1741, is a national historic landmark and houses the Moravian Museum. The 1762 Waterworks Building, also a national historic landmark, was an engineering marvel for its time. The Moravian settlement is on the U.S. UNESCO World Heritage site shortlist and may soon receive that designation.
9. Visit The Historic Hotel Bethlehem
If you are staying overnight for the Christmas in July Festivities, the Hotel Bethlehem is the most convenient place to stay. It was named the #2 Best Historic Hotel in the U.S. by USA Today. The hotel is beautifully appointed, with excellent service. Many famous guests have stayed there: Presidents Dwight Eisenhower, John F. Kennedy, Gerald Ford, and William Clinton, Amelia Earhart, Winston Churchill, The 14thth Dalai Lama, and Muhammed Ali, among others. There are even reported to be some friendly ghosts staying at the hotel.
10. Indulge Your Sweet Tooth
If you are a fan of ice cream, then stop by the Hotel B Ice Cream Parlor. They serve Penn State Creamery Ice Cream. We had Death By Chocolate and it was "to die for." While you are there, try a piece of the Moravian Sugar Cake. It is sweet and worth trying. Next door, you'll find every candy imaginable at Grandpa Joe's Candy Shop. If these two places don't strike your fancy, how about a scone with clotted cream at McCarthy's Red Stag Pub & Whiskey Bar?
11. Spend Some Time At SteelStacks
If you are of a certain age, you may remember the Bethlehem Steel plant. Established in the mid-1800s, Bethlehem Steel closed 20+ years ago. If you've been to the George Washington Bridge, the Empire State Building, Golden Gate Bridge, Hoover Dam, or the Waldorf Astoria, then you've walked on or felt Bethlehem Steel. The hulking stacks and the history of the steelworkers loom large in Bethlehem. If you have time, make a visit to SteelStacks. There are tours available if you book in advance. Today, SteelStacks is used as an entertainment and arts hub. Check the evening calendar for concerts and other events.
12. Do The South Side Art Walk
On the South Side of Bethlehem, you'll find the Urban Arts Trail. It's a tour of street and public art by local artists. There are sculptures, murals, and very inventive bike racks on the walk. There's even a sculpture/bus stop. It is an almost 3-mile walk, so don't try it in 90-degree weather like we did. The walk goes near SteelStacks and you can take a break there. The website has a map and information on all of the pieces.
Pro Tips
Bethlehem is an hour's drive from Philadelphia and about 90 minutes from New York City. It's a good day or weekend trip from anywhere in the Northeast. It's easiest to get to Bethlehem by car. Pre-COVID, there were buses from New York and Philadelphia. Hopefully, there will be buses again in the future. Once there, you don't need a car as the Christmas in July events are all within walking distance.
Christmas in July is very family-friendly. Finding the elves, snowball scramble, and, of course, ice cream and sweets, are all great activities for children of all ages. Downtown Bethlehem is fairly compact.
Most of the Christmas in July activities are reasonably accessible. There are curb cuts in the sidewalks and they are all paved. The Moravian areas have some steps. Hotel Bethlehem is accessible.
You can certainly do Bethlehem as a day trip, but we recommend spending the night for a more leisurely experience. There are many good restaurants to try and shops to visit. There are also a number of museums and other sites that we did not have time to see: the Kemerer Museum of Decorative Arts, the Museum of Industrial History, the Banana Factory, and the Burnside Plantation.
If you want to make it a three-day weekend, Bethlehem can be the hub for visits to Allentown, Easton, and Nazareth.
You may need to book tickets and tours in advance for SteelStacks, the Moravian Museum, and some of the other museums.
Celebrate Christmas in July. Or, Christmas in December. You have two opportunities to do Christmas in Bethlehem, Pennsylvania, this year.