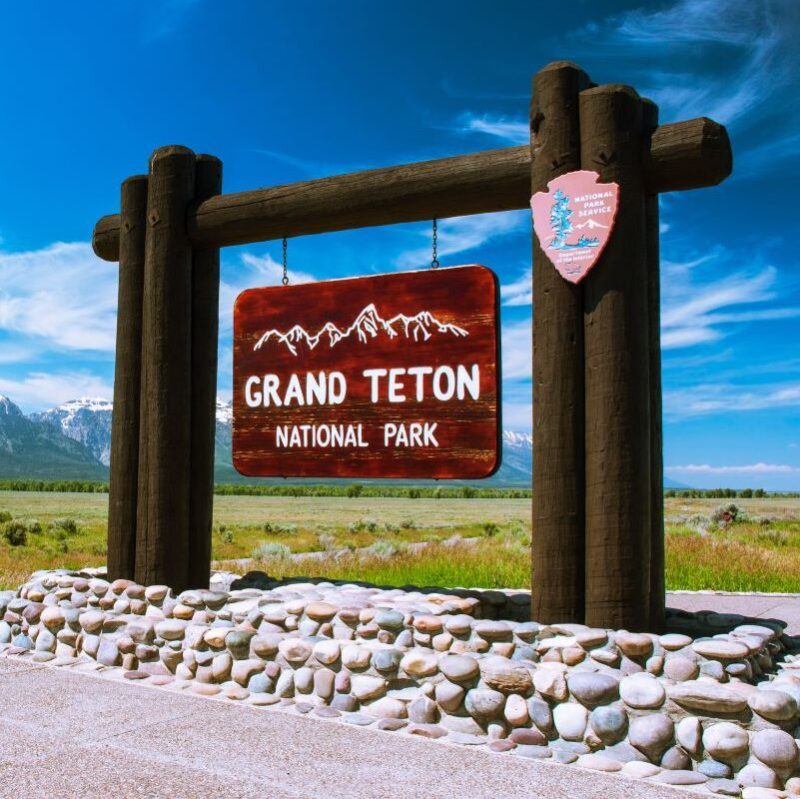 Grand Teton National Park, located in the Rocky Mountains' Teton Range, has more than 300,000 acres of valleys, mountain meadows, lakes, and rugged mountain peaks – and 200 miles of trails. The park, located in northwest Wyoming south of Yellowstone National Park, is also known for being home to large numbers of bears, elk, bison, mule deer, and pronghorn.
It's no surprise then that the park is exceptionally popular. Indeed, in 2020, Grand Teton drew 3.3 million visitors — making it the country's 5th-most-visited national park. Record numbers of people have been visiting the park this year as well.
Those crowds don't mean you should forget about visiting Grand Teton, however. In fact, the National Park Service (NPS) recently released its "Top 10 Tips for Visiting Grand Teton National Park" — written by park rangers — to help you plan a memorable vacation even if the park is crowded.
"Grand Teton looks forward to welcoming visitors this summer," NPS explains. "The 2021 season is BUSY, so make sure to plan ahead, recreate responsibly, and help ensure this iconic landscape may be enjoyed by future generations."
So let's get right to it. Here's what rangers want you to know before you visit Grand Teton National Park.
1. Plan Ahead
The most important step in thinking about a trip to Grand Teton National Park is to, as rangers note, "Plan ahead, plan ahead, and did we mention: Plan ahead."
Rangers add that it's essential to know — in advance — where you will spend the night. That's especially important this year because park campgrounds that were first come, first served in the past are now managed by an online reservation system.
Pro-Tip: Camping is not allowed along roadsides, at overlooks, or in parking areas.
2. It's Okay To Ghost Us And "Leave No Trace"
Rangers ask all visitors to recreate responsibly by disposing of trash properly and following Leave No Trace Principles by packing out what they take in. As you expect, recycling is available throughout the park.
Pro-Tip: The Seven Principles of Leave No Trace are:
Plan Ahead & Prepare
Travel & Camp on Durable Surfaces
Dispose of Waste Properly
Leave What You Find
Minimize Campfire Impacts
Respect Wildlife
Be Considerate of Other Visitors.
You can find more details about these steps here.
3. Bear With Us
"Be alert: Black and grizzly bears are active in Grand Teton, including in developed areas," rangers explain. "You may encounter a bear anywhere, anytime. Some of the most popular trails pass through excellent bear habitat."
Rangers urge park visitors to always stay 100 yards away from bears and wolves. Also, when they aren't being actively used, all items that have an odor should be stored in a bear-resistant food storage locker or inside a hard-sided vehicle with the doors locked and windows closed.
More information about staying safe in bear country can be found here.
4. It's "Ruff" For Dogs In The Park
"Grand Teton is a wild place" that isn't always the best place to take dogs, rangers explain.
So although pets are allowed inside Grand Teton National Park, dogs are not allowed on trails, pathways, inside visitor centers, or in park waters or the backcountry. What's more, dogs must be restrained at all times in places where they are allowed.
Pro-Tip: Rangers say a good rule of thumb is that a pet may only go where a car can travel, such as roads and road shoulders, campgrounds and picnic areas, and parking lots. More information about visiting Grand Tetons with pets can be found here.
5. Crowds Are Late To Rise And Early To Set
Grand Teton draws a high number of visitors each year. Consequently, it's difficult to find parking in the park during peak hours. To avoid crowds and increase your chances of finding parking spaces, rangers suggest arriving at the park either before 9 a.m. or after 4 p.m.
6. Slow Down!
"Be vigilant while driving in the park and give wildlife a 'brake,'" rangers say. They also ask visitors to remember that "45 at night could save a life!"
Here's why it's important to obey posted speed limits: Elk, bison, mule deer, and pronghorn frequently migrate at night and may be difficult to see on or along roads. What's more, moose use roads as travel corridors.
7. Don't Let Old Flames Burn
There are two important tips to remember about campfires in Grand Teton. First, they are only allowed in designated and installed fire rings. Secondly, campfires should always be attended to and must be completely "dead out" and cold to the touch before visitors leave a campsite, rangers note.
Pro-Tip: You can learn about current fire conditions at Grand Teton here.
8. Put A Ranger In Your Phone
It's always a good idea to have as much information at hand as possible. To do that, rangers suggest downloading the NPS App, which provides interactive maps, tours of park places, and on-the-ground accessibility information about more than 400 national parks to make trip planning easier. The free app can be downloaded through the App Store and Google Play.
Pro-Tip: For the most up-to-date information, rangers also suggest following Grand Teton National Park on Facebook, Twitter, and Instagram.
9. More To Explore
If you're planning a trip to Grand Teton, keep in mind that Wyoming has a number of places to visit and explore. Be sure to also consider visiting places such as Bighorn Canyon National Recreation Area, Devils Tower, and — of course — Yellowstone National Park.
You can find a full list of Wyoming National Park Service sites here.
10. We're All In This Together
Rangers ask all park visitors to follow the latest public health guidelines to prevent the spread of COVID-19 and its variants. If you are fully vaccinated, that means you don't need to wear a mask inside park facilities or outdoors. On the other hand, if you are not fully vaccinated, you must wear a mask indoors and while in crowded outdoor spaces if physical distancing is not possible.
You can find more information and details here.
Finally, as you plan a trip, be sure to see all of our Grand Teton, Yellowstone, and Wyoming coverage. All of our national parks coverage is here.