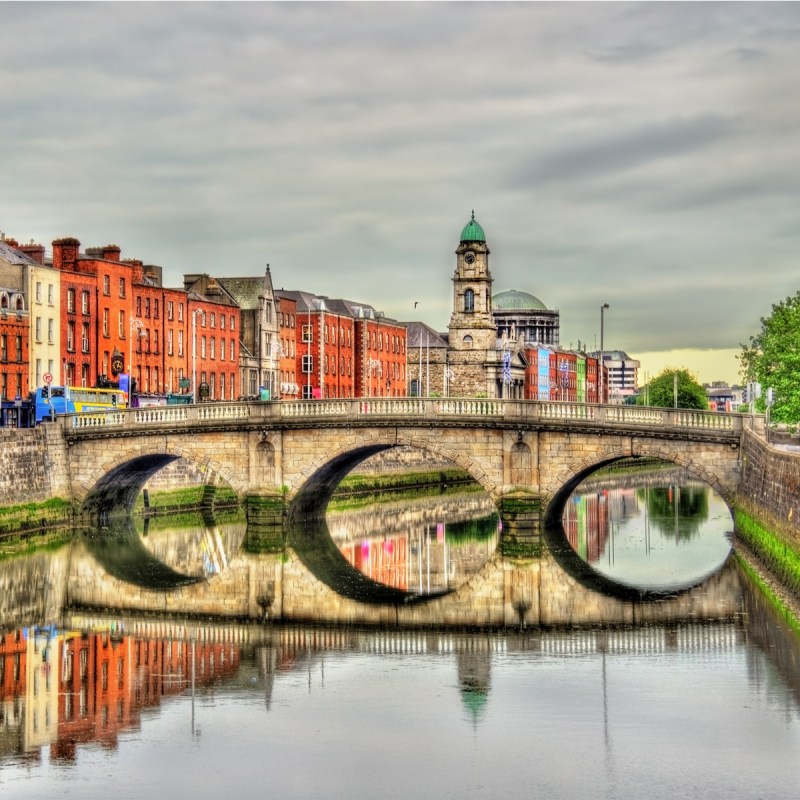 There are so many wonderful things to do in the fair city of Dublin. And thank goodness. When I purchased our home here in 2019, prices had reached $800 a square foot. Higher than Paris! And prices continue to soar as the world reopens. Dublin hotel prices can also be dear, so I hope tourists and locals alike benefit from my list of favorite free things to do in Dublin.
1. Science Gallery
A corner of Trinity College was transformed into a space that encourages science and art to collide. The ever-changing exhibition currently focuses on contagion and biomimicry. Its aim is to allow visitors to "facilitate social connections, always providing an element of surprise."
2. Trinity College – Dublin
As the center of the city, this walled university, created by Queen Elizabeth I, covers 47 acres of prime real estate. And it's free to enter.
Stroll through the massive front gate and look up to see the door can open to allow a taxi through. We found that out when we stayed on campus one summer and had an early flight. Amazing.
Walk through the Campanile (only if you're not a current student!) and meander around looking at extraordinary statues and artwork. The Book of Kells (entrance admission) is to your right, but if you continue back, you'll find additional squares used in period pieces for television and movies and the playing pitch, where you can usually view a soccer or rugby game.
From the east exit past the pitch, you'll be well-positioned to head over to Merrion Square. Or you can take the south exit towards Kildare Street.
3. National Library Of Ireland
Dublin's equivalent to the American Library of Congress's Reading Room, this cultural institution allows you to explore your family tree while exploring other exhibits including the Yeats and Seamus Heaney, celebrating the life and works of Ireland's finest poets.
Past Leinster House, you'll continue your tour of museums.
4. National Museum Of Ireland – Archaeology
Home to the Tara Brooch and Derrynaflan Hoard, you'll find important archeological artifacts from 7000 B.C. to the present. Most shocking to some are the Iron Age bog bodies. Not to worry, there's an easy place for prayer nearby with a section dedicated to an early medieval book of psalms known as the Faddan More Psalter.
5. Merrion Square
Merrion Square is to a statue of Oscar Wilde, best known for such literary classics as The Picture of Dorian Gray and The Importance of Being Earnest, that features many famous witty quotes from Wilde's works.
This park is also home to the Military Memorial honoring the Irish men and women who served and the Giant's Playground. With plenty of room to run around or sit and picnic, this Georgian Square provides a wonderful opportunity for surprising nature in the midst of the busiest city in Ireland. Take a look at the old Dublin lamp posts; they're some of the finest remaining in the city.
The bookshop at No. 8 Merrion Square has the largest stock of architectural publications in Ireland.
Around the park are notable attractions including the National Gallery and the National Museum – Natural History.
With the presence of the Oscar Wilde statue, you may be interested in pursuing a scavenger hunt. If your party is large enough, you can even split into teams. So decide which you'd like to do first — the statue and graffiti scavenger hunt or Museums and Galleries, and follow that path below.
6. National Gallery Of Ireland
This gallery houses the nation's collection of Irish and European art collected since the 1300s. I especially appreciate the role it played in educating George Bernard Shaw, who bequeathed a third of his royalties to the gallery to continue its educational programs. The permanent collections are extraordinary and the visiting exhibits exceptional.
My favorite view, though, was of a toddler's birthday party hosted here. They had each toddler sitting on a mylar balloon and listening to the children squeal with each squeak was delightful.
Check online for a listing of their free workshops, lectures, and events.
7. Scavenger Hunt: Statues Or Street Art
Do you like a good scavenger hunt? Go on a tour of statues around the city, using photographs as proof of completion. Dublin is set up to do this extremely well. Especially with their Talking Statues – Dublin campaign and so many other statues, including the Spire and the Famine Memorial.
Complete your hunt by following the Talking Statues Dublin tour, or see just a few. If you want to throw in a little humor, use eponyms like "The Stiffy on the Liffey" or "The Hags with the Bags" so you're sure to interact with locals to find your sites.
Alternatively, acquaint yourself with several graffiti sites online and work to find them. The five best places in Dublin to see street art are Temple Bar, Love Lane, Portobello, Richmond Street, and Tivoli Car Park.
8. National Museum Of Ireland – Natural History
Currently closed for works, this museum, known as The Dead Zoo, has also been called a museum of a museum.
Much like our Smithsonian Institution's Natural History Museum, NMI – NH retains permanent exhibits, including Mammals of the World and Irish Fauna, with more than 10,000 specimens on display. Here, though, you'll see a huge, basking shark instead of the great blue whale of the Smithsonian in Washington, D.C.
Let's get back out in the open air, though, and head toward St. Stephen's Green.
But first, I'll give you an insider tip: Dublin Bikes are Free for the first 30 minutes of each ride.
9. Dublinbikes
Set up your dublinbikes rental in advance and plan your route, and you may get your transportation between bike stations covered for free. Now, if you're not concerned about this remaining 100 percent free, that's great, but if you're careful about where you go and switch out your bike when you see another stand, you'll be free and clear.
10. Audio Guides Of Dublin
In addition to the street tours run by guides who you should tip well, audio guides are now available in Dublin for free (access them here and here). If you love hearing about what you're seeing as you're strolling through a new (or old) city, you're in great luck with either or both.
11. St. Stephen's Green
While you'll have a pleasant time feeding the ducks and swans in St. Stephen's Green or watching the man who feeds them every day, this Dublin equivalent of New York City's Central Park is full of informational signs, fountains, flowers, and statues. The gazebos are great places to relax over a picnic or take some lovely photos.
You should also take the time to watch the street performers along Grafton Street by the mall.
12. RHA Gallery
The Royal Hibernian Academy's gallery is an artist-oriented institution dedicated to "developing, affirming and challenging the public's appreciation and understanding of traditional and innovative approaches to the visual arts." Four galleries are dedicated to curated exhibitions. The Ashford Gallery is designated for artists without commercial representation to prove their commercial viability.
13. Iveagh Gardens
One of Dublin's favorite secret gardens, this one is located a few blocks further south of St. Stephen's Green. What began as an earl's lawn now hosts a yew maze, rosarium, fountains, and the cascade, a stunning site for wedding photos. A Human Rights memorial bears witness at these gardens.
14. Temple Bar
Temple Bar teems with culture, arts, and creativity with its vibrant street art, outdoor markets, exhibitions, music, theater, galleries, fine restaurants, cafes, and shops. You can see the city walls that contained Dublin's Viking history, knowing you may be walking on some of the same cobblestones they once did. With a Book Market, Food Market, and Designer Mart, you may not get out of here for free, but there is no entrance fee.
15. Dublin Castle
The castle is more of a complex with multiple things to see and do. The castle charges admission for the tour, which includes the subterranean view of the River Poddle and of the decommissioned Chapel Royal.
That said, tour or no tour, you can plan to take plenty of photos in the courtyard and then go to the gardens to enjoy the Garda Memorial and the Exhibition Hall.
16. Chester Beatty Library
Nestled behind Dublin Castle, the Chester Beatty is the only museum in Ireland to have won the European Museum of the Year award. Its vast collection of religious artifacts from across Asia, the Middle East, Europe, and North Africa is unparalleled. Works from 2700 B.C. onward covering religions great and small are exhibited here. The curator tells me less than 10 percent of the collection can be displayed at any one time. It's exceptional.
17. Dublin City Hall
Restored to its original splendor, Dublin City Hall is worth a visit to see its spectacular entrance hall and grand rotunda. The multimedia exhibits on the lower level remain a feast for people interested in the history of Dublin.
Want more Dublin inspiration? Consider