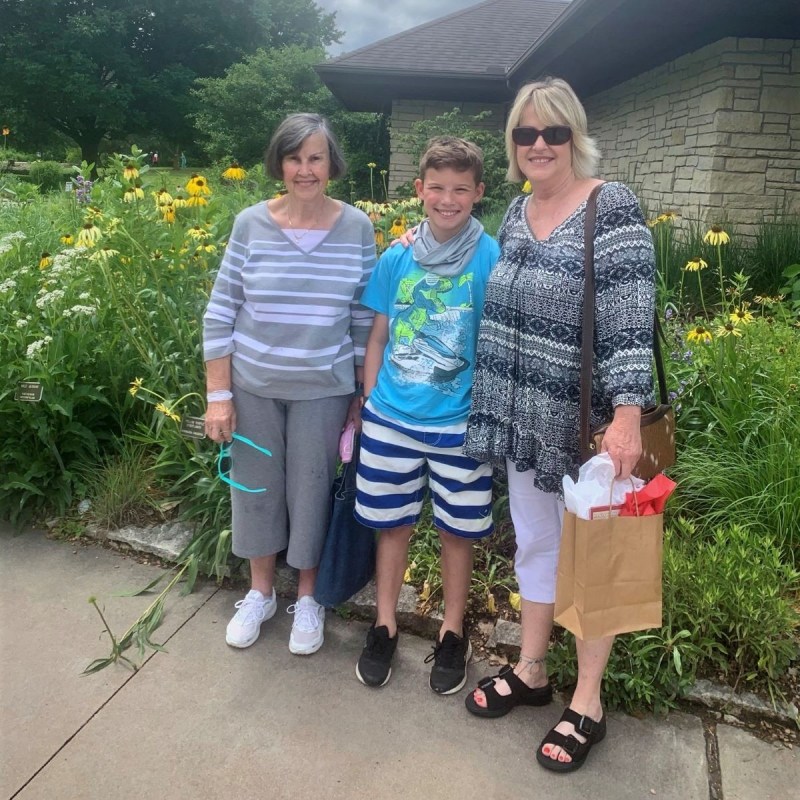 My mom, or Mema as we all call her, is 82 years old and lives on her own about two hours from me. She's quite an introvert and stays at home most of the time tending her garden, playing solitaire, and watching Wheel of Fortune. I had decided that a road trip to Central Kansas would be the perfect opportunity for a multi-gen road trip to include her and my grandson. Making travel memories with both of them is very important to me. To my amazement, neither my mom nor myself had ever been to Kansas. It's another state we get to scratch off our travel map.
So, here we are — a midlife woman (me), my elderly mom, and her 11-year-old great-grandson going on a multigenerational road trip six hours one way from Texas to Kansas. I knew going in that three generations in a car for that long could possibly stir up some controversy, so planning was key. While we had a great time, in the end, I learned a few valuable lessons.
We were hosted throughout our Kansas road trip. All opinions are my own.
1. Six Days On The Road Was One Day Too Many
We started out on a Tuesday, and by the time Saturday rolled around, we had visited four towns in Central Kansas: Hesston, Lindsborg, McPherson, and Great Bend. That put us moving from hotel to hotel three times. Though this was a travel writing opportunity for me, it was also a planned trip for all of us. Each destination had things for us to do and see, and we will not forget the hospitality and kindness in each town. But still, it lasted too long.
On Saturday evening, not only my grandson but my mom was ready to go home. My mom even suggested that we leave that night and asked if I was up for driving at night. I think she was missing her precious dog, Lily. Six days on the road were too many for us. So, the next time I plan a family road trip, it will be at least one day shorter.
2. A Blanket For The Car Ride Is A Must
My mom knows I like my house cold, and inside the car is no different. She made her list of what to bring, and a blanket and sweater topped her list. She drove to my house with her suitcase packed and ready to go, but that darn blanket and sweater draped over her shoulders was like she was trying to tell me something. This is a friendly reminder that older people can get cold more often than most.
3. Drive A Car With All The Latest Tech
Seriously, if your car doesn't have outlets and plugs for electronics, consider renting one that does. Game devices, a phone, and headphones are what kept my grandson completely occupied and content in the backseat. My motto when road tripping is to let the kid play with his electronics, but when we get to our destination, he has to put them away. Gone are the days of playing the ABC game and Slug Bug in the car like you and I once did on family road trips.
4. Take Bathroom Breaks "Together"
Before we left on our trip, I advised them that when one needs to go pee, we all go. It's not my grandson I had to worry about — it's my mom! She sure can be stubborn at times. If she doesn't have to go, she won't, but that only means I have to stop again just for her. We've gone through this a time or two, but it worked out pretty well on this trip, I have to say.
5. I Had To Be Patient And Mindful (More So Than I Expected)
It's hard to think of our parents getting old. I found myself waiting on my mom to cross the road, to finish her meal, and to make decisions so much that I had to slow myself down. I honestly had a real learning moment realizing she's not the mom who once took care of me, but that I'm the daughter who now takes care of her. Thinking about this makes me tear up. I slowed down the rest of the trip.
6. Let Each Person Choose Their Own Activities
We pretty much had an itinerary to follow on this trip, but I found I had to be somewhat flexible when it came to my grandson. The three of us were signed up for a paint-on-canvas activity that took place at an outdoor festival in Great Bend. But when we arrived, I saw a bounce house in one corner, a splash pad in another, and so many other kid-friendly activities that I knew my grandson would not want to sit there and paint. So after seeing him struggle with painting his canvas, I told him to go play and have fun. In any other situation, he would have loved to sit there and paint because he loves that sort of thing. Luckily, he is outgoing and makes friends fast. He was off making new friends, playing, and jumping in no time. He even came back a time or two to check in with me. I made the right decision there.
7. Take Breaks When You Can
We visited Lindsborg, Kansas, also known as Little Sweden, for a day and a half and found the town to be quiet, friendly, and safe. So when we were given an activity sheet to find the decorated Swedish Christmas holiday Dala horses around town, I let my grandson wander up and down Main Street by himself to search for them while mom and I sat on a bench. He loved his freedom, and we loved resting our feet!
8. Photo Memories Are For Everyone
A learning moment for me was when I realized my mom wanted to be silly and get her picture taken as much as I wanted to take pictures of my grandson. She's elderly, but not dead, she reminded me a couple of times. My mom has way more life in her than I sometimes think. After that, my camera filled up with all kinds of photos — of her and my grandson.
9. Don't Forget To Have Your Own Fun
Being the one responsible for making sure everything went smoothly and on time, I sometimes forgot to enjoy myself. Don't do this. Make sure you find some time for yourself, and don't forget to ask someone to snap a photo of you.
While it's good to have a routine built into our daily lives at home, traveling is one thing that gives us a chance to get out and experience the world. So grab your parents, your grandkids, your aunts and uncles, and set out to see the world.