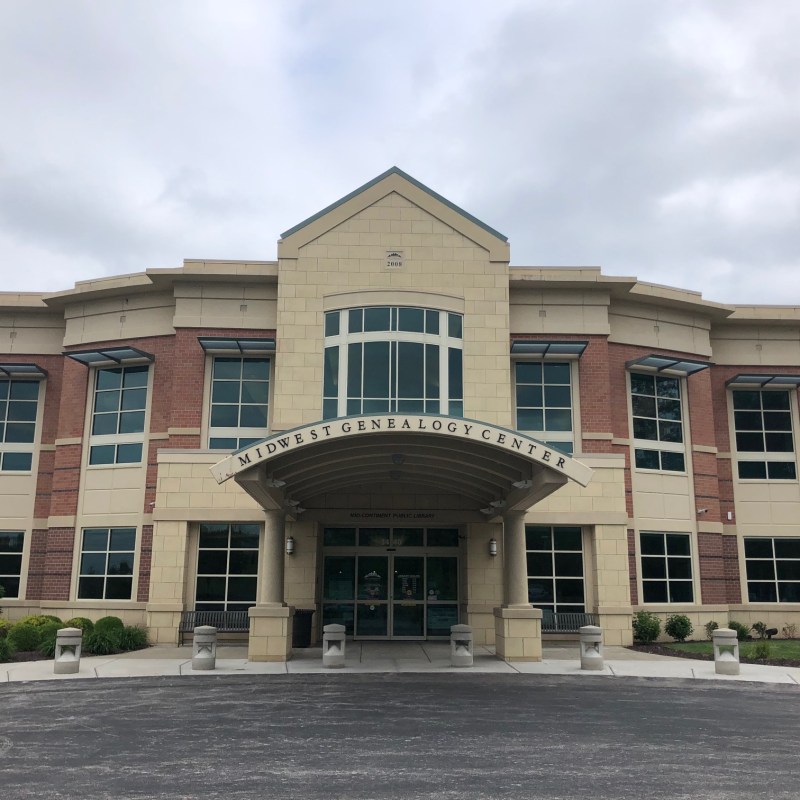 With the advent of genealogy television shows that track down ancestors of the rich and famous and easily accessible online programs going more mainstream, tracing your roots has become a popular pastime — and passion — for many people.
Some might think that the act of searching back over a family's history is an expensive endeavor that entails costly subscriptions, private assistance, and sometimes even international travel. But there is a hidden gem located in the Midwest that can help you no matter where in your ancestry journey you might be, regardless of your budget. They've got the experts, documents, and even computer software to crack the case of long-lost relatives and your ancestors' countries of origin and may even be able to help you prove (or disprove!) families' tall tales.
Best of all? It's free of charge and open to the public!
Here's what you need to know about the Midwest Genealogy Center (MGC), located in Independence, Missouri — and all the ways the people and resources there can help you research your family tree!
It Houses Outstanding And Extensive Archives
The center, located on the outskirts of Independence, is massive. In fact, with its 52,000 square feet of space, MGC is the largest stand-alone public genealogy research center in the country, housing everything you could ever need to research your family history.
"There are a few organizations bigger than us; however, they are private, or you may have to be a member to gain full access," says Jenny Tatman, assistant branch manager at MGC. "But everything we have in here is free and open to the public."
Only when you visit in person will you be able to fully appreciate the treasure trove that makes up MGC's collection. Books, periodicals, microfilm, magazines, historic family and military anthologies, and maps provide information about the United States as well as countries around the world. In all, there are 300,000 pieces of print materials at the center, providing vital information that can help you trace back generations in your family's history.
You'll Get Free Online Access
Hard copies and files are considered gold-standard documentation when researching your roots, but online tools can also help fill in the branches of your tree. While online subscriptions can often be costly, at MGC you can search popular sites including Ancestry Library Edition and Findmypast, which aggregate scanned documents including birth certificates, census documents, and other vital records.
In all, the center subscribes to more than 30 different genealogy databases, and all are free for visitors to access. Center staffers and volunteers will help get you started, and then you are free to browse at will. Online searching can be a terrific complement to unlocking your family history, and the experts at MGC can instruct you as to which databases will be most helpful to you.
"We had someone come in, he was looking at a record and said, 'They told me my grandpa came from Switzerland, but I don't know how to find that here.' And so we helped him start the process of tracking him down. Watching that lightbulb go on, for me, that's always fun," Tatman says.
Incredible Expert Staff And Volunteers
Speaking of those experts, staff members and volunteers at the Midwest Genealogy Center can provide invaluable assistance during your visit. They are even willing to help you with questions pertaining to specific roadblocks to your research. While not intended to replace paid genealogical assistance, their program, "Appointment with a Genealogy Consultant," pairs library staff and selected volunteers with visitors, allowing them to chip away at a single genealogical question bit by bit. Some of the consultants set a schedule for their appointments; others will schedule it when it's convenient for you. The appointments last about 45 minutes and cover a variety of subjects, including foreign research, how to use computer genealogy programs, heirloom preservation, and how to deal with those pesky brick walls.
"Our staff is a great resource," Tatman says. "Some of them have been doing genealogy work and helping people research for 30-plus years. They know what we have here at the center. They know what's available throughout the country and which websites are the best to get certain things. Our staff, even as much as our collection, is just invaluable."
All you need to do to schedule time with a consultant is reach out to the center via phone or email, so the staff and volunteers can get a feel for (and more information about) the specific genealogical question you wish to explore. The center does request a minimum of a week's notice, so make sure to book your appointment in advance. This is an incredible service, and again, it's offered completely free of charge!
You Can Even Create A Recorded Family History
Another goal of MGC is to help visitors go beyond the lines and branches on their tree to include actual lived experiences and "in their own words" storytelling. That's why they provide oral history recording kits. Modeled after a similar project presented at the National Archive, the kits are designed to leave a lasting, very personal record for generations to come.
"Each kit comes with a recorder, instructions, and questions people can use to help them get started to interview family members," Tatman says. "You can get names and dates on a piece of paper, but really getting those family stories … we find that later down the road, people really wish they had those. Families can record the conversation, mail it back to us, and we will send them a copy on CD at no cost."
The kits are available to check out so the process can be completed at your family's leisure, or they can be used for on-site interviews in conference rooms at MGC. Keep in mind: The kits present an excellent way to involve younger family members in your research, too! Having children ask questions of a grandparent or other family elder truly makes the experience that much richer for everyone involved.
They'll Encourage You To Dig Deeper
Even for top-level genealogical researchers, organizing is key. Timelines and research checklists are essential to helping separate fact from fiction or folklore when it comes to your family tree. There can be false information or leads, and sometimes the true path through the past can be tough to navigate. Clues can be as close as in a family bible or as far away as an online database. And as the researchers at the Midwest Genealogy Center will tell you, you want to make sure you've got your family facts backed up with as much documented evidence as possible.
That's another area where the center once again comes through: Its downloadable forms can help you collect and organize your family facts, and in doing so, encourages family tree detectives to dig deeper for further historical context and evidence.
They Can Help You Get Started
If you're a novice genealogist just starting to build out your family tree, it's a good idea to do a bit of due diligence before visiting the center in person as its extensive collection can be a bit overwhelming even for a seasoned researcher! On its website, the Midwest Genealogy Center offers a handy, downloadable six-generation chart that starts … with you. The more information you can enter, including birth dates, death dates, and maiden names, the easier it will be to kick off your search for further information.
"We tell people to start with yourself and work backwards. Take the chart, fill out as much of that as you can yourself, and then bring that with you if you're visiting us. We can then help you get started on next steps: What do you know, and what do you want to know?" Tatman says.
Pro Tips
It's good to have specific goals set for your visit and to bring any research you have already completed with you. Whether it's a specific person you're looking to locate, or you want to clarify some other portion of your family's past, it helps to narrow your focus so you can stay on track and make the most of your time at MGC.
Full disclosure: As I walked the incredible stacks at the center, marveling at all of what was available, I was kicking myself for not bringing my own family tree with me. Learn from my mistake, and visit prepared with all the names, dates, people, and places you have knowledge about to increase the chances of having those questions answered. This is a case where knowledge truly is power!
Tatman says that people come from all over the country, and some spend several days at the center in an effort to get those family-tree gaps firmed up and filled. If that's the case for you as well, consider making it a mini-vacation: Independence offers terrific dining and accommodations, and you can learn about spending a perfect day in Independence here.
Read a personal experience about a woman's experience researching her family history at MGC here.