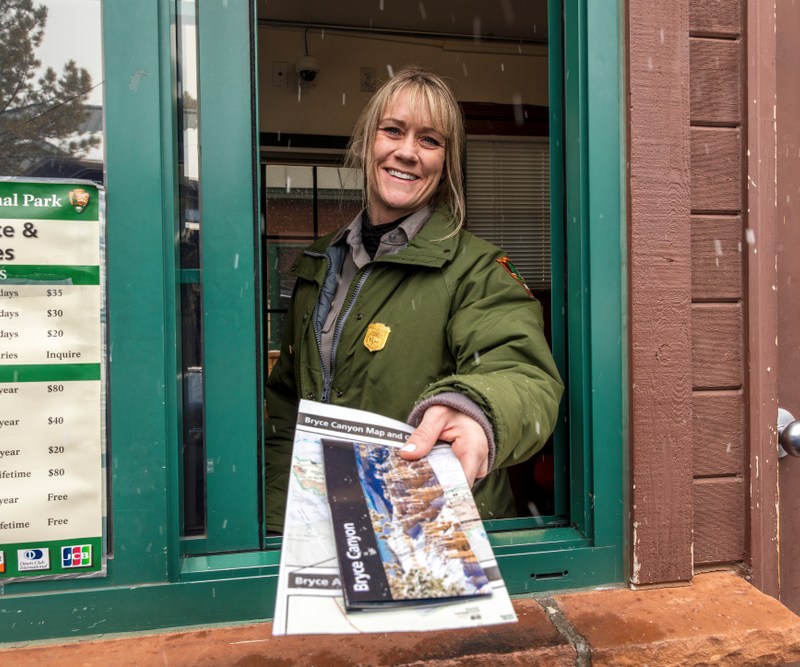 The best way to plan a vacation is to get an expert's advice. If you're planning a trip to a national park, that means you need help from a park ranger. After all, nobody knows the parks like the rangers who work there.
Fortunately, the National Park Service (NPS) recently released that much sought-after insider knowledge. Called "Plan Your Vacation Like A Park Ranger," the tips explain how rangers themselves plan a trip to a national park.
"Many national parks are expecting an especially busy season in 2021," the National Park Service explains. "A little trip planning can ensure that your only surprises are happy ones."
So, let's get to it. Here are park rangers' top 10 tips for planning a terrific trip to a national park.
1. Have A Plan…And A Back-Up Plan Too
The park rangers explain that the best way to begin planning a trip is to visit park websites. That way, you can learn about the places to go, things to see, and even what you can do at each national park. What's more, you can even learn about park conditions and important alerts, such as planned road closures and expected traffic delays.
Information about planning a visit to a national park may be found here.
2. Be Patient With Each Other — And Us
"We always remember to allow ourselves extra time to get from one place to another and enjoy the experience," the park rangers explain. "This season, national parks are already bustling. Like lots of places you go this year, we may not yet be able to offer the past level of service as we emerge from the ongoing coronavirus pandemic."
Also, please remember that people who are not fully vaccinated must wear masks inside park buildings and in crowded outdoor areas. You can learn more about how NPS continues to address the threat of COVID-19 here.
3. Travel Off The Beaten Path
There are more than 400 national parks across the U.S. Park rangers explain that they love exploring the lesser-known parks. Why visit lesser-known parks? Because it allows visitors to experience the parks without the crowds and lines!
You can learn more about searching for a park topic or activity here and read up on the least visited national parks here.
4. Make Reservations If Necessary
Rangers say they love reservations. "Having a reservation guarantees you won't arrive at a park only to find that you need an entrance reservation, there's no place to sleep, or a popular trail is closed," they explain. Keep in mind that this tip is especially valuable this year, given that national parks are already setting attendance records. Indeed, many campgrounds and lodges in and around well-known parks are already fully booked for this season.
Be sure to check in advance with the park you plan to visit. You can find national parks here.
5. Ask A Ranger
Remember that rangers are at parks to help. When rangers have a question about visiting another park, the first thing they do is reach out to the rangers there.
Want to ask a ranger a question before visiting a national park? You can find their answers to commonly asked questions here.
6. Use The New NPS App
Rangers say they love the new NPS app, which can even be accessed while offline — if you plan ahead. The NPS app includes tools to explore more than 400 national parks nationwide. It includes interactive maps, tours of park places, and even on-the-ground accessibility information.
The free app is currently available for iOS and Android devices. You can learn more about it here.
7. Keep Safety In The Picture
Everybody loves to take pictures of national parks, even park rangers. Unfortunately, people get hurt — and even die — taking pictures in national parks each year.
Rangers explain that to avoid slips, trips, and falls, everyone should stick to trails and boardwalks, use extra caution and watch their step, wear shoes or boots with sturdy soles, and always stay on the safe side of barriers and safety railings. More tips about safely taking pictures in national parks may be found here.
8. Respect Wildlife
Wildlife may appear to be calm and docile, but animals are unpredictable and can easily be startled. Remember that bison, for instance, appear docile but can weigh up to 2,000 pounds and run up to 35 mph. "Keep your distance from wild animals, never feed the wildlife, and when taking pictures, use your zoom and give them room," the rangers explain.
Pro Tip: When taking pictures of wildlife, rangers use the "rule of thumb." Here's how to do it: Hold your thumb up and out at arm's length. If you can cover the entire wild animal with your thumb, you're probably a safe distance away.
9. Leave Only Footprints
"We know that each of us — rangers, volunteers, visitors, everyone — plays a vital role in protecting YOUR national parks," the rangers explain. "Whether it's carrying out what we brought in (including our pooch's, well, you know), leaving the spots we visit as we found them, or staying on the trail, we're careful to respect these incredible places."
More information about the Leave No Trace Seven Principles may be found here.
10. Plan Ahead When Traveling With Pets
Everybody loves their pets. Let's face it, they are part of the family. Keep in mind that while many national parks allow pets on leashes, not all do.
The first thing to do when traveling with a pet is to check in advance to see if the park you'll be visiting allows pets. Then, you and your pet will need to follow these B.A.R.K. principles:
Bag your pet's waste.
Always leash your pet.
Respect wildlife.
Know where you can go.
You can learn more about B.A.R.K. and even how to become a "B.A.R.K. Ranger" here.
Pro Tip: Use this virtual map to determine which parks allow pets. Also, before you travel, be sure to check park websites for park-specific information about pets and read up on the 7 Leave-No-Trace Tips You Need To Know, According To A USDA Forest Program Manager.