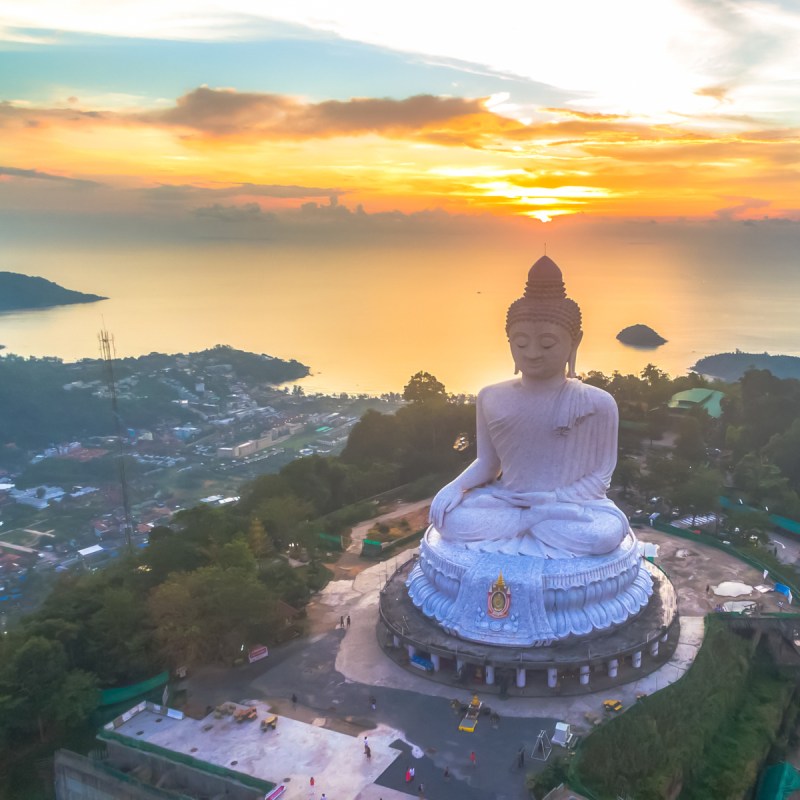 It's imperative to feel comfortable and safe while traveling.
Medjet
provides premier air medical transport, travel security, and crisis response memberships, providing peace of mind for an affordable price.
If traveling to Thailand sounds appealing in the first place, does the prospect of getting hotel rooms for $1 per night sound even more tempting?
Seriously: $1 per night. Now that Thailand is reopening, the country's tourism board has proposed offering hotel rooms on the resort island Phuket for $1 as part of a campaign called "One-night, one-dollar."
The proposal calls for participating hotels to offer foreign tourists room rates at $1 USD per night — for rooms that typically sell for between $32 and $96 per night, Chamnan Srisawat, president of Tourism Council of Thailand (TCT) explains, TTG Asia reports. Srisawat said he expects nearly one million room nights would be up for sales, generating at least 40 billion baht (approximately $1.3 billion) for hotels and other services throughout July.
TCT's proposal has been submitted to the Tourism Authority of Thailand and the Ministry of Tourism and Sports and is expected to be proposed to the Thai cabinet for approval this month, TTG Asia reports.
Phased Reopening
Thailand began a tiered reopening on April 1. Foreign tourists traveling to the pilot provinces of Phuket, Krabi, Phang Nga, Chiang Mai, Koh Samui, and Pattaya have been allowed to enter the provinces if they have a COVID-19 vaccination certificate — and they quarantine for seven days in a hotel, the Tourism Authority of Thailand (TAT) explains.
Now, as a Phuket test pilot, beginning July 1, if a foreign tourist arriving on the island has a vaccination certificate documenting they have been fully vaccinated, they will not be required to quarantine in a hotel for seven days. They are, however, restricted to travel activities within designated areas in Phuket for seven days before they can visit other Thai destinations, TAT explains.
"All of us at the Tourism Authority of Thailand share the excitement and anticipation of everyone in Phuket in the preparation to welcome back foreign tourists in the not-too-distant future," Yuthasak Supasorn, TAT Governor, said in a statement. "The countdown starts now to the reopening of Phuket!"
Much Needed Revenue
Thailand managed to keep COVID-19 outbreaks under control because foreign visitors were generally banned from entering the country. Those strict measures kept COVID-19 cases down but they also had a significant impact on revenues.
Deputy Government spokeswoman Traisulee Traisoranakul said that in 2019, the country welcomed a record 39.9 million visitors — who spent 1.91 trillion baht ($61.32 billion), a Reuters article reports. On the other hand, due to the pandemic, Thailand only drew 6.7 million visitors last year.
As the country reopens, government officials expect 3.5 million tourists this year and 298 billion baht ($9.58 billion) in revenue.
Know Before You Go
Thailand was able to keep its COVID-19 case counts down because the country generally banned tourists from visiting. But, since April, the number of COVID-19 cases in Thailand has grown significantly — corresponding with when the country began its phased reopening.
It should also be noted that the U.S. Centers for Disease Control and Prevention has issued a "Level 3: High Level of COVID-19" alert for Thailand. The CDC recommends travelers should avoid all nonessential travel to Thailand. If you must travel to Thailand, the CDC recommends getting fully vaccinated before you go.