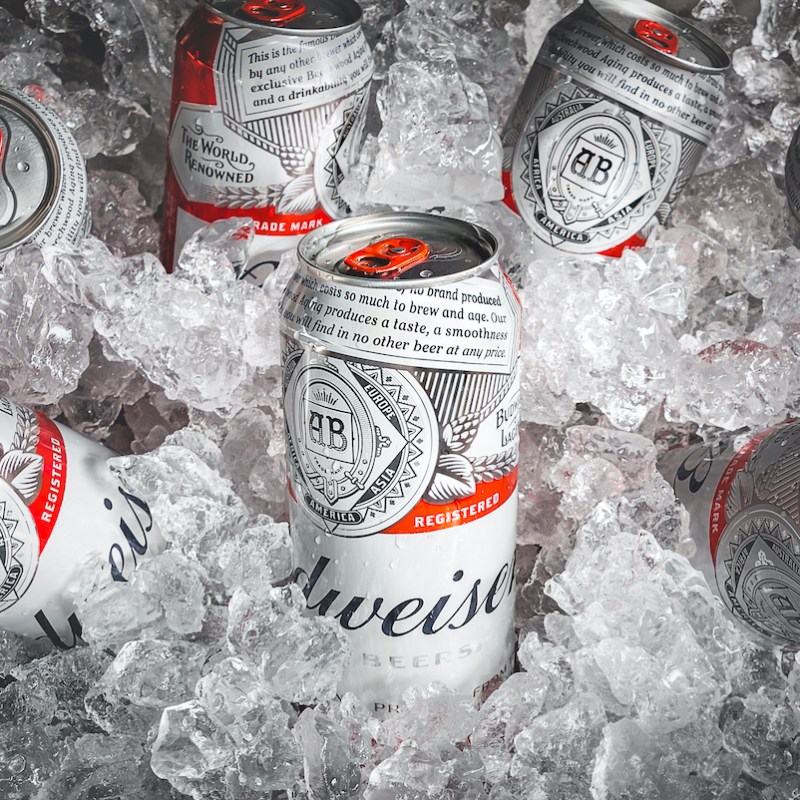 Anheuser-Busch is ready to buy a beer for millions of Americans. AB, the maker of Budweiser and many other popular brands, is teaming up with the White House to encourage Americans to get vaccinated against the coronavirus. If the nation hits President Biden's goal of 70 percent of adults in the country vaccinated by July 4, Anheuser-Busch will give away free drinks.
"At Anheuser-Busch, we are committed to supporting the safe and strong recovery of our nation and being able to be together again at the places and with the people we have missed so much. This commitment includes encouraging Americans to get vaccinated, and we are excited to buy Americans 21-plus a round of beer when we reach the White House goal," Anheuser-Busch CEO Michel Doukeris said in a statement.
The company did not release details of how the giveaway would work but promised to "buy America's next round of beer, seltzer, non-alcoholic beverage, or other AB product to enjoy with family and friends."
Customers will need to upload a picture of themselves at their favorite place to grab a beer — whether a bar, restaurant, or their own backyard — to get their free drinks.
President Biden has set an ambitious target of having 70 percent of the nation's adults vaccinated by Independence Day. According to the Centers for Disease Control and Prevention (CDC), 62.8 percent of American adults have received at least one dose, and more than 133 million Americans are fully vaccinated.
"We pride ourselves on stepping up both in times of need and in times of great celebration, and the past year has been no different," AB CEO Doukeris said. "As we look ahead to brighter days with renewed optimism, we are proud to work alongside the White House to make a meaningful impact for our country, our communities, and our consumers."
Biden is hoping to make June a national month of action when it comes to the pandemic. The White House will make a major push throughout the next five weeks to get the U.S. to Biden's 70 percent target.
Several companies have been encouraging Americans to get vaccinated by giving away products to customers with proof of vaccination. Among them are Krispy Kreme, which is giving away donuts with proof of vaccination, and Shake Shack, which is giving away French fries with meals.
The Anheuser-Busch promotion is part of its Let's Grab a Beer initiative, which the company launched to help the country recover from the pandemic.
"Last year, when the pandemic arrived, we quickly pivoted and refocused on supporting society and bringing consumers joy, normalcy, and entertainment during a difficult time," said chief marketing officer Marcel Marcondes. "Now, as we are hopeful for brighter days ahead, we're once again pivoting our plans to ensure our brands are there to encourage people to think about being together again and returning to activities we love while reminding them to socialize safely and responsibly."
Eager to enjoy a memorable drink? Read up on