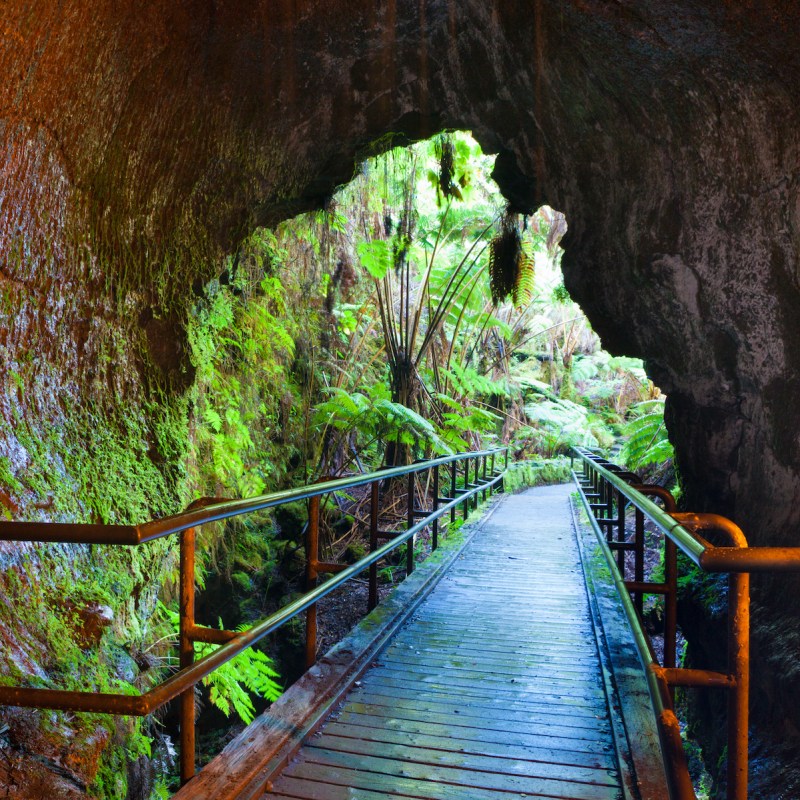 Two popular trails in Hawaii Volcanoes National Park that were closed to protect native ʻōhiʻa trees from a deadly fungus have reopened.
Kona Trail, Glover Trail, and the Kahuku Visitor Contact Station in the park's Kahuku Unit had been under quarantine to stop the fungus — known as Rapid ʻŌhiʻa Death, or ROD — from spreading. The trails and visitor center reopened after park staff built a decontamination station near the trailhead — and now require visitors to sanitize their footwear before entering and exiting the trails.
"We are so pleased to welcome visitors back to Kona and Glover trails, and to the Visitor Contact Station where they can once again safely engage with our rangers," Kahuku Manager Travis Heinrich said. "Many in our community have waited patiently for this and we mahalo [thank] you for your understanding. We urge everyone to comply with park policies to keep each other safe from COVID-19, and ʻōhiʻa trees safe from ROD."
A Deadly Fungus
The ʻōhiʻa lehua tree, a species of flowering evergreen tree, is an important part of Native Hawaiian culture. In fact, it is "almost impossible to avoid the mention of the native ʻōhiʻa tree and its lehua blossoms when listening to Hawaiian moʻolelo (stories) and ʻoli (chants)," the National Park Service (NPS) explains.
Unfortunately, the trees have been attacked by ROD — a newly identified fungal disease. The fungus kills ʻōhiʻa because it clogs the tree's vascular system, which, in turn, deprives the tree's canopy of water, NPS explains. The fungus not only kills the trees, it has the potential to "negatively impact watersheds, cultural traditions, natural resources, and quality of life."
To prevent the fungus from spreading, hikers on Kona Trail and Glover Trail must sanitize their footwear to remove fungal spores and mud. More information about ROD, how NPS is working to stop its spread, and measures the public can take to help are found here.
Know Before You Go
Hawaii Volcanoes National Park is on Hawaii Island — known as the Big Island.
If you're planning to hike Glover Trail, Kona Trail, or both, you'll first need to hike 1.2 miles — one way — from the ROD Quarantine Gate to the lower Glover and Kona trailheads. Along the way, you'll pass panoramic views of Ka Lae (South Point) and the Kaʻū coast.
Glover Trail
While hiking this 3.2-mile loop, you'll gain 320 feet of elevation. When planning the hike, don't forget to add the 2.4 miles to and from the trailhead, which makes the total hiking distance 5.6 miles. While on the hike, you'll see "a huge pit crater with a pristine Hawaiian rainforest protected within its sheer walls," NPS explains.
Kona Trail
This 4.6-mile loop features a 520-foot elevation change. Once you factor in the 2.4 miles to and from the trailhead, the hike's total distance is 7 miles. While on this hike, you'll see relics of Kahuku's ranching past, scenic pastureland, and remnants of the 1887 lava flow.
More information about how you can plan your visit to Hawaii Volcanoes National Park is found here.