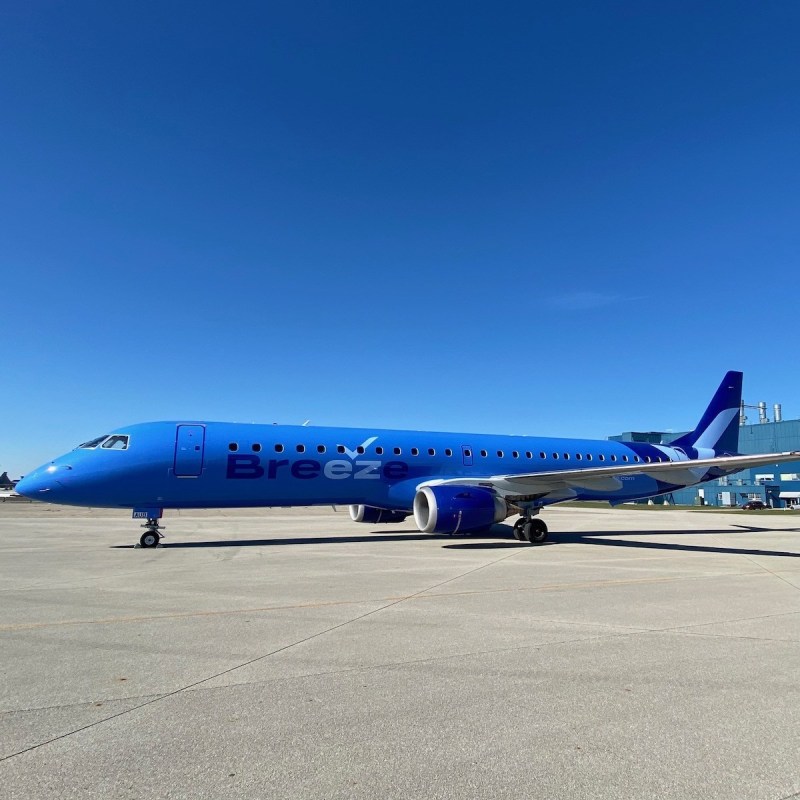 A new airline begins flying this week, starting the first of 39 routes across the United States. But don't think about New York, Chicago, or Dallas. Breeze Airways will be flying routes different from most carriers.
The airline will have four hubs: Tampa, Florida; New Orleans, Louisiana; Norfolk, Virginia; and Charleston, South Carolina. It will fly in the South, Midwest and on the East Coast, ranging from Providence, Rhode Island, to San Antonio, Texas.
"Breeze provides nonstop service between underserved routes across the U.S. at affordable fares," the airline says on its website. "With seamless booking, no change or cancellation fees and customized flight features delivered via a sleek and simple app, Breeze makes it easy to buy and easy to fly."
The airline is the brainchild of David Neeleman and the fifth one he has launched. Neeleman, the founder and CEO, previously started JetBlue, Westjet, Azul, and Morris Air.
The airline proudly claims 95 percent of its routes are not flown by any other airline. And it plans to do it with discount pricing.
Air fares start as low as $39 for a one-way fare with no fees for flight changes or cancelations up to 15 minutes before departure. Travelers who do cancel a reservation will have 24 months to use their flight credit.
But with those low fares come fees for just about everything else — much like Spirit, Frontier, or Allegiant airlines. Every bag will cost $20, whether it is checked or a carry-on larger than a purse. Advanced seat assignments will start at $10, and printing a boarding pass will cost $3.
Breeze airplanes will seat between 108 and 118 passengers with no middle seats, so everyone gets a window or aisle seat.
The first flight leaves May 27 from Tampa to Charleston and then on to Hartford, Connecticut. Additional flights and routes will be added throughout the summer to such destinations as Bentonville, Arkansas; Louisville, Kentucky; Akron, Ohio; and Huntsville, Alabama. In total, Breeze will fly into 16 different airports.
"These 16 cities are just the beginning for Breeze," Neeleman told MySanAntonio.com. "The effects of the COVID-19 pandemic on the nation's air service has meant many secondary markets and smaller cities have seen a significant reduction in flights. There are so many city pairs needing nonstop service around the country."
The airline is pushing a message of niceness to potential customers.
"We're a team of aviation, hospitality and technology enthusiasts who believe flying is the greatest privilege and opportunity in the world," its website says. "And we believe it should be an accessible and genuinely nice experience for everyone."
To that end, the airline has created terms like guest empowerment team instead of customer service, and is strongly encouraging use of its app for almost all traveler needs.
For more on the destinations mentioned here, check out: