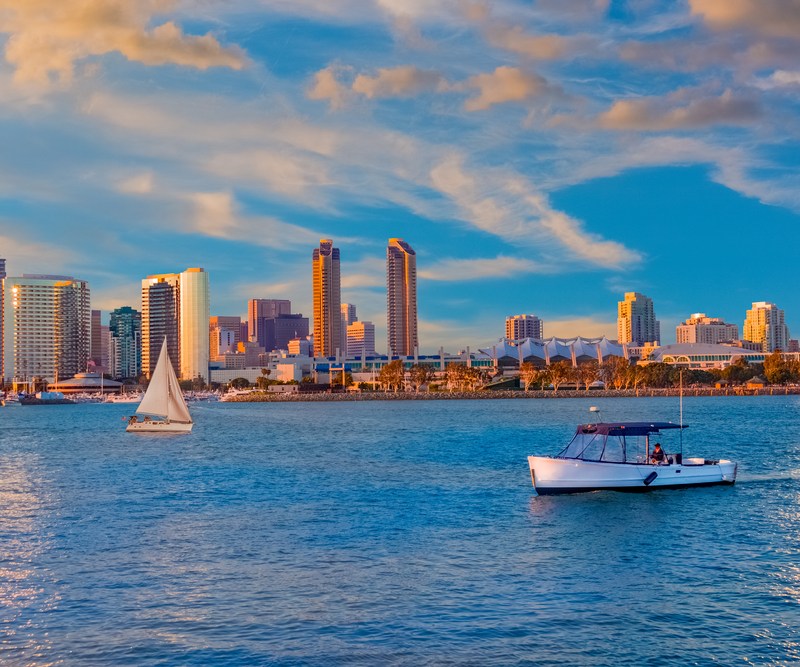 San Diego might just be one of the best vacation destinations in the United States. Its warm and sunny climate, laid-back vibe, and endless attractions make it the optimal city for anyone needing a break from the usual hectic pace of life.
Most visitors start on land with visits to the zoo, Balboa Park, SeaWorld, and Petco Park. But to fully experience this city on a bay, it's essential to get out on the water on a boat rental or charter. Fortunately, thanks to its size, there are plenty of fun water activities to choose from. If you're looking to relax, try a sunset cocktail cruise. The more adventurous can go snorkeling, diving, jet skiing, or kayaking. You'll return home more relaxed and with memories of a fantastic vacation.
Here are 10 ways to enjoy the water in San Diego.
1. Explore Coronado Island At Sunset
One of the iconic sites of San Diego is the Coronado Bridge, well known for its long and graceful curve high over San Diego Bay. Any visit to the city should include at least half a day exploring the island. Relax on the wide white-sand beaches, wander through the famous Hotel Del, and grab a bite to eat at one of the many great restaurants.
Before returning to the city, hop on a boat to appreciate the sunset. The angle at which the sun sets over the Point Loma Peninsula creates a dramatic scene that is even better on the water. Rental options on Coronado include pontoon boats, speedboats, and even luxury yachts.
2. Enjoy A Cocktail Cruise On Mission Bay
Mission Bay Park is considered San Diego's water wonderland. Filled with picnic spots, barbecues, playgrounds, and bike paths, this is where locals and visitors alike come to play. The park connects with Mission Beach, a popular neighborhood with lively bars and restaurants and even a small amusement park.
At the end of the day, it's always nice to unwind with a cocktail, but doing so on the water is even better. And Mission Bay is known for its calm waters — no need to worry about a rocky ride or seasickness! Get your ticket for an organized evening cruise through City Cruises, or reserve a private boat and have your own cocktail party. Be sure to designate a "driver" or hire a captain, and just enjoy your time on the water.
3. Zip Through The Water On A Jet Ski
If cruising is a bit too sedate for you, why not try something more adventurous, like jet skiing? These personal watercraft will give you an adrenaline rush as you speed through the water. And their small size will allow you to maneuver in a way that boats can't.
Jet ski rentals are available at a variety of locations throughout San Diego. For calmer waters, head to Mission Bay. Another option is the busier San Diego Bay, where you'll have the option to remain in calm waters or head to the open water of the Pacific Ocean. Coronado Island is also a fun option for jet ski rentals.
4. Sail Across San Diego Bay
Sitting on the shore watching the sailboats glide through the water is definitely one of the best things to do in San Diego. But it's even better to be on the sailboat! If you already know how to sail, then make arrangements to rent a boat for the day. Or if you'd prefer for someone else to be in charge, charter a boat for a full or half day. Charters are available in Mission Bay at the Hyatt Regency Spa and Marina. After your sail, you'll be within walking distance of SeaWorld, Belmont Park, and several beaches.
If you've always dreamed of learning to sail, now is the time. Private 1-hour lessons are available. In-depth multiday lessons are offered through Learn to Sail.
5. Go Fishing
Field & Stream ranked San Diego number two among the country's best fishing cities. If you enjoy fishing, then this is definitely the city for you. If you have your own gear and simply need to rent a boat, that's easily done at San Diego Bay. If you prefer to book a fishing charter, then make reservations with Seaforth Landing or Point Loma Sportfishing.
Fishing can also be done from several of San Diego's piers. On Pacific Beach's historic Crystal Pier, you'll find a bait and tackle shop offering pole rentals and a fish-cleaning station.
6. Learn To Paddleboard
Stand-up paddleboarding is the fastest-growing water sport in the world, and La Jolla — a neighborhood of San Diego — is a beautiful destination for this popular activity. La Jolla Cove offers paddlers the chance to glide on top of the water amidst towering rocky cliffs and a dense kelp forest all while searching for marine life like seals, leopard sharks, bat rays, and garibaldi. Bike and Kayak Tours and La Jolla Kayak offer board rentals. If you want some professional guidance before exploring the area, try a stand-up paddleboarding lesson with Everyday California.
7. Watch For Whales
If you're visiting San Diego in the winter, then you're just in time for gray whale season. From December through April, as many as 25,000 North Pacific gray whales travel 12,000 miles round-trip (the longest migration of any mammal on Earth) from the Arctic to the lagoons of Baja California and back.
One of the best ways to view these majestic creatures is aboard a Zodiac Pro on a private excursion. Along the way, you may also spot harbor seals, sea lions, and dolphins. Other whale-watching tour options include half-day and full-day experiences with Gone Whale Watching.
Don't worry if you aren't visiting San Diego in the winter. Whale watching can take place year-round, since blue whales, finback whales, humpbacks, and minke whales migrate at different times. To learn more about whales and other marine life in the area, be sure to visit Birch Aquarium in La Jolla.
8. Dive Deep
La Jolla is home to the La Jolla Ecological Reserve, a vast underwater preserve that protects kelp forests and abundant marine life. To fully appreciate this area, grab your scuba gear and dive deep. Spend time exploring the giant kelp forest swarming with schools of fish. Or head to the Marine Room reefs and search for halibut, rays, eels, and even leopard sharks. But don't leave without checking out the seven sea caves.
Point Loma is another popular dive spot in San Diego. Its kelp forest is home to treefish, kelpfish, bass, and many other amazing creatures. For organized tours, or to rent equipment, check out SD Expeditions or La Jolla Dive.
If you're not certified to dive, you can still explore the La Jolla Ecological Reserve — or many other areas along the San Diego coast — by snorkeling. And the nice part about snorkeling is that it requires little preplanning. Just grab — or rent — your gear, and get in the water.
9. See A Sea Cave On Land
If you're not able to visit La Jolla's sea caves on the water, then head to the Sunny Jim Sea Cave instead — the only one accessible by land in California. A tunnel was dug from the home of Gustav Schultz to the cave in 1902. It's said that during Prohibition, bootleggers used this route to smuggle alcohol and opium.
Come prepared to climb down 144 wooden steps to the cave in a very dim setting. And of course, you'll have to climb back up. But that's a big improvement over the rope that visitors in the early 1900s had to use! After visiting the cave, save time to explore the jewelry and gift shop selling locally made goods.
10. Explore The Children's Pool
The Children's Pool in La Jolla is a small beach protected by a seawall that was originally intended as a safe place for kids to swim in the ocean. However, this protected area was also attractive to harbor seals and sea lions. Today, it's a great spot for visitors to view marine life up close. Watch as the sea lions flop into the water or bark loudly at interlopers. Nearby is Seal Rock, a large rock formation often covered by the large, fleshy creatures. Take a walk along the seawall for great views of the shore and the marine life. If you're visiting between December and May, you might even see harbor seal pups.
With 70 miles of coastline and 31 beaches to explore in San Diego, the possibilities for getting out on the water are endless. And fortunately, San Diego's weather is great year-round, making it possible to visit at any time. If you're planning to visit during the summer, be sure to make any reservations for accommodations and tours far in advance, since this is a popular vacation destination. But no matter when you come and what you decide to do, you'll return home with fantastic memories of your time here.
For more information about boat rentals and charters in San Diego, check out GetMyBoat.com now.