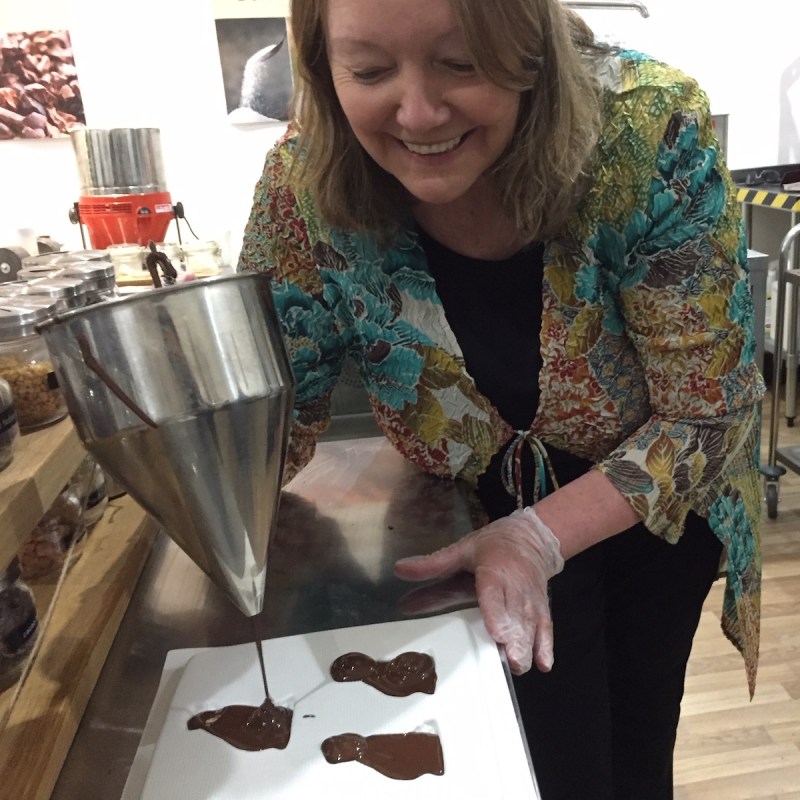 "Basically, we're storytellers of chocolate!" said an exuberant Éva Gyöngy Máté, a chocolate tour guide at The Chocolatarium, a microfactory in the heart of Edinburgh's Old Town just off the Royal Mile.
I recently experienced "90 minutes of chocolate heaven," as The Chocolatarium's website promises. But I was actually immersed in that chocolate heaven for nearly 2 hours! I tasted chocolate, smelled it roasting, rubbed it on my skin, and even made my own bespoke bars. ("Bespoke" is the British term for "customized" or "personalized.") Here are just a few of the things I learned.
I was hosted by The Chocolatarium's founder, Jenny McLay, but all opinions and research here are my own.
Chocolate Has A Long History
As a rich, velvety drink of Belgian dark chocolate melted in my mouth, the Chocolatarium experience started off with a history of "the food of the gods," the translation of chocolate's apt scientific name.
In a warmly decorated room called The Jungle, I learned that cocoa beans were once a currency, that the fruit grows straight from the trunks of trees, that the Swiss hold the record for eating the most chocolate per person (19 pounds per year!), and that there are basically four types of cocoa beans (although there has been a lot of cross-breeding over the years).
I learned that recent archeological findings indicate that cacao was used in religious ceremonies of the Mesoamerican Olmec and Maya societies and was a sign of status and wealth. Beans were so valuable that counterfeiters created fake beans made of clay!
Later during the tour, we were served a bitter, grainy cold cocoa drink, similar to what the Mesoamerican natives would have drunk during their celebrations. I've tasted it before; it's unlike any notion of chocolate I hold, but I relish its history and its — how shall I put this? — its lack of ability to satiate my taste buds. It's more of a palate cleanser than a mood enhancer.
The Bark-To-Bar Process Is Complicated
Using lifelike displays, Éva walked us through the process of bringing the luscious fruit from faraway fields to our dessert tables. Cocoa is grown and harvested year-round in a worldwide band of humidity that straddles the equator.
Once harvested, the beans are fermented in the pulp (which is itself a sweet delicacy) to reduce bitterness — and to naturally sterilize them. Tales of drunken monkeys feasting on the alcoholic juice runoff abound in Africa, where 70 percent of the world's cocoa is grown.
The beans are then spread on the ground to dry before being roasted, a process that makes it easier to separate the nibs from the shells. The nibs are the bean hearts that are ground into a paste to make a variety of chocolates, while the shells are saved to make a feathery tea.
We experienced the roasting firsthand once we moved into The Chocolatarium's kitchen. The aroma of roasted beans filled the air and whetted my appetite. We were invited to crack open unroasted and roasted beans to compare and taste the nibs, which were strong and tough.
We also had the opportunity to melt raw cocoa butter in our warm hands and luxuriate in the luscious moisturizer.
Chocolate Comes In More Flavors Than You'd Expect
Now for the fun part! We nine chocolatiers — a grandmother with her two preteen grandchildren, a teen and her adult companion, two middle-aged honeymooners, and my photographer and I — picked our own chocolate molds from iconic Scottish figures like the Loch Ness monster and Greyfriars Bobby, and then customized our bars with any of 25 flavors! These flavors included rose, honeycomb, Rice Krispies, chili, ginger, mint, marshmallow, cranberry, and Inca berry.
Pro Tip: Add two or three flavors to each chocolate mold to maximize the taste! Wear older clothes (or bring a smock) in case you spatter chocolate as you pour the smooth liquid into your molds.
Next came the chocolate tastings, which included the aforementioned original unsweetened Mesoamerican tea as well as cocoa bean husk tea. I was so glad I showed up hungry! We perused the chocolate component wheel, which charted the 500 or so components of chocolate, and tested our palates. Was this sample spicy? Sweet? Fruity? Nutty? Our responses depended on our particular tongues and the foods we'd been raised on, explained Éva.
Feeling a bit like Willy Wonka, I piled samples of chocolate bars on my plate from categories of "just dark," "dark with flavors," "just milk," "milk with flavors," and "white." The milk options included Guinness, and the white options included rose, vanilla, and lavender. I tasted dark gin and tonic, dark whisky, and dark Scotch pine. (I loved the latter, which tasted exactly how I imagine pine trees taste — a bit nutty and outdoorsy.)
But the chocolate that changed my life was the savory dark concoction flavored with haggis spices! It was rich, spicy, and salty with a lovely afterglow. Sorry, M&M's, you've lost me forever.
Modern-Day Chocolate Bars Were Initially Intended To Distract People From Drinking
We learned that chocolate was introduced to Great Britain as a cocoa drink. The Quakers appropriated it in the mid-1800s and cornered the confectionery market as a way to combat the depravity of alcohol excess. The monopoly that the Cadburys, Roundtrees, Clarks, and Frys held on chocolate lasted well into the following century.
The Quaker-owned companies were known for their ethical business practices, such as setting a standard fair price that didn't require haggling and refusing to use dangerous fillers like brick dust or poisonous red lead. These practices set the standard for modern chocolate production.
Additionally, George Cadbury built the village of Bournville to provide Cadbury's workers with safe and affordable housing, schools, leisure facilities, parks, and medical and dental clinics — all during a time when child labor still existed.
Bournville was the prototype that Milton Hershey modeled Hershey, Pennsylvania, on. Hershey's maternal grandfather was a Mennonite clergyman, so the American chocolatier was raised with values similar to Cadbury's.
Hershey became infatuated with developing milk chocolate, and, in 1907, he christened the iconic Hershey's Kiss.
You Can Eat Chocolate Guilt-Free
Cadbury and Hershey's ethical business practices have inspired the Scottish chocolatiers whose products are offered in The Chocolatarium's sample room. They source their chocolate from fair-trade businesses that return at least 20 percent of each product's profits to the original farmers.
Since 90 percent of the world's cocoa beans are grown by small farmers — not corporate plantations — it's crucial that local farmers are supported with decent returns from the profits of their labor.
Additionally, most of these Scottish chocolatiers are committed to protecting biodiversity, avoiding destructive palm oil, and using sustainable packaging.
The Chocolate Tree in Dunbar (the birthplace of John Muir) sources their organic cacao directly from Central and South American farms. Ali and Freddy Gower's artisan chocolate bars come in flavors like rum pineapple coconut, mezcal, vegan coconut, and my fav, haggis spice. All of their chocolate products are vegetarian and gluten-free, contain no palm oil, and are sold in sustainable packaging. The Chocolate Tree also sells cacao husks for tea-making, and they offer tours of their local factory.
Rebel Chocolate specializes in lactose-free milk chocolate featuring cocoa sourced from Colombia and Madagascar. Their bars are free of gluten and palm oil, and dairy-free and vegan options are available. Formulated by immunologist Neil Robson in Glasgow, Rebel's chocolate is lower in sugar and higher in protein than typical milk chocolate. They also offer matcha green tea bars, peanut bars, and white chocolate bars.
Coco Chocolatier is "where creativity and cocoa collide," according to their website. Local and international artists design the packaging. Their chocolate bars and buttons are palm oil-free and sustainably produced in Colombia. Some of them are vegan. Coco offers a full-day chocolate school in Edinburgh that includes making molded chocolates and creating fruit-filled and caramel-filled varieties. They also offer evening chocolate tastings paired with liquors.
Charlotte Flower is an herbalist who infuses seasonal herbs and fruits into her double-cream ganache-filled chocolates at Charlotte Flower Chocolates. Spring confections feature elderflower, wild mint, and Scotch pine. Fresh raspberries, blackcurrants, and cherries flavor her chocolates during the summer. Autumn's chocolates feature plums, blueberries, local honey, and hazel and beech nuts. Warm flavors such as fresh ginger, rosemary, black pepper, and Seville orange fill the winter chocolates. Additionally, the confectioner sells unusually decorated thin bars, all made from locally sourced chocolate from Madagascar, Colombia, Venezuela, and Panama. Charlotte Flower offers full- and half-day chocolate-making workshops.
By eating these chocolates, I can support both Scottish family-owned businesses and 50 million small farmers, rural workers, and their families throughout the world. Bring it on!
While we indulged in chocolate samples, our customized bars cooled. At the end of the experience, they were presented to us, wrapped and with a personalized label indicating the fun flavors we'd chosen. If you are giving the bars as gifts, they can be wrapped separately.
What To Know Before You Go
The Chocolatarium is conveniently located in the Old Town within walking distance of Edinburgh Castle. It's easily accessible by public transportation, too. The experience is a fabulous value: There is no limit on the number of flavors you can add to your bespoke chocolate bars — and there is no limit on the number of artisan chocolates you can sample. Yahoo!
Before your tour, alert the guide of any food allergies. The Chocolatarium offers vegan and milk-free options. Entry (and exit) is through a small boutique of locally produced chocolate bars — fun on the palate, but killer on the wallet (although I did break down and buy a haggis chocolate bar). There are lockers where you can store your personal belongings — you'll want to give your full attention to the chocolate!
In a few months, new tours will be added: one pairing wine with chocolate and another pairing whisky with chocolate. In the meantime, however, I've been jumping the gun by pairing my haggis-flavored chocolate with various wines!