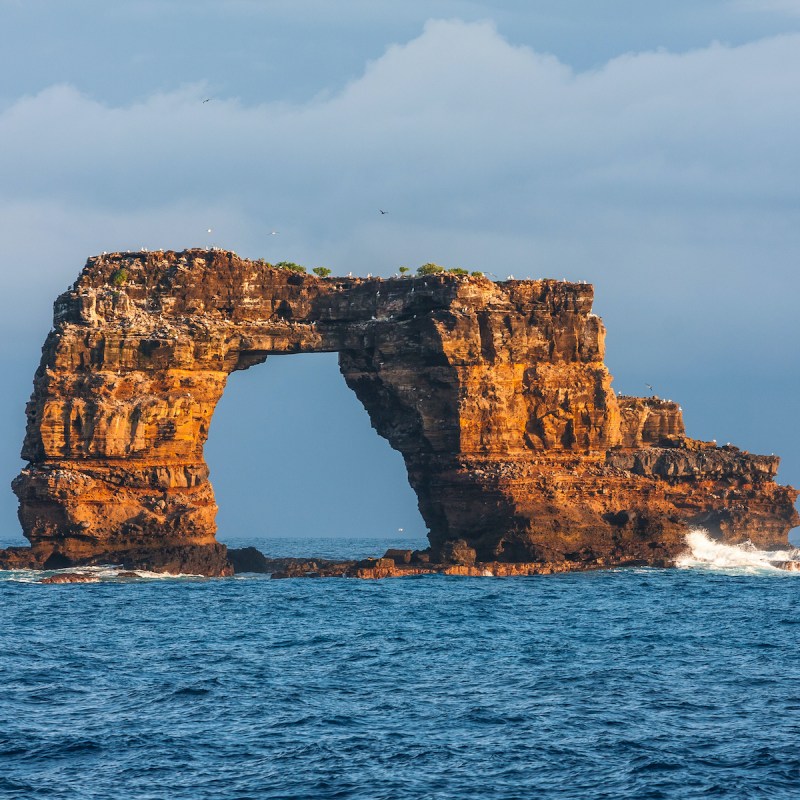 Darwin's Arch — a famous rock formation in the Galapagos Islands — has collapsed and is no longer an arch.
The top of the arch fell as "a consequence of natural erosion," the Ministry of Environment for Ecuador announced on Twitter. Images of what are now two rocky pillars jutting up out of the surf accompanied the post.
Informamos que hoy 17 de mayo, se reportó el colapso del Arco de Darwin, el atractivo puente natural ubicado a menos de un kilómetro de la isla principal Darwin, la más norte del archipiélago de #Galápagos. Este suceso sería consecuencia de la erosión natural.

?Héctor Barrera pic.twitter.com/lBZJWNbgHg

— Ministerio del Ambiente y Agua de Ecuador (@Ambiente_Ec) May 17, 2021
A Historic Site
The Galapagos Islands — about 600 miles off the coast of Ecuador — sit where three ocean currents converge. The islands, which are a UNESCO World Heritage Site, are home to marine iguanas, giant tortoises, flightless cormorants, and numbers of finches, a National Geographic article explains.
English scientist Charles Darwin visited the islands during his voyage aboard the HMS Beagle in the 1830s, and "noted that although all of the islands shared similar volcanic compositions, environment, and climate, each isolated isle was home to its own set of unique species," National Geographic explains. Darwin hypothesized that the species had adapted to the unique diet and environment of their home, and years later, based his theory of evolution by natural selection on some of these experiences.
Darwin Island is one of the smallest in the Galápagos Archipelago. Darwin's Arch is believed to have been part of the island at one time. Although tourists cannot step on the island or land at the arch, the area is noted by scuba divers as one of the best places for diving in the world due to its number of hammerheads and other sharks, sea turtles, manta rays, and dolphins, according to the Galapagos Conservancy.
A Natural Occurrence
Since Darwin's Arch was shaped over time by the wind and waves, it is logical that the top of the arch would eventually erode and collapse. Then again, it certainly was surprising to witnesses.
Tour company Aggressor Adventures noted in a Facebook post that one of its groups witnessed the collapse.
"Unfortunately today, our guests of the Galapagos Aggressor III experienced a once-in-a-lifetime event," the tour company posted on Facebook. "This morning at 11:20 a.m. local time, the world-famous Darwin's Arch collapsed in front of their eyes. There are now only two pillars remaining. Some in the dive and travel industry are already referring to this now as 'The Pillars of Evolution.' We will miss this iconic site."
The mention of "Pillars of Evolution" is a nod to Darwin's theory of evolution by natural selection.
Know Before You Go
Darwin's Arch is not open to land visits, although it can be seen from cruise ships. Trips to the area for scuba diving need to be arranged with local tour companies.
It should be noted that the U.S. State Department issued a "Level 4: Do Not Travel" warning for Ecuador due to the high number of COVID-19 cases. That said, Ecuador is open to U.S. tourists. Travelers arriving in Ecuador must provide proof of a negative COVID RT-PCR or rapid antigen test taken no more than 3 days before entering the country. Alternatively, travelers may present a vaccination card documenting they are fully vaccinated.
You can read more about the latest travel news here.