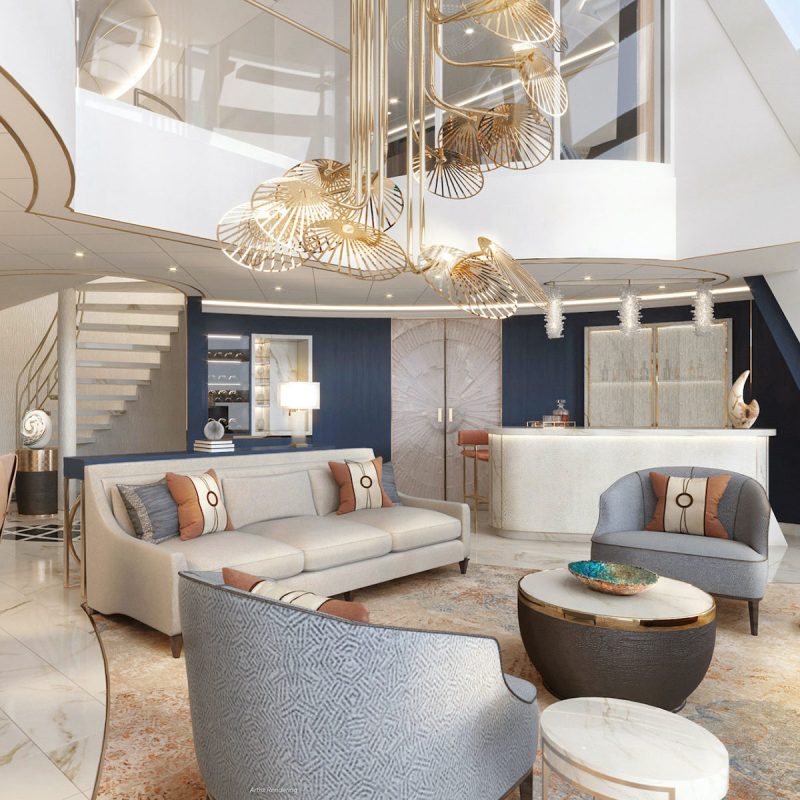 Disney Wish is Disney's newest, most magical, and most alluring cruise to date. It will set sail in June of 2022. Until then, let's take a glimpse at the crown jewel of accommodations aboard — the Wish Tower Suite, which is the first of its kind.
Unlike the cozy cruise rooms that might come to mind, Wish Tower Suite is built into the forward funnel of the cruise ship. This unique stay is a double-decker paradise with fantastic views and even more fantastic amenities.
The sprawling, nearly 2,000-square-foot suite is styled with an Oceania theme and incorporates imagery from one of Disney's most beloved movies, Moana. The suite is decorated with beachy shades of blues, whites, and pinks, and guests will love the Moana-themed artwork and decorations.
"Film-inspired decorations include a custom canvas piece depicting Moana sailing on the sea; dimensional props that celebrate the treasures of the ocean and the local crafts of Moana's village; and a glittering sculpture composed of shiny objects," said a Disney Cruise Line press release.
The suite can sleep eight guests because of its two main bedrooms, children's room, and a library that can transform into an extra bedroom, if needed. Plus, the suite has four-and-a-half bathrooms. The double-decker suite sports two-story windows, a dining area for the whole family, a pantry, and a wet bar stocked with water and sodas.
The upper level is where the main bedrooms can be found. Both rooms are fitted with king-size beds padded with fine linens and memory foam pillows. Also included: motorized curtains, roomy closets, and bathrooms with double vanities, a tub perfect for a bubble bath, and a shower. Conveniently, both rooms have excellent views thanks to dreamy floor-to-ceiling windows.
The children's room has built-in bunkbeds and a fun surprise for the kiddos — a constellation pattern on the ceiling where they can locate, amongst the stars, Moana's oar, Maui's hook, and even more.
The Wish Tower Suite promises fine hospitality, as a concierge team will tend to your wishes and help make your stay as magical as it can be. Though you'll likely want to savor the suite's bounty as much as possible, there's tons in store outside the suite, too! The cruise is so elaborate and jam-packed with activities, adventures, and surprises for cruisers of all ages that you won't get enough of the fun!
Ready for more Disney cruise content? Consider