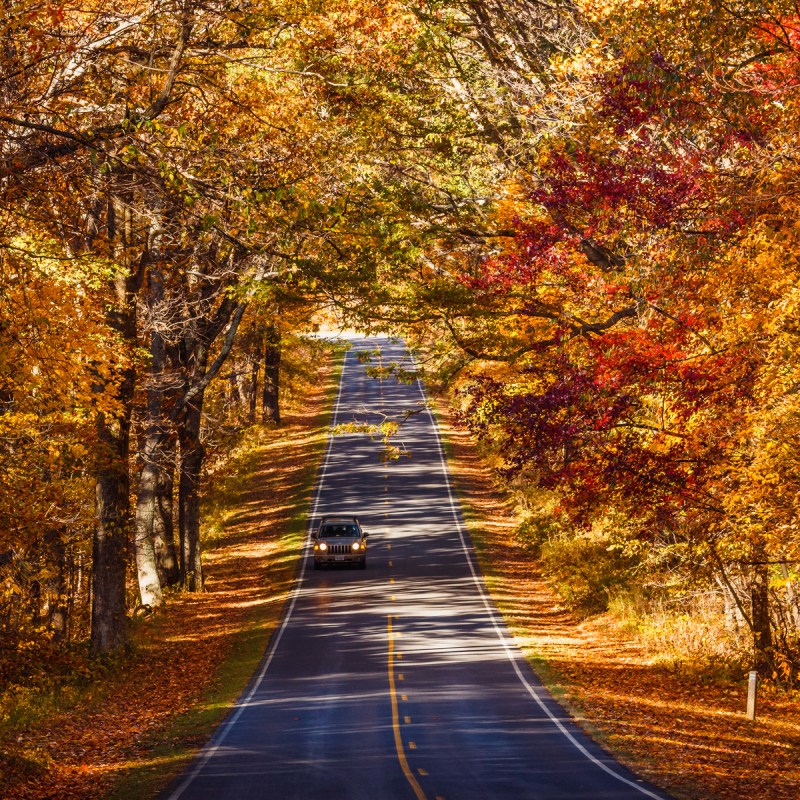 One of the things I've always appreciated about D.C. is how easy it is to launch myself into a completely different sort of destination with a minimum of travel time. From cities full of Southern charm in Virginia to waterfront oyster shacks in Maryland, from small towns to big cities, there are a variety of experiences to be found within a 2-hour drive.
These are the spots I visit when I need a break from the buzz of the nation's capital city, whether I'm looking to appreciate nature, dip my toes in the water, or enjoy a cultural experience.
1. Richmond, Virginia
It might sound odd to escape from one city just to go to another one, but Richmond feels a world away from D.C., even though it's just 100 miles south. Visiting Richmond feels like being transported to the South: Everything moves just a little bit slower, people smile more easily, and the main thoroughfare through the city, Monument Avenue, is framed by elaborate homes with wide front porches and rows of stately shade trees. You'll find Southern classics from fried chicken and grits to sweet tea as options at both casual and fancy restaurants throughout town. (My favorite: Lillie Pearl, a modern Southern spot in Richmond's downtown.) Those aren't the only culinary options, though. Richmond has recently gained a reputation as a foodie destination, with top spots such as Longoven, which Food & Wine named the best restaurant in the South, and ZZQ, with its award-winning smoked meats.
Fully fueled after a calorie-laden entrance to the city, explore the greenery around town, including historic Belle Isle in the middle of the James River. Or tour some of the city's expansive art scene. The Institute for Contemporary Art at Virginia Commonwealth University is one of the latest additions to the museum scene. The palatial Virginia Museum of Fine Arts houses modern art and 20th-century European galleries in addition to the country's largest Faberge collection. Richmond also boasts street art worthy of its own special visit, including the Mending Walls mural project, one of our favorite outdoor art experiences.
2. Baltimore, Maryland
For another place that feels a world away from the capital city, head to funky Baltimore, just 40 miles north of D.C. Once you arrive, head to the harbor and visit "Bawlmer" destinations by the fast and easy Baltimore Water Taxi, which really makes a day trip feel like a far-off adventure.
If you're a fan of filmmaker John Waters, the city's boundary-pushing native son, head straight to the American Visionary Art Museum. This museum embodies the city's eccentricities. Picture 20-foot-tall pink poodles, kaleidoscopically painted buses, and highly detailed ship models crafted from toothpicks, and you'll get an inkling of the unusual art on display here. It's all housed in enormous warehouse-size buildings that also contain a gift shop filled with every manner of plastic oddity (John Waters himself is a fan) and a quirky restaurant. Behind the museum are the grassy fields of Federal Hill Park, a great spot to relax with a book or people-watch.
The museum is set right on the harbor, so it's an easy ferry ride to Fells Point for a seafood lunch with water views. Or cast off toward the Inner Harbor and the National Aquarium, where you can meet sharks, penguins, dolphins, and 20,000 other animals all under one roof.
Pro Tip: Both Richmond and Baltimore are easy to reach by train, so consider leaving your car at home.
3. Loudoun County, Virginia
If you're looking for an immersive food and wine destination, there's no need to travel across the country to Sonoma or Napa Valley. Instead, head to the green hills of Loudoun County, Virginia, just 25 miles south of Washington, D.C., Not only is it much easier to visit, but the area is home to more than 40 wineries and tasting rooms, plus 30 craft breweries, not to mention cideries and meaderies (honey wine — a growing trend). There are more spots at which to sip than you could visit in a week, let alone a day trip. 
If you don't have a designated driver, there's still plenty to do in this scenic area, including exploring charming small towns such as Leesburg and Middleburg (if you're looking for an overnight experience, Middleburg is a great option) and stopping at farm stands and boutique shops along the way. Plus, like California's wine country, Loudoun offers fabulous farm-to-table dining and gorgeous drives through vineyards and mountains (in this case, the Blue Ridge Mountains). One spot not to miss: Tuscarora Mill (referred to as "Tuskie's" by the locals), which focuses on local and seasonal products and produce and is located in a renovated 19th-century grain mill.
4. Easton, Maryland
Located on Maryland's Eastern Shore, Easton is about 80 miles outside D.C. Nestled on the Chesapeake Bay, Easton was once mostly known for its crabbing and oystering traditions and sailing and fishing opportunities. Recently, however, the town has added some modern flair to these traditional offerings with a slew of new shops and culinary spots housed in the town's once-abandoned 18th-century red-brick buildings.
Start the day with a cappuccino and a house-made French pastry at Weather Gage, an elegant coffee bar. Then stroll to the boutique bookstore Flying Cloud, with more than 10,000 artfully arranged titles to peruse. There are shops filled with clothing and housewares, not to mention gourmet delicacies. If you want to get a real "taste" of the town, consider a walking food tour with Eating Easton. Or wrap up the day with an elevated meal at Bas Rouge, an elegant dining room serving Austrian and other European fare.
Pro Tip: Easton turns up the charm for holidays and special events. Summer brings weekend farmers markets and music and art fairs. In the fall is the Waterfowl Festival, one of the largest festivals of wildlife art in the world. And the town celebrates winter with festive decorations, a Festival of Trees, special sip-and-stroll shopping events, and an "Old Tyme Holiday Parade."
5. Shenandoah National Park, Virginia
Just 75 miles from the bustle of Washington, D.C., Shenandoah National Park offers an immersive escape for nature lovers with 500 miles of hiking trails in 300 square miles of protected wilderness. (A perk for dog owners: Most of the trail system is pet friendly.) And if you'd rather take in the views of wide-open spaces without having to work up a sweat, you can roll along the aptly named Skyline Drive. It runs 105 miles down the length of the Blue Ridge Mountains, offering spectacular vistas of sparkling waterfalls, fields of wildflowers in the spring, lush greenery in the summer, and incredible foliage in the fall.
If you're a night owl, there's no reason you can't turn a day trip into a night trip and head to the park at dusk. Free of light pollution and development, Shenandoah National Park is one of the premier destinations for stargazing in Virginia. The park offers astronomy presentations, programs for amateur astronomers, and twilight hiking with Shenandoah Mountain Guides.
6. Annapolis, Maryland
Although it can take several hours of driving to reach an Atlantic Ocean beach from D.C., there are several sandy options much closer to the city, including historic Annapolis on the Chesapeake Bay, just a 35-mile drive away. In less than an hour, you can lay a towel on the golden sand of America's sailing capital and feel the water on your toes at Sandy Point State Park. There's a full mile of pristine beach to enjoy on the northwestern shore of the Chesapeake Bay, perfect for swimming, sunning, or picnicking. Nearby are several rock jetties, too, that are popular spots for crabbing and fishing.
You'll most likely have views of colorful sailboats and other water vessels while you enjoy the beach. If you want to set sail yourself, head to the Annapolis Maritime Museum, where you can take a guided cruise aboard the Wilma Lee, a historic skipjack sailboat once used for oystering in the Chesapeake.
7. Mount Vernon, Virginia
Although D.C. is a city steeped in history, there's plenty more of the American pageant to discover nearby. Just 20 miles south of Washington, D.C., is Mount Vernon — the landmark home of America's first president, George Washington, and his wife, Martha. The two-story Georgian mansion overlooking the Potomac River and the 500-acre estate (originally 8,000 acres!) are now a National Historic Landmark and open to the public 365 days a year.
You can step back in time and tour the plantation home, blacksmith shop, stable, smokehouse, slave quarters, and other outbuildings. An extensive museum shares background on Washington's life prior to becoming president and the legacy he left behind. The site also includes a memorial to the hundreds of enslaved men, women, and children who worked the plantation.
Pro Tip: For a unique day-trip option, consider heading to Mount Vernon by boat. The narrated Potomac River trip takes about 3 hours round trip and departs from either D.C. or Alexandria, Virginia.