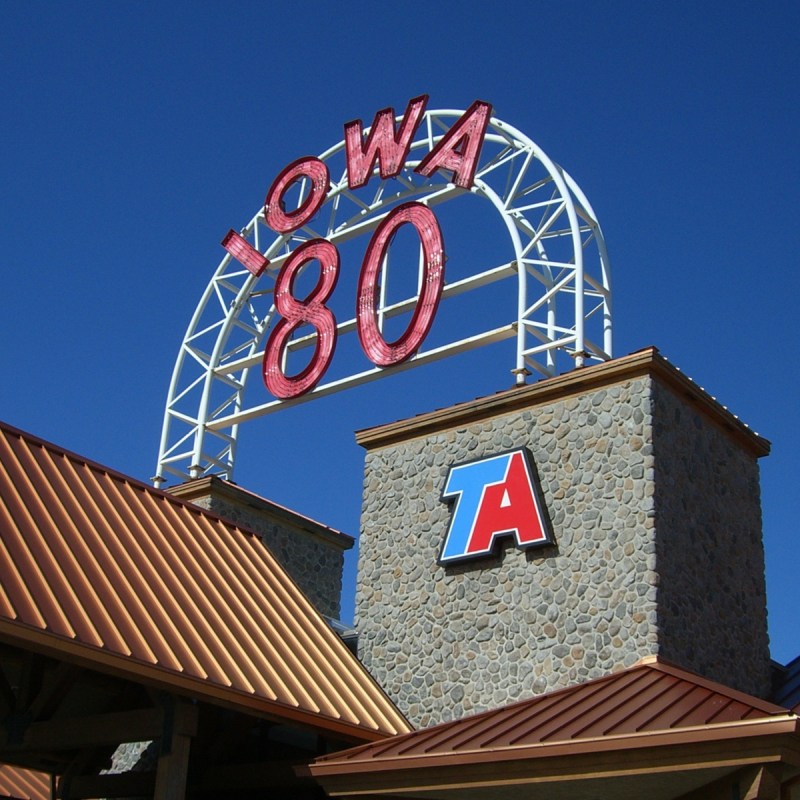 Iowa is home to rolling hills and several opportunities to enjoy the great outdoors. When you travel across Iowa with a travel trailer in tow, several places are handy to get in and out of. With several things to see and do while exploring Iowa, it's good to know where you can stop easily while towing a travel trailer. Here are some of the best travel stops in Iowa when pulling a travel trailer. I hope you will stop at some of these places and experience what they have to offer. Don't let your trailer hinder you from experiencing some of these incredible things that Iowa has to offer.
I-80 World's Largest Truckstop
The World's Largest Truckstop can be found along I-80 in Eastern Iowa near Walcott, Iowa. The parking lot is large. This makes it easy to navigate when pulling a travel trailer. You can enjoy a meal at one of several restaurants and catch up on your laundry if you choose. The library is also always open if you need a quiet place to get caught up on some work. You can easily spend an hour visiting the Iowa 80 Trucking Museum while at this stop. This is a busy truck stop, as thousands of trucks stop here daily. Be patient as you pull out back onto the highway, as there is a lot of traffic going back and forth. I-80 is next to the parking lot, making it a short drive off I-80 to arrive at the World's Largest Truck Stop.
Danish Windmill In Elk Horn
The Danish Windmill is 9 miles north of I-80 at Exit 54 in Western Iowa. The drive is a two-lane highway on one of Iowa's Scenic Byways, The Western Skies Scenic Byway. The parking area at The Danish Windmill is large and is ideal for travelers pulling travel trailers across Iowa. You can easily walk to the downtown area and immerse yourself in this Danish community. Enjoy a meal at the award-winning restaurant Grace on Main. If time permits, you can drive your vehicle to the Museum of Danish America and park in the large parking lot. You can easily spend one full day in Elkhorn and if you want more Danish charm, book a night of camping at Prairie Rose State Park.
Top Of Iowa Welcome Center
When traveling on I-35 in North Central Iowa, you will want to stop at the Top of Iowa Welcome Center. The rest area has several picnic tables with charcoal grills. There is an RV dumping station on-site, making this an essential stop of your road trip. The gift shop features Iowa-made items that include unique gifts that you will want to take home with you. Travel guides from all areas in Iowa can be found in the Top of Iowa Welcome Center. You can also find travel information about neighboring states.
This is a nice, safe area to get out of your vehicle and take a walk. If you like visiting casinos, Diamond Jo Casino is nearby and also offers handy parking for travelers that are pulling trailers. This is one of the best travel stops for travelers pulling trailers. There are several options of things to do and an opportunity to relax in the outdoors.
Grotto Of The Redemption
The Shrine of the Grotto of the Redemption is in West Bend, Iowa. Nine grottos showcase the life of Jesus. The Grotto of the Redemption is the largest man-made Grotto in the world. It is also home to one of the largest collections of precious stones and gems found in one location. There is a campground nearby, and sites are on a first-come, first-serve basis. The road to the Grotto is a two-lane county blacktop, right off of U.S. Highway 18 in North Iowa.
There is ample parking for travelers pulling trailers and free street parking that is next to the Grotto. West Bend is a small town that prides itself on this masterpiece, often referred to as the 8th Wonder of the World. I have visited this beautiful attraction several times, and each time, I see something new and different. If you are lucky, the skies will be clear, and your photos will be incredible. Donations are accepted, and this great shrine is open 365 days of the year, 24 hours a day.
Field Of Dreams
The Field of Dreams Movie Site is a short drive off of Highway 20 in Eastern Iowa. Parking is ample, but it is on gravel and grass. The Field of Dreams is a short drive from the town of Dyersville. You can hang out on the field as long as you like. If you are interested in a private event on the field, you can also rent the field for a personal ball game. Pack a picnic lunch for lunch with a view. The ideal time to visit, in my opinion, is July-August, as the corn is tall and you get an authentic experience of playing ball in a cornfield. Bring your ball glove and a ball. There's nothing like playing catch on The Field of Dreams. You can easily spend 1 hour or 6 hours here, so plan accordingly.
Little Brown Church In The Vale
The Little Brown Church in the Vale is in Nashua, Iowa. Hundreds of people are married each year at this church. You can visit during the day, and there is no fee to visit. The church doors are open, and the small, charming sanctuary will welcome you. If you wish to attend a church service, a traditional service is held on Sunday mornings at 10:30 a.m. The church is a short drive off US Highway 218, The Avenue of The Saints, and offers free parking. If you enjoy history and unique roadside attractions, you will appreciate the Little Brown Church in the Vale.
Clear Lake
Clear Lake, Iowa, is a charming lake town in North Central Iowa along I-35. With two state parks and a lake, this is the perfect place to enjoy your travel trailer. Once you hop off of the Interstate Highway, you will find yourself on Highway 122, a major highway that runs through town. The Surf Ballroom & Museum is where you can experience music and the history of this historic venue. You can park in this large parking lot and then take a 5-minute walk to the downtown area and experience a thriving Main Street in Rural America. Swing into Starboard Market and order a sandwich and a homemade treat; all 100+ menu items are mouthwatering. Clear Lake will win you over on your first, second, or third visit.
These are the best travel stops in Iowa when pulling a travel trailer. If there is one thing that I know for sure, it's the fact that you can enjoy Iowa when you are pulling a travel trailer. There have been many times when we have been towing a trailer and opted not to visit an attraction. We were unsure of the level of difficulty that it took to get in and out of the parking lot. Each of these travel stops will provide you with an incredible experience as well as an opportunity for you to enjoy traveling with a trailer in tow.
Iowa has several rest areas that offer parking and RV dump stations along the Interstate highways. If you plan on resting at the rest area for a few hours, make sure you stop before the sun has set. The rest area parking lots get crowded with semis for overnight parking. Enjoy your time in Iowa, as there's truly something for you and your family as you travel across the state with your trailer in tow. The best part about each of these stops is that they are inexpensive and trailer-friendly.
Related Reading: