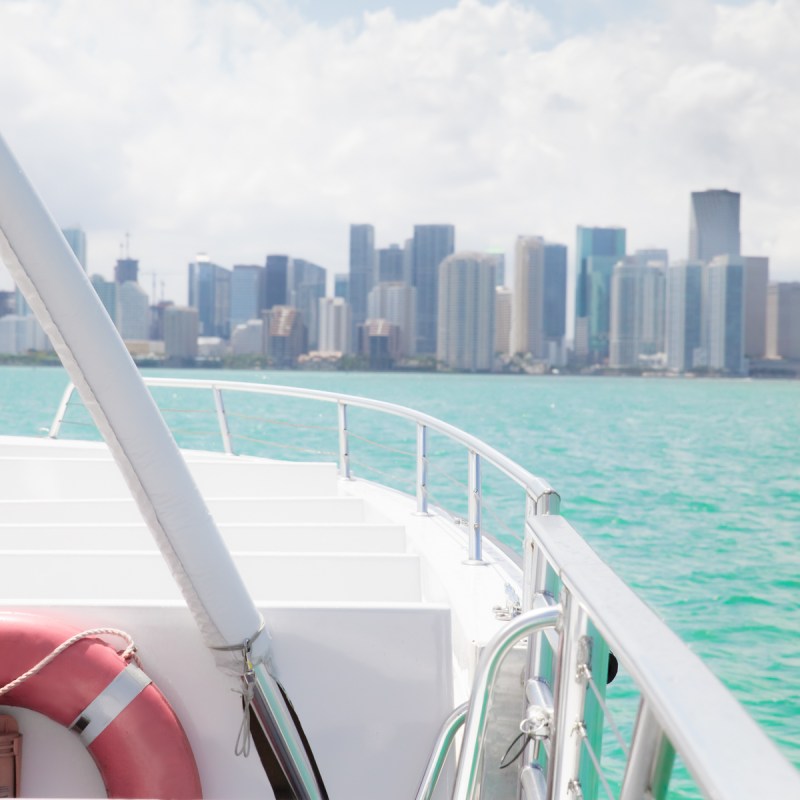 Miami is a vibrant city, full of energy and exciting experiences no matter where you look. Have you ever considered taking a step back to enjoy the city from the water? Boat rentals in Miami offer a variety of options for travelers to explore from an exciting new angle, offering unique experiences for all interests.
Renting a boat on the sparkling Atlantic offers all types of memorable experiences. Those simply needing a day to relax on the calming water will be delighted by the extensive selection of deck boats and cruisers, ideal for anchoring on the sandbar. For the adventure-seekers, you can charter a catamaran to spend the day snorkeling or take part in a deep-sea fishing excursion with an expert fisherman. If your group wants to tour the city and its surroundings, captain and crew-operated boat tours are available for scenic excursions to national parks, nearby islands, and even to power your booze cruise bar-hopping up the Intercoastal. Finally, since Miami is known for its ostentatious displays of wealth, it's the place to enjoy a luxurious party on a rented mega yacht, perfect for commemorating a special occasion.
Anchor Out And Relax On The Water
Have you ever heard, "A rainy day on the water is better than a good day at work"? One of the most relaxing ways to unplug is to spend the day anchored on one of the many sandbars surrounding Miami Beach, lounging on a float, enjoying some cocktails, and simply being.
Here are some of the best relaxation boat rental options in Miami to consider:
From: $50/hr
This cute little Bayliner deck boat is perfect for the couple or family wanting to relax anchored to a sandbar, maybe with a few tubing or skiing breaks thrown in. Deck boats are popular rentals because they are easy to maneuver, have enough power to support water sports, and offer ample space aboard.
From: $100/hr
Anyone who mocks a group dancing aboard a pontoon boat clearly has never experienced the stress-free joy of a pontoon. This captain-driven rental is equipped with the ultimate relaxation accessories, including an upper deck lounge with sofas, a water slide, a shaded lounge area, multiple inflatables and water toys, a 12 x 6 floating mat, and a high-end Bluetooth sound system.
From: $185/hr
This impressive cruiser, named Whiskey Business, is one of our favorite boat rentals in Miami. It includes your personal captain and guide and is the perfect mid-sized rental that can be enjoyed while docking on a sandbar or cruising the open sea.
Charter A Deep-Sea Fishing Boat
Fishermen in Miami brag that it offers the absolute best deep-sea fishing available in the United States because you can expect to catch just about anything. Okay, so you probably won't catch salmon, but the Atlantic Coast waters are full of every species from tuna to billfish, mahi to swordfish. If you don't know how to bait a hook, it's probably a good idea to take advantage of the many captain-operated fishing charters. Not only will these skippers pilot your boat, but they are skilled in knowing the hot spots and the right bait and tactics to lure your trophy catch.
Here are some fishing boat rental options in Miami to consider:
From: $120/hr
This fishing boat rental includes a captain, water, ice, and your fishing gear (for an additional fee) and is the perfect affordable option for taking your small group morning deep-sea fishing.
From: $1,300/day
This fishing charter comes with an expert mate to help you catch everything the coastal waters have to offer. It's available for 1/2-day, 3/4-day, and full-day rentals.
Snorkel The Sea
If you haven't snorkeled in Miami, you are missing out on half the beauty of this city! Of course, you can snorkel in the shallow ocean shelf off the beach. However, diving into the submarine outskirts offers adventurers the chance to get up close and personal with some of the ocean's most enchanting creatures and colorful reefs. We recommend taking a charter or hiring a captain along with your boat rental so they can show you where to find the most stunning underwater scenes.
Here are some snorkeling and scuba boat rental options in Miami to consider:
From: $100/hr
This bay boat is a great option for a couple or small group (up to 4 people) to enjoy an affordable personal snorkeling experience with an expert captain.
From: $299/hr
This private catamaran rental fits groups of 6 to 12 people and includes a full crew. Once booked, the captain will contact you to work out your ideal itinerary through Biscayne Bay.
Enjoy A Boat Tour Or Excursion
One of the best things about exploring Miami by water is that it's much faster to get to nearby islands and national parks, and it's a special way to tour the Intercoastal. A variety of memorable boat tours and excursions are available now through GetMyBoat.
Here are some boat tour and excursion options in Miami to consider:
From: $2,800/day
Charter this luxury yacht for a memorable day trip excursion to Biscayne National Park, the largest marine national park in the country! The whole family will be enthralled during the 2.5-hour boat rides to and from this beautiful tropical island.
From: $450/hr
This yacht and crew are available for many different types of tours around Miami, including a daytime Miami Bay tour, sunset cruises, and nightlife bar-hopping. Round up your favorite eight friends and family members and choose your adventure tour of the day; none of the options will disappoint!
Party On The Water In Style
Miami is known for having one of the top party scenes in the world, so when in Rome, why not do as the Romans do? Whether you're more into the laidback pontoon type of party or the ultra-luxurious yachting experience, GetMyBoat has plenty of options for you.
Here are some party boat rental options in Miami to consider:
From: $365/hr
This unique no-frills party boat ditches extraneous amenities in favor of space and holds up to 40 people for the ultimate laidback party on the water. Of course, it comes with a bar, plenty of room to dance, multiple water toys and floats, and a bathroom.
From: $315/hr
This super sleek Ferrari Mega Yacht is an instant head-turner for those wanting to party in style. Cruise the coast or have the captain take your group to a nearby island. Either way, be sure to tune up the premium Sony speakers and raise a glass of champagne as you enjoy this lavish boat.
Charter A Yacht To Enjoy The Sunset
From: $340/hr
This eye-catching yacht is available for rental both with and without a captain. It can accommodate up to 13 people and offers trips to popular destinations including Monument Island, Star Island, Nixon sandbar, Miami Beach, Marine Stadium, Biscayne Bay, and the Miami River.
From: $1,075/hr
This massive yacht is almost 100 feet in length and includes over-the-top amenities like an onboard jacuzzi hot tub. For a special occasion or party, this rental is a showstopper. For a small additional fee, add some jet skis to the mix for a truly unforgettable experience.
For more boating inspiration, check out: