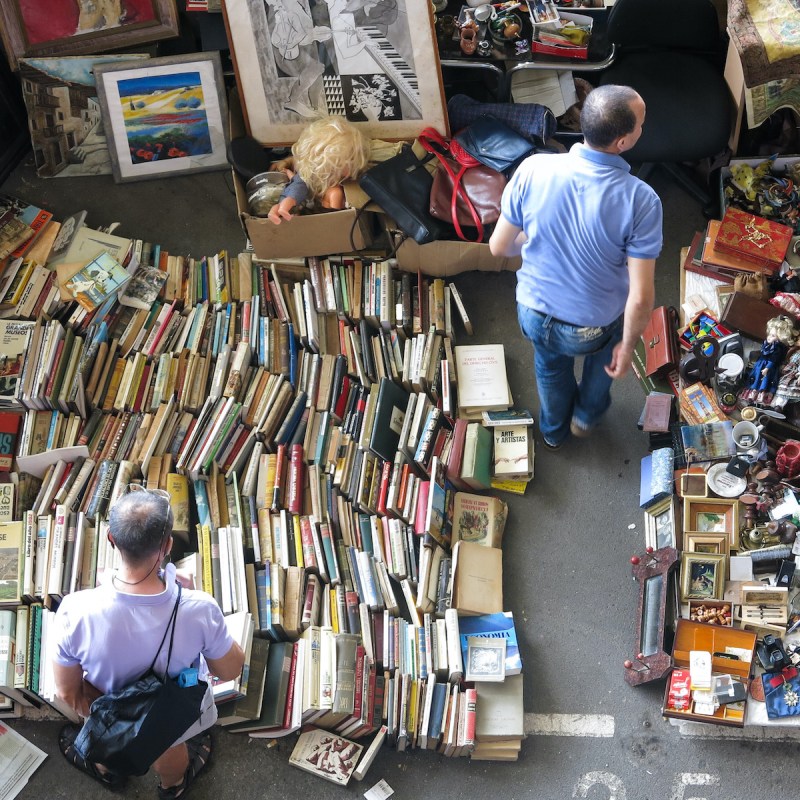 There is nothing like heading to a swap meet or flea market when spring or summer arrives! You can find anything and everything. These fun-filled events often include food and entertainment. 
At the Litchfield Pickers Market, for instance, you can shop while a musician is strumming bluegrass, and you can find lunch at a variety of food trucks.
At a flea market, you might find vintage advertising, sports memorabilia, estate jewelry, a Victorian bedroom set, homemade jelly, garden produce, a cool hat, a set of antique dishes, a potato planter, handcrafted yard art, tablecloths, a part for your broken lawnmower, or the Beanie Baby your granddaughter is missing from her collection. You might stumble upon the book you read and fell in love with when you were 10. You might find a cast iron skillet, gloves for gardening, or a handmade sweater. Flea markets are more than just places to find replacement parts — you can find one-of-a-kind gifts, collectibles, and much more!
My husband collects pocket ledgers (ledgers that were given out by farm equipment dealers), and I collect cool jewelry. We are always on the lookout for these when we attend flea markets and swap meets.
There are some subtle differences between flea markets and swap meets. A swap meet is a flea market at which you'll find tractor, auto, engine, and sometimes truck parts. Swap meets usually occur in the spring or the fall and are annual events. Flea markets usually occur monthly starting in May and ending in October, depending on the venue and the weather. You can search for flea markets by state. Many flea markets, such as Bloomington's Third Sunday Market, take place on particular weekends.
My husband and I like to attend the Pioneer Power Swap Meet in Le Sueur, Minnesota. Usually held the third weekend in April, this event has a bit of everything, from tractors and skis to plants and yard art. Another of our favorites is the Tri-State Gas Engine and Tractor Association Swap Meet in Portland, Indiana, which takes place on the third full weekend in May.
Going to a flea market or swap meet for the first time can be intimidating, because these events can draw thousands of visitors. Here are a few tips we have learned over the years that can help a first-time visitor be prepared.
1. Check The Website And Plan Ahead
Before heading out, make sure the event is taking place. Check the website for updates. Figure out where to park, and look up directions. If you are traveling to the market and will be staying at a hotel, don't assume that you are the only one going. These are big events, and lodgings book up quickly. Make your reservations in advance.
If you're planning on attending a big event like the Florida Flywheelers, a huge flea market and swap meet held in February with a village and tractor show, reserve a golf cart far ahead of time. This is also true for events like the Half Century of Progress Show that takes place every other year in August in Rantoul, Illinois. The grounds at these events are extensive, and golf carts book up quickly. If you want to bring your own golf cart, be prepared to bring your insurance card and to pay a cart fee.
Many flea markets also charge an entry fee, so check the website to see what this cost may be.
Pro Tip: When you're researching the flea market you want to attend, check for attractions nearby. When we traveled to Le Sueur, we made time for the neighboring Minneopa State Park, which had bison, waterfalls, and a cool historic windmill!
2. Prepare Your Vehicle
Before heading out, make sure your vehicle is road ready. Are your tires up to par? (I recently had a flat after returning from a trip!) Have you changed your oil recently? Are you ready to take home whatever you might purchase? Make sure to clean out your vehicle and make space for larger items. You don't know what you might find, and it would be sad to have to leave a neat item behind because you don't have room to take it home. Also, bring a rug or plastic for plants or items that may be dirty or covered in oil. You don't want them to discolor your vehicle's carpet or upholstery.
3. Dress Appropriately
These events are outside, at least in part. Make sure to bring a hat to protect you from the sun. Use sunblock as well. Comfortable shoes are a must! At the Pioneer show, we logged over 15,000 steps in one day. Wear loose, comfortable clothes — flea markets usually take place during the warmer months. Keep an umbrella in your car in case of rain, and bring a raincoat as well.
4. Bring A Collapsible Bag Or Wagon For Purchases
If you plan on purchasing many items, bring something to convey your purchases. Cindy Bastyr, who was selling jewelry at the Pioneer Power Swap Meet, recommended bringing a wagon or a collapsible bag on wheels so that you don't have to go back to your car right away. It's more fun to keep shopping!
5. Bring Cash
Cindy added that it's important to bring cash, since some vendors don't take credit cards or debit cards. While many vendors will accept checks, cash is king! Be sure to bring a bit of extra cash in case you see that item you have been dying for.
6. Have A List
If you are a collector looking for specific items — for instance, my husband often looks for John Deere pocket ledgers from certain years — have a list. This will keep you from buying something you already have at home.
7. Know What Things Are Worth
If you will be buying collectibles or antiques, check out what you plan on buying online before heading out so that you will have an idea of what the items are worth. You want to know whether you are getting a bargain, paying an acceptable price, or spending much more than you should. Most vendors will bargain at least a bit.
8. Walk Through First, But Don't Miss Out
After you've arrived at a flea market, quickly walk through to see what is there. That way, you won't buy something right away and then see the same item for sale 15 minutes later for half the price. However, if there is something — a beaded purse you have been looking for forever, a handmade pin you can't live without, etc. — don't pass it up. It may be gone when you come back!
9. Keep An Eye Out For Unique Gifts
Whether you're buying for others or for yourself, flea markets can seem like Christmas in July. Flea markets are opportunities to find jewelry, art, and other handmade items that are not available at other venues. For years, my mom has purchased beautiful jewelry at flea markets for my sister and me, much to our joy and satisfaction.
10. Remember Where You Parked
When arriving at a flea market or swap meet, be sure to note where you're parked. Most lots are organized by numbers or letters. Take a picture with your phone or write the identifying information down. People come and go, and the lot will look different when you need to find your vehicle!
11. Arrive Early Or Late
The saying "the early bird gets the worm" is especially true when it comes to shopping at a flea market. Items you may be looking for could be purchased quickly. However, the opposite can be true as well. Sometimes vendors do not want to take items home, and you can get huge bargains during the last hours of the day. One time I got my kids a very cool tent for pennies on the dollar because the vendor did not want to load it up and haul it home!
12. Bring Water And Snacks
You'll usually find food and water for sale, but not always, and sometimes these events (especially swap meets) can be far from any town. I try to bring water and a healthy snack like almonds or fruit. If you have diabetes or just don't want to get hungry, keep something in the car just in case. It is better to be prepared.
13. Be Kind
Cindy offered one more tip. She said, "Have patience, and be kind. There are lots of dogs and kids. Many of the vendors are retirees who do this to stay active."
These are just a few tips to help make your first experience at a flea market better. Expect to be at the event for at least 3 hours and to walk long distances. While many flea markets are in handicap-accessible areas, swap meets are usually not. Enjoy shopping and finding bargains galore!