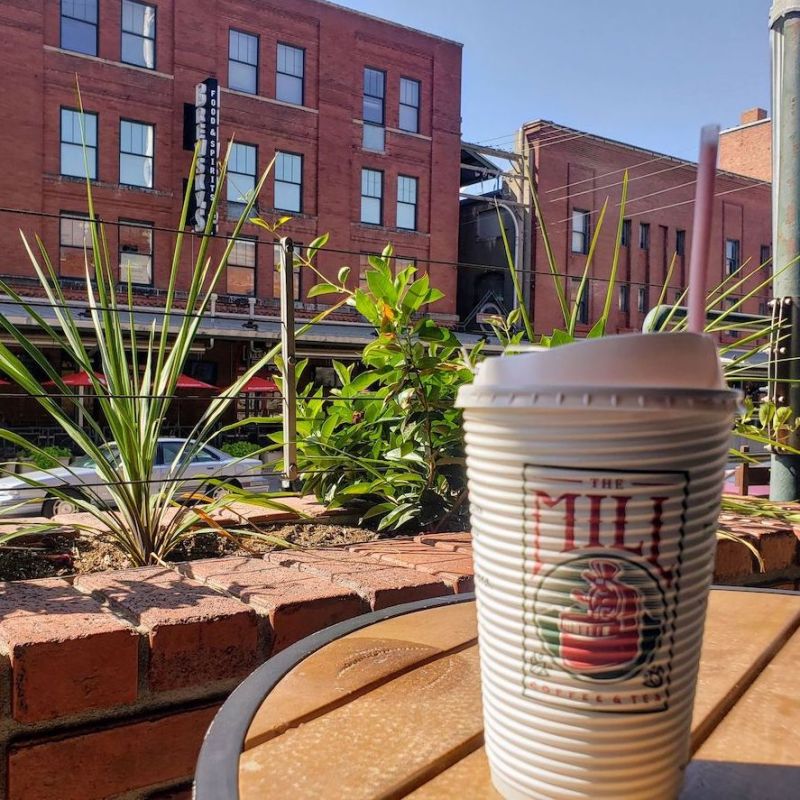 A good cup of coffee can be difficult to find when traveling. We all tend to have our favorite brew, whether it's a latte, a cold drink, or an old-fashioned cup of joe. During my travels, I look for an excellent local coffee shop to enjoy a nice hot cup of coffee and, usually, a treat. I find that a coffee house's decor and ambiance add to the experience and help make my trip pleasurable. They make a place stand out and help with local charm. But, in the end, it's the coffee that makes or breaks a joint.
I've enjoyed my visit to each of the following coffee houses during my travels and share them in no particular order. Here's a look at nine unique coffee houses in the Midwest.
1. The Roasterie Kansas City Air Roasted Coffee
Kansas City, Missouri
While The Roasterie coffee house has been serving Kansas City locals and visitors alike since 1993, its story travels back in time to 1978, to the coffee bean farms of Central America. As a foreign exchange student, Danny O'Neill found himself helping to harvest coffee beans in Costa Rica. Falling in love with the local area and flavors of the coffee, he later created The Roasterie coffee roasting business in his Kansas City home. With its popularity, it made sense to open a local coffee house, thus giving birth to the Roasterie, along with the roasting service onsite. Located near the National World War I Memorial and Museum, the coffee house features a DC-3 airplane named Betty (in honor of the founder's mom) as its logo. Greeting visitors above the coffee house, the plane symbolizes The Roasterie's commitment to finding the best coffee beans in the world, working directly with farms to ensure fair trade practices. With lattes, espressos, cold brews, and specialty drinks as well as tea, my favorite drink here is a hot vanilla latte. The Roasterie also has cafes in Brookside and Leawood.
2. Top Hat Coffee And Entertainment
Ottumwa, Iowa
It's not often that a coffee house donates all of its revenue to a local soup kitchen, but that's exactly what happens at Top Hat Coffee and Entertainment in Ottumwa, Iowa. Since opening in 2017, the coffee house, located in a renovated downtown building, has routed its funds to the Blessings Soup Kitchen, which assists homeless and food-insecure people. It's located directly behind the coffee house. Top Hat serves a variety of outstanding hot and cold coffee drinks as well as pastries, sandwiches, and soups. Each Friday night, you're likely to catch local musical acts performing on stage. After enjoying your coffee experience at Top Hat, head to the farmhouse made famous in Grant Wood's American Gothic painting. Located in Eldon, the American Gothic House and Center is about a 25-minute drive from Ottumwa.
Editor's Note: Unfamiliar with Ottumwa? Consider Tim's top six reasons to visit Ottumwa, Iowa, here.
3. Milady Coffeehouse
Fremont, Nebraska
Located in Fremont's historic downtown, Milady Coffeehouse is a must when visiting the eastern Nebraska community. Named after a special brand of coffee whose aroma flowed through the vintage May Brothers Building that Milady calls home, the coffeehouse features unique blends of coffee created by Hardy Coffee in Omaha. Milady is the perfect spot to start your day with a menu featuring breakfast burritos and sweet cinnamon rolls. You can also enjoy lunch there. Milady is situated near six antique stores, where you can find amazing vintage wares. Milady also offers weekend entertainment starring local musical acts on its makeshift stage.
4. Fika Coffee
Lutsen, Minnesota
Named after the Swedish term for coffee break, Fika Coffee in Lutsen is an excellent spot to enjoy your own break along the Scenic North Shore Drive in Minnesota. The small coffeehouse is known for its maple latte, which includes maple syrup extracted from local trees and features a unique breakfast menu with items such as peanut butter, banana, and yogurt toast. Grab your treats to go and enjoy while taking in the majestic views of Lake Superior or Lake Superior National Forest. With a small indoor seating area, as well as outdoor dining available, you can also relax and enjoy visiting with friends or simply taking in the area's views.
Editor's Note: If you haven't visited Lutsen, consider these 12 best experiences in every season in Lutsen, plus why it's one of Tim's picks for 11 scenic stops on a drive through Cook County, MN.
5. The Sunflower Cafe
Atchison, Kansas
Located in northwest Kansas, The Sunflower Café is perfectly named considering it's in the heart of the Sunflower State. Opened in 2018, The Sunflower Café seeks to offer locals a place to enjoy breakfast and a good cup of coffee while they socialize. For visitors, the staff offers a taste of Atchison hospitality, as well as outstanding lattes, espressos, mochas, and old-fashioned cups of coffee. The Sunflower Café uses Kansas City-based Roasterie coffee for its tasty choices. Grab a seat and enjoy lunch as well. The café is decorated with a country theme, using repurposed lumber and furniture for a true Americana vibe. Of course, you'll find plenty of sunflowers around the coffeehouse.
Editor's Note: Learn why Atchison is called mysterious, plus the best things to do in town, here.
6. Urban Stampede
Grand Forks, North Dakota
Seeking a unique setting, owner Kelly Thompson challenges visitors not to drum up a conversation with a new friend. Lone visitors tend to enjoy drinking their latte, espresso, or cold-filtered brew at the bar. As someone sits down on a stool near them, he finds people naturally start talking with each other. Whether you want to mosey up to the bar or grab a seat in a booth, you're guaranteed to enjoy your visit to one of the oldest coffee houses in North Dakota. The downtown business is popular with professionals, students, and tourists. Located in a renovated furrier establishment, Urban Stampede prides itself on being home to what it calls the world's smallest gallery — a corner of the coffeehouse that features works by local artists.
Editor's Note: Get your fill of Grand Forks' best things to see and do here.
7. Classic Rock Coffee Company And Kitchen
Springfield, Missouri
Forget easy-listening tunes during your visit to Classic Rock Coffee Company. Grab a hot or cold cup of java and rock out to AC DC, Van Halen, The Eagles, and other classic rock bands at Classic Rock Coffee. Founded in Springfield in 2011, the coffeehouse thrives on playing rock-n-roll music loud and decorating its locations with band posters and music decals. You won't need to worry about Mom or Dad telling the barista to turn down the music. Seeking to use quality coffee, you'll find blends from Ethiopia, Brazil, and the Indonesian island of Sumatra. Enjoy coffees with names such as Breakfast in America and Barracuda, plus lattes, espressos, and mochas. While founded in Springfield, Classic Rock Coffee has grown to include locations in North Dakota, Texas, and Nevada, and even internationally in Egypt, India, and beyond. Don't worry, you can leave your stone-washed jeans, leather jacket, and headband at home. Unless you still enjoy dressing in that style.
8. The Mill Coffee And Tea
Lincoln, Nebraska
Lincoln's Haymarket district bustles with restaurants, bars, boutiques, and art galleries. Located in the heart of the historic area, The Mill Coffee and Tea caters to local professionals, college students, shoppers, and tourists. Calling a vintage brick warehouse home for almost 35 years, The Mill has actually been producing gourmet coffee since 1975. With plenty of room indoors and outdoors on a covered walkway, you can take in the unique interior of the coffeehouse or sit at a table outside and enjoy the view of Haymarket or do some people watching. The Mill roasts its own coffee on site, so you can appreciate the freshness of the coffee, which includes lattes, espressos, cold drinks, and a special blend each day. You can also sip a nice cup of tea or hot apple cider. The Mill offers locally made sandwiches, vegetarian wraps, pastries, and desserts.
9. Blacksmith Coffee Shop And Roastery
Lindsborg, Kansas
With a name like Blacksmith, you may expect to find your barista shoeing a horse or banging on a new wagon wheel. While housed in a former blacksmith shop, Lindsborg's Blacksmith Coffee Shop and Roastery actually roasts its coffee in the back of the facility while serving outstanding coffee and tea out front. Baristas take pride in creating foam art, featuring hearts or flowers, for you in your drink. The coffee shop features a lumber wagon repurposed into an espresso bar. Enjoy your drink as you read about the building's history on the south wall. Grab breakfast or lunch while at Blacksmith Coffee, which offers items such as biscuits and gravy, muffins, yogurt, chicken salad on a croissant, cranberry mandarin salad, and a soup of the day. Blacksmith's roasting operation uses beans that have been obtained through fair trading practices, using traders who work directly with farmers rather than large-scale businesses. During your visit to Blacksmith, check out the European-style phone booth near the front of the shop. It's a popular spot for photos. You may want to take your drink to go and stroll downtown, taking in the Dala horse sculptures that have been decorated by area artists to help celebrate the city's Swedish heritage.
Editor's Note: Here's why you should discover Little Sweden in Lindsborg, Kansas.