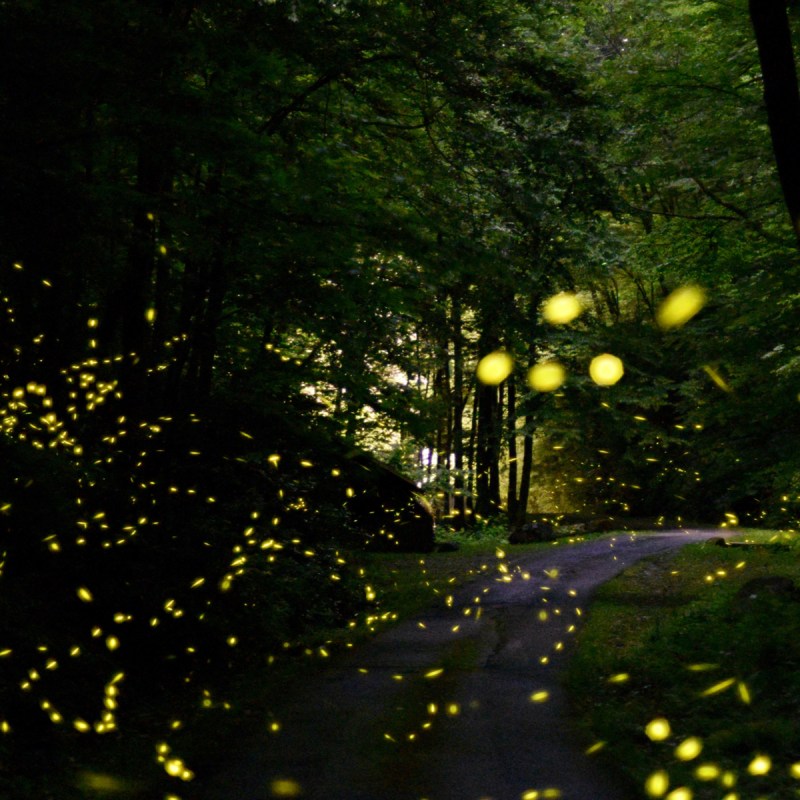 It's the most coveted ticket of the summer in Great Smoky Mountains National Park — a pass to view thousands of fireflies flashing synchronously while they mate.
The naturally occurring phenomenon is an amazing experience every May and June in the Elkmont area on the Tennessee side of the park, drawing thousands of onlookers wanting to witness nature at its finest.
What Are Synchronous Fireflies
It's almost an indescribable experience. Many of us remember trying to catch fireflies as kids. Running through the yard, clapping our hands in the air as they light up. Synchronous fireflies, or officially Photinus carolinus, are similar, but picture thousands of them in the same area, all lighting up at the exact same time. Pictures and videos captured during past years' events don't do it justice, but they give you a bit of an idea of how magnificent it is, and why it's so popular.
It's important to note that the fireflies mate every year from late May to early June, and the park service does its best to estimate the peak eight days when reservations will be required to access the area.
Changes For Visitors
Great Smoky Mountains National Park officials are predicting the peak viewing time will take place Friday, June 3 through Friday, June 10 this year.
Since the synchronous firefly event draws even more people to the already popular national park, the park service has been utilizing a lottery system for shuttle passes since 2006.
How To View Synchronous Fireflies
Even when the park service utilized shuttles for the experience, demand greatly exceeded supply. Expect the same this year, but worse, since parking at Elkmont is limited.
A total of 800 passes, just 100 per night, will be drawn. Each vehicle is allowed a maximum of seven people, including the driver. If you win, a vehicle pass will cost $24, plus the $1 application fee.
The lottery for vehicle passes opens Friday, April 29 at 10 a.m. EST and will be open through Tuesday, May 3 at 11:59 p.m. EST. Here's the recreation.gov link that you'll need if you want to enter the lottery. National Park Service officials say they use a randomized computer drawing to select the winners. All applicants will receive an email by Thursday, May 12 letting them know whether or not they will receive a pass.
If you win, don't think you're going to be able to sell your winning ticket online. The parking passes are non-refundable and non-transferable. Also, when you apply, you must pick two possible dates when you can go. Each winner will be assigned a date that cannot be changed.
Other Important Tips
If you don't win a coveted vehicle pass, don't think you'll be able to simply access the area by hiking or biking in. Access to the Elkmont area is restricted after 4 p.m. during the peak days, and hikers and bikers are not allowed on the Elkmont entrance road or Jakes Creek Road after 4 p.m. Also, overnight parking at Little River Trailhead, Jakes Creek Trailhead, or the Appalachian Clubhouse is not allowed without a valid backcountry permit for backcountry campsites associated with these trailheads.
You get the idea: If you don't secure a vehicle pass, don't try to access the area during the peak days. Going before June 3 or after June 10 and seeing the preview or what's left of the fireflies' mating season is your best bet.
Finally, for anyone without internet access, you may call (877) 444-6777 to enter the lottery. Good luck!
Editor's Note: For more trip-planning advice, see all our Great Smoky Mountains National Park content here and learn more about synchronous fireflies: Mother Nature's Beautiful Smoky Mountains display here.