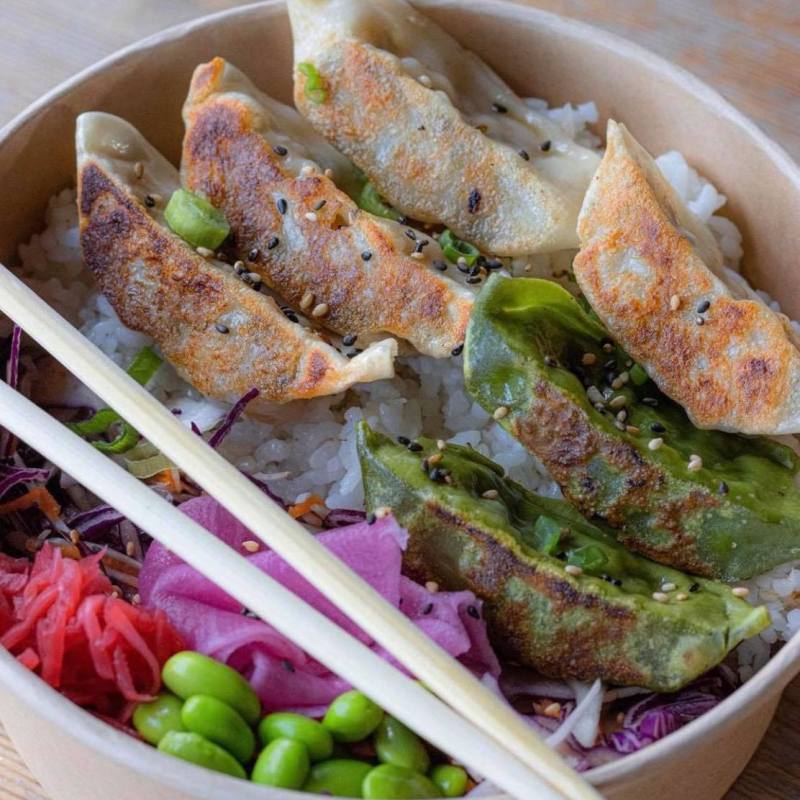 As well as being the capital city of England, London is also the capital of street food for the whole of the UK. You won't find as many amazing and diverse street food markets anywhere else in Britain. London is an international city with people from all over the world living and working there, and this is reflected in the street food you can find on offer. Spending time in one of the many food markets in London is a quick trip around the globe, and you'll find some interesting and unusual foods to try for the first time. Here are my favorite street food markets in London.
1. Camden Market, Camden Lock
Camden Market was the first street food market I went to in London, and it has a special place in my heart. With the canal flowing right past and the barges bobbing on the water, it feels like a world away from central London. There are hundreds of foods to try, from Afghan curries to juice bars and burritos. I love how this food market sprawls, and just when you think you've experienced all of it, you wander around a corner and find even more. The square the food market stands in also houses a gin distillery shop for Half Hitch gin, a second-hand bookstore, and some relaxing bars on the mezzanine.
Pro Tip
Buy your food and go and sit by the canal to eat it. The benches in the food market fill up fast, and there's a lovely holiday feel by the water. Make sure you check out all the small carts near the vintage market as you can get the best coffee and handmade chocolates on the fringes of the main market.
2. Brick Lane Food Market, East London
This food hall on Brick Lane is one of the few authentic and old-school street food markets left. As traditional pop-up food markets get the modern treatment and are overhauled with booths and kitchens, this one remains a little more rugged. Brick Lane was once a poor area of London but has turned into a destination for anyone who likes a melting pot feel. It's a busy street, with vintage clothes shopping and every kind of restaurant and cafe you can think of. Located in an old boiler house, the market is only open on weekends serving food from around the world, including Korean and Polish, and there's even a champagne bar.
Pro Tip
If you're visiting Brick Lane on a weekday, head to Ely's Yard behind the brewery for a small yard street food market that's intimate and tucked away. The choice isn't as big as the old boiler room, but it's a lovely little find off the busy main street. On weekends, Ely's Yard hosts a diverse market selling fashion, art, and street food.
3. Spitalfields Market, East London
Spitalfields Market is where the very old meets the super new. The first license for market stalls was issued here in 1638, making it one of the oldest food markets in London, but today the market appears modern, bright, and distinctively up-market. The vendors operate from pop-up stalls and food trucks, so you're likely to see something different every time you visit. From amazing sandwiches at Monty's Deli to Ethiopian vegetarian cuisine, this is posh nosh in a street market.
Pro Tip
There is seating inside the market and this one doesn't get too overcrowded, but outside there are some lovely areas to sit and eat your street food, too. Make sure you browse the rest of the market for clothes and trinkets and wander along the streets, where you'll find high-end boutiques and pavement cafes.
4. Berwick Street Market, Soho
Another of London's oldest street markets, Berwick Market first opened in 1778. The market has been threatened with buyouts and redevelopments over the years but has always managed to hold on to its independence. Berwick Street Market has a real free spirit feel to it, staying true to its street food roots. There's a good mix of stalls here, from produce to cooked meals, including an amazing bread stall, Afghan food, Greek, Egyptian, Turkish, and traditional London fruit and veg stalls.
Pro Tip
The market is open from Monday to Saturday with no Sunday opening. It's open from 6 a.m. till 8 p.m. meaning there's plenty of time through the day to experience the street food. The busiest time is over lunch when it does get crowded, so if you prefer it quieter, avoid the crowds and visit in the mid-morning or afternoon.
5. Borough Market, Central London
Even older than Berwick Market, Borough Market officially opened in 1756 and was originally a general market, but it's even older than that. There has been a market on this site since the 12th century, originally a cattle market. As times changed the market changed, and it's this ability to evolve and alter with the times that has kept this special market going. There are over 100 stalls in this authentic London market, and it has more of a traditional English food market feel to it than a modern international street food market. You'll find cheesemakers, chocolatiers, and fishmongers, plus more eclectic offerings like Taiwanese buns with a side helping of karaoke and a sophisticated wine bar. This is one of the most interesting food markets in London, with some real finds to discover.
Pro Tip
Borough Market has set hours, so make sure you are visiting when it's open. The market closes on Sundays and on weekdays it doesn't open until 10 a.m., shutting at 4 p.m. on Mondays. There are some areas for seating, but you won't find the usual benches and picnic tables you'll find at modern street food markets.
6. Canopy Market, King's Cross
Wandering into the Canopy Market, under the Victorian glass canopy roof in the old abandoned loading bays behind King's Cross Station, feels like you've just stumbled on an ad hoc impromptu collection of stalls, but in fact, this market is a well organized and popular food market. I love how the sparse collection of tables and chairs appear to have been haphazardly placed lazily and the stalls feel as if they were erected half an hour ago. It really has that Sunday morning vibe to it. The market runs every Friday, Saturday, and Sunday, and features toasties, pastries, Korean street food, and Italian cannelloni, to name but a few.
Pro Tip
Seating is a bit sparse here and many people come down for the craft beer and artisan gins on the weekend, so if you can't get a seat, buy your food and take it with you. There are also some lovely plant and flower stalls and local makers and crafters can rent a stall and bring down their unique creations, meaning you'll most likely walk away with more than a full stomach!
BOXPARK
BOXPARK has three market locations in London: Shoreditch, Croydon, and Wembley, each one offering the best in street food, bars, and entertainment all in one place. The three sites have different vendors, so you can visit all three and experience something unique. Originally termed "the world's first pop-up mall," BOXPARK fuses the street food market with pop-up shops, bars, and live bands
7. BOXPARK Shoreditch
This was the first of the three sites to be opened, and it launched in 2010. There are 24 vendors at this site, including a wok house, an ice cream bar, and an Argentinian grill. I like the way you can buy from different vendors and make yourself up a whole meal. A burger from one place, loaded fries from another, and a salad from Salad Mafia. There's also a great choice in desserts, including donuts, vegan cookies, and frozen yogurt.
8. BOXPARK Wembley
The largest of the three sites, BOXPARK at Wembley was the last one to open (in 2018). It covers 20,000 square feet and embodies BOXPARK's ethos of Eat, Drink, Play. There are 24 vendors on site, ranging from specialist artisan finger donuts to Nanny Bill's Burgers and Filipino street food. You can try a Taiwanese bubble tea or go for breakfast at Oatopia and choose artisan vegan oats.
9. BOXPARK Croydon
The Croydon site has the most food vendors — currently 33. This site also feels a little more diverse in what it offers, with a range of activities in a rolling program of events that includes entertainment and fitness sessions in the hall. You can join in and work out, then relax with a drink and some amazing street food. With more choice at the Croydon site, you can pick from pizza and pasta, Greek food, Egyptian, Brazilian, Sushi, and Korean, plus an American diner and a waffle House.
Pro Tip
If you like a lively atmosphere, a lot of people go to BOXPARK for a drink, a choice of street food, and a live band. But if you like it quiet, visit in the daytime and relax with a specialty coffee and some incredible international plates. There's plenty of seating at BOXPARK, so you won't have any problems getting a table, but you might have to share with other visitors.
For more London inspiration, consider: