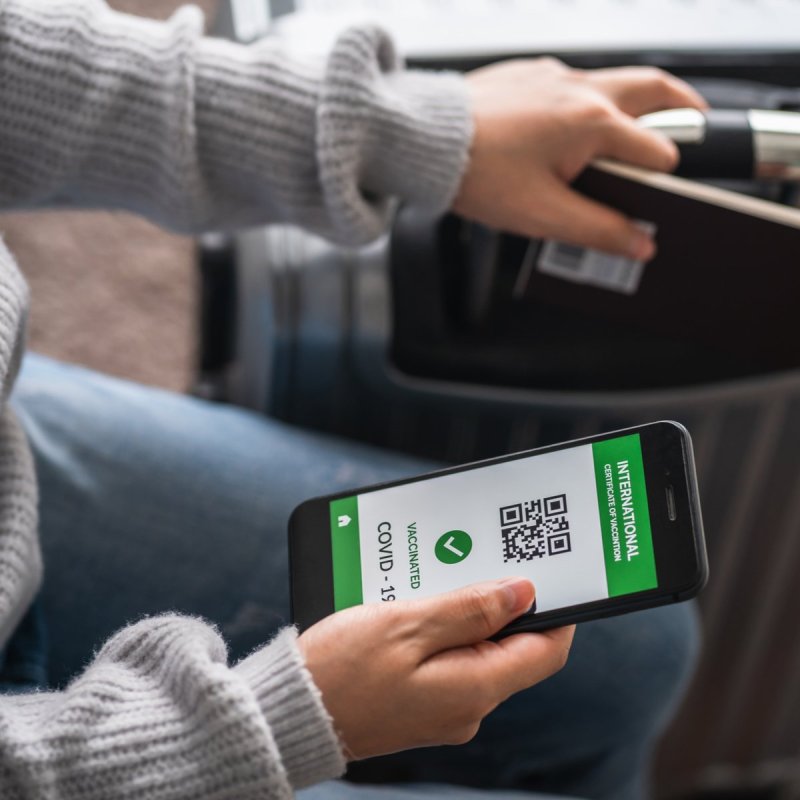 As the world starts to re-open following the COVID-19 pandemic, many of us want to start traveling again. But there's a lot of controversy surrounding how to travel safely — both nationally and internationally. One initiative getting a lot of attention is a vaccine passport. Some say it's the ticket to post-pandemic normalcy; others say it's a violation of privacy.
What Is A Vaccine Passport?
A vaccine passport is a proposed form of documentation showing you have been immunized against COVID-19. This could be in the form of an encrypted QR code on your phone or a paper document. Just like you need a physical passport to show proof of citizenship in order to travel internationally, you would need to provide proof of COVID vaccination. The premise behind the idea is that anyone possessing a vaccine passport will be able to travel freely and attend large gatherings without the need to quarantine or get a COVID test.
Some countries, states, and companies have implemented versions of vaccine passports, but it remains mostly conceptual.
An important note about vaccine passports: They are different from the white piece of paper you are getting when you get your COVID vaccine. These white cards are popping up all over social media, as millions of Americans show off their first and second doses. Under the current proposed vaccine passport system, these white cards will not be accepted as proof of vaccination because officials say the white cards are easily forged. The proposed vaccine passport will be more official; more like a real passport.
Will You Need A Vaccine Passport To Travel?
The answer to this question depends on where you are traveling. Some countries will require it to get in, while other countries may not require it but having one will reduce or even eliminate your need to quarantine upon arrival. This is true for some U.S. states, as well, including Hawaii. That state currently requires a 10-day quarantine upon arrival, but officials are discussing waiving that requirement for vaccinated tourists.
Internationally, Israel is the first country to use vaccine passports. The Green Pass is a QR code that holds a person's vaccination information and is needed to enter public buildings. The European Union is discussing launching a similar pass that would allow vaccinated people to travel freely between member countries. The United Kingdom is discussing whether to require a digital health passport to attend large gatherings, like sporting events.
The cruise industry seems to be getting onboard with vaccine passports, seeing it as a crucial key to sail again. Since cruise passengers are in close proximity for extended periods of time, cruise companies see the proof of vaccination as the best way to protect travelers and release them from COVID-related liabilities.
Debate Surrounding The Vaccine Passport
As the discussion around creating a vaccine passport grows, so does the controversy. Proponents of the plan say requiring a vaccine passport will help get the world's economy back up and running faster by ensuring safer gatherings. Backers of the vaccine passport proposal say they also provide peace of mind, which will in turn build confidence that COVID won't be easily transmitted during travel and mass gatherings. This confidence will allow people to start traveling, going out, and spending money faster, which will help the economy.
The opposition consists of two main concerns: privacy and government intervention. Opponents argue putting health information, like vaccination status, into a QR code or on a document is a violation of HIPPA. The concern is how much health information is included in the vaccine passport and that anyone scanning your QR code (like a ticket taker at a sporting event) will be privy to your personal health information, which is not legal. Hacking is another concern. Since personal and health information will be stored digitally, there is a chance hackers could obtain the information illegally and use it to steal your identity.
The other point of contention is government overreach. Opponents say it's not the place of any government to force people to get a vaccine; that decision should be left up to each individual person. Therefore, requiring passengers to have a vaccine passport is a violation of a person's constitutional rights. There's also the issue of equality, with some arguing that not everyone has equal access to the COVID-19 vaccine, therefore requiring everyone to have one is not fair.
How To Get A Vaccine Passport
Since the concept is still in the works in the United States, it is not easy to get a vaccine passport. But there are a few ways you can use your vaccination status to make traveling easier. If you fly one of the nearly two dozen airlines testing out digital health passports, you could be able to access those databases. But be aware that while it may work on one airline, another one may not accept it. You can also go online to download the World Health Organization's (WHO) International Certificate of Vaccination or Prophylaxis, otherwise known as the "Yellow Card." This little booklet is approved by the WHO as an official vaccination document and is recognized internationally.
Beware when looking for vaccine passports! All of the current prototypes are free for everyone. Any website or company that requires payment for a vaccine passport is likely not legitimate. This may change in the future, but right now, all vaccine passports are free.
Where Does The Vaccine Passport Stand Now?
Right now, there is a push within the private sector to launch digital health apps, but the United States government is not onboard. "The government is not now, nor will be supporting a system that requires Americans to carry a credential," says White House press secretary Jen Psaki. "There will be no federal vaccinations database and no federal mandate requiring everyone to obtain a single vaccination credential."
But some companies are already in the process of testing out these digital health passports. JetBlue, for example, is testing out CommonPass on select flights, which gives vaccinated passengers access to expedited immigration lanes and allows them to skip quarantine and testing requirements. About two dozen other airlines, including Lufthansa, Air New Zealand, and Qantas, are also testing their own versions of digital health passports or portals.
In the United States, companies looking at health status requirements are receiving mixed messages from individual states. The Texas governor, for instance, issued an executive order prohibiting state agencies or any company receiving public funds from requiring a health passport. A similar measure was enacted in Florida. On the flipside, New York is now the first state to roll out a digital health record, called the Excelsior Pass, which is a free app that holds medical information. The pass allows residents quicker access to businesses, venues, and other locations. Currently, venues like the Citi Field, Yankee Stadium, and Madison Square Garden accept the Excelsior Pass. The pass is entirely voluntary.
The Future Of Vaccine Passports
As states, countries, and businesses start to reopen, the question on how to accomplish that safely will continue to be a hot topic. And as solutions, like the vaccine passport, are debated, the requirements and guidelines will be in flux, so it's important to stay on top of travel guidelines. The best way to ensure you're traveling safely and legally is to stay on top of the news and make sure you're following all the rules set forth by both the United States and your destination.
Related Reading: