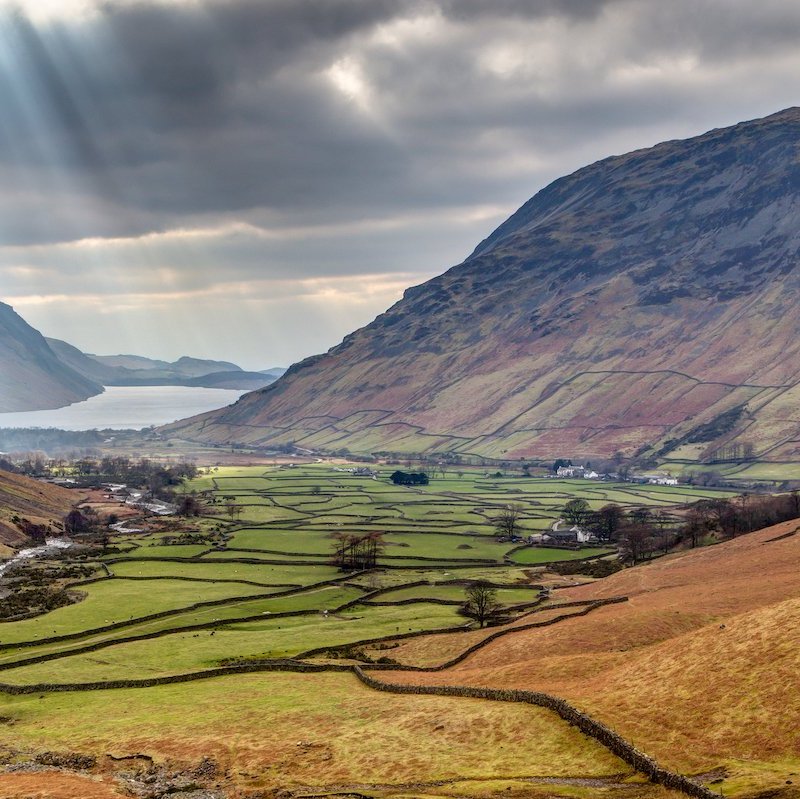 As Cumbrian locals say, "You may leave the Lake District, but once you've been, it'll never leave you." There were moments when I stood transfixed looking out at shimmering lakes, quaint stone historic villages, and the pastoral serenity of Herdwick sheep grazing on the fells. This same scenery inspired some of the most revered writers in the English language. Many visited as children returning to live there as adults and to see out their days nestled in nature's beauty.
A Poet's Childhood Home
Wordsworth's poetry will be forever associated with the Lake District. "I wandered lonely as a cloud / That floats on high o'er vales and hills / When all at once I saw a crowd / A host of golden daffodils."
The poet was inspired by a bank of daffodils when he and his sister Dorothy were walking around Glencoyne Bay, Ullswater.
The siblings grew up in the pretty market town of Cockermouth. Tourists can visit Wordsworth House, their Georgian home, where they lived with their parents and brothers in the 1770s.
Run by the National Trust, the home recreates their childhood. A fire burns in the kitchen grate, and visitors sample dishes the Wordsworths would have eaten. Visitors can write with quill and ink, experience their childhood games, or play the harpsichord. Costumed servants tell stories of domestic life. The garden with its apple trees, heritage 18th-century vegetables, flowers, and River Derwent views suggest an idyllic childhood.
Pro Tips: For the scene that inspired Wordsworth's poem "Daffodils," visit Ullswater in spring.
The Loveliest Spot That Man Hath Ever Found
Paradise was short-lived. After the early death of their parents, the Wordsworth children were farmed out to relatives. William finished school in Hawkshead, but Dorothy was sent to live in Yorkshire, separating the siblings for nine years. Wordsworth studied at Cambridge before a walking tour across revolutionary France to the Alps in the summer of 1790. The forerunner of today's backpackers, he carried only one set of clothes and a notebook in his small suitcase.
Later Wordsworth toured the Lake District with fellow poet Samuel Taylor Coleridge. They stumbled across Dove Cottage near Grasmere, an area Wordsworth described as "The loveliest spot that man hath ever found." This simple lakeside cottage became home to Wordsworth and his sister from 1799 to 1808. Here Wordsworth produced most of his best-loved poems, and Dorothy wrote her Grasmere Journal.
My memory of visiting this charming cottage is of pink roses trailing white-washed walls. It was dark inside with black paneling and walls plastered with newspapers for insulation. Like many visitors, I wondered how the creative household coexisted in the tight space. Wordsworth married Mary Hutchinson in 1802, and the couple had their first three children here. Mary's sister moved in, and Wordsworth had a string of visitors, including Sir Walter Scott, Thomas De Quincey, Charles and Mary Lamb, and Robert Southey. Coleridge would stay for up to a month with his young family. Wordsworth composed poems outside during his ramblings but wrote in the shared sitting room with his extended household in the winter months. In May 1808, when it became too cramped, they moved to Allan Bank in Grasmere and then to Rydal Mount, where Wordsworth died in 1850. Walk to his grave from Dove Cottage along Coffin Walk — named after the route coffins were carried to Grasmere's Oswald Churchyard.
Pro Tip: Even if you have visited Dove Cottage previously, 2020 was the anniversary of 250 years since Wordsworth's birth and saw $9 million dollars spent on new walking trails, a visitor's center, galleries, and expanded exhibits.
A Special Farmhouse
Beatrix Potter's books about Peter Rabbit, Jemima Puddle-Duck, Mrs. Tiggy-Winkle, and their friends are passed down through the generations.
Her inspiration came when she was 16 and her family started regularly holidaying in the Lake District. She observed squirrels in the woods and rabbits in the vegetable gardens and sketched the landscape. In July 1896, when Beatrix was 30, the family stayed in Near Sawrey. Nine years later, she bought Hill Top, in the same village, from the royalties she'd earned from The Tale of Peter Rabbit. The working farm, with its farmhouse and orchard, brought her lasting joy.
Open to the public, this simple home has small rooms, oak furniture, and a stone-flagged floor. Rooms are full of the objects she held dear, including her trophies for Herdwick sheep-breeding. In the large room upstairs, see where she wrote 13 of her books, looking out over the glorious Lake District.
Beatrix squirreled away money from her book sales to buy more farms and land under threat of development. During her purchases, she was advised by local solicitor William Heelis, whom Beatrix married when she was 47.
Meet Peter Rabbit And Friends
The Beatrix Potter Gallery is in the former solicitor's office of William Heelis. It is a unique opportunity to see inside one of Hawkshead's most historic and quirky stone buildings. See the original sketches and watercolors Potter painted for her children's stories, as well as artifacts and information relating to her life and work. The display changes annually.
So You Think You Know Beatrix Potter?
The Armitt Museum and Library in Ambleside is devoted to the Lake District's cultural heritage. Opened in 1912, Beatrix Potter was one of Armitt's early supporters. This attraction is a must-see for Potter fans, as the library holds her personal first editions of the "little" books and her botanical watercolors. The exhibitions reveal lesser-known aspects of her life and her work in conservation. She left 15 farms and 4,000 acres to the National Trust, specifying the need to protect the traditional Herdwick farming system, which cares for a breed that requires no fences because of the sheeps' unique homing instincts. Other reasons to visit this local gem include the used book shop, excellent gift shop, and the free-to-use reference library.
Pro Tip: Follow the Discover Beatrix Trail through the Lake District.
Manor From Heaven
Lord Alfred Tennyson stayed at Mirehouse in 1835 while writing his famous poem "Morte D'Arthur." Originally built in 1666 for the Earl of Derby, English broadcaster Melvyn Bragg described the mansion as the Manor from Heaven. It belonged to John Spedding, a lifelong friend of William Wordsworth. Other literary connections included the philosopher Thomas Carlyle, the romantic poet Robert Southey, and his brother-in-law Samuel Taylor Coleridge.
The downstairs rooms are open from April to October, but check the times. Inside, visitors can view letters and portraits relating to these literary greats in the grand rooms. The grounds are open daily between 10 a.m. and 4:30 p.m. Purchase tickets from across the road at The Old Sawmill Tearoom, known for its Cumbrian cooking. Enjoy the woodland gardens, fernery, orchard, heather maze, and the stone circle representing 'The Knights of the Round Table.'
Pro Tip: Additional walks include Dodd Wood, opposite the house entrance, or along the shores of Bassenthwaite Lake.
There Is No Wealth But Life
John Ruskin was another writer profoundly affected by his childhood visits to the Lake District. They helped shape his love of the natural world that continued into adulthood. His writings influenced Leo Tolstoy, William Morris and the Arts and Crafts Movement, Frank Lloyd Wright, and the National Trust and the National Parks movements' founders. I love this quote about Ruskin: "His desire was to open people's eyes to the free beauties surrounding them — sunsets, tender dawn light, iridescent feathers, spectacular natural crystals, green leaves against blue sky, clouds, the vitality of Gothic architecture and ornament. His creed was: 'There is no wealth but life.'"
At age 52, Ruskin bought Brantwood, a house close to Coniston Water, and lived there for the remaining 28 years of his life. He filled the house with art treasures such as Medieval manuscripts, Pre-Raphaelite paintings, Turner watercolors, and his mineral collection.
Given his love of Gothic and Venetian architecture, I was surprised that Brantwood is a traditional Victorian home with sharp straight lines. But Ruskin chose the house because of its setting. It was built on an "essential viewing point" to look out over the Lake District's magnificent beauty. He did add extensive gardens and one enchanting touch — a turret where he could gaze out over these spectacular views.
Coniston's gardens are in a 250-acre wood estate set into the mountainside with steep, stony paths with many steps. Follow these paths or sit quietly on The Terrace, a cafe offering views over some of the most sublime scenery imaginable.
Pro Tips: Board the Steam Yacht Gondola to arrive at Brantwood in true Victorian elegance. Coniston's Ruskin Museum has fascinating displays about the village and the area's famous personalities, including Ruskin, Donald Campbell, and Arthur Ransome.
Swallows And Amazons
Before heading to the Lake District, a friend told me about her love for Arthur Ransome's childhood adventure novels. Ransome learned to sail on Coniston Water, went to school in Windermere, and then moved to Haverthwaite, where he wrote most of his books. He published the first of his Swallows and Amazons series in 1930. As I was more of an Enid Blyton child, I missed that boat, so to speak. However, I later watched the film to relive some of the incredible Lake District scenery. Ransome fans should note that the SL Gondola, the steam launch out to Brantwood, was the inspiration for Captain Flint's houseboat in Swallows and Amazons. Both the Gondola and Coniston Launch offer Ransome-inspired boat trips to see Peel Island (fictionalized as Wild Cat Island) and Bank Ground Farm (Holly Howe), where the Walker children stay at the beginning of the series. Guests can still stay there. The Arthur Ransome Society, based at the Lakeland Museum in Kendal, offers other insights into Ransome and his work. The sailing dinghy Mavis, the inspiration for the fictional Amazon, is on display at The Ruskin Museum.
Pro Tip: The Lake District is 3.5 hours from London by train and 1.5 hours from Manchester International Airport. For more information, check out Visit Lake District. While planning your vacation, also consider: