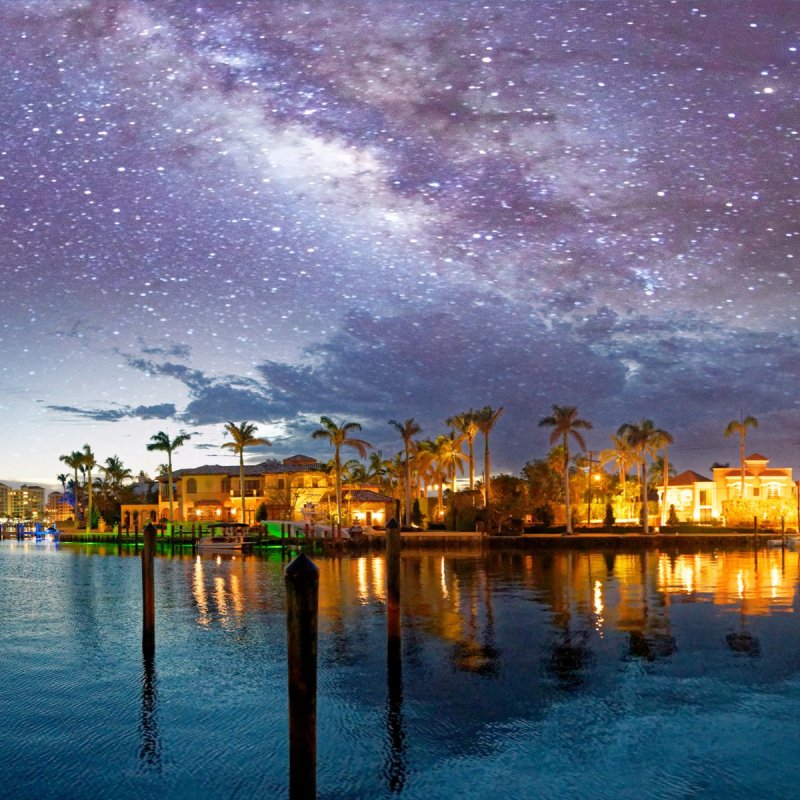 This February, we escaped to Florida for a few weeks of lazy days on the beach and perfect weather! It could not have been more gorgeous. I think it only rained once the whole time we were there. We had plenty of time to sit back and enjoy our books on the beach. And, of course, I love shelling, so I did plenty of that. The beaches on the Atlantic side may not be as pretty as the Gulf side, and the shelling may not be as good, but to a Nebraska girl like me, it's all good!
I like the southeast coast of Florida. There's so much to see and do in that part of the state. We like the beaches, the coastal towns, and the nearby Everglades.
We always include time in Boca Raton during our Florida trips because we love the beauty of Boca. The last time we were in Florida, we spent quite a bit of time in Boca Raton and had many meals al fresco.
Dining outside is one of my favorite things to do, and there's no shortage of good places to eat outside in Boca Raton.
In Boca Raton, it's very easy to spend a lot of money eating out because there are some really good restaurants that are pretty pricey. There are also restaurants that are less expensive for those times when you don't want to spend a fortune on your lunch. I've included more upscale options and less expensive, more casual places that are really good as well. Here they are, in no particular order.
1. Rocco's Tacos And Tequila Bar
For dinner one night, we were hungry for Mexican food and decided to give Rocco's Tacos and Tequila Bar a try. Rocco's is a Florida chain with locations up and down the coast, but it doesn't feel like a chain.
Rocco's in Boca's Town Center Mall did not disappoint! The restaurant itself is absolutely gorgeous. There's tons of outdoor seating, but it's spacious, so you don't feel like you're sitting on top of another table. I especially love going to Rocco's at night because the ambience is awesome. The outside lighting is done really well, so there's enough light, but it's not overwhelming. Rocco's is one of my favorite outdoor spots in Boca Raton.
We started off with one of their house specialties, the table made guacamole. It's cool because your server mixes up the guac right at your table so you can see exactly how fresh everything is. We opted for ours to be a medium heat level, which was just about perfect.
Speaking of perfect, Roccos may have the perfect tortilla chip. I'm somewhat known as a chip connoisseur, and I have to say, these chips absolutely rocked! If you like fresh, light, crunchy chips with plenty of bite (thanks to the sprinkling of spices), you'll love these chips.
We also sampled a variety of margaritas, including the watermelon kiss and strawberry basil. Both were excellent.
2. M.E.A.T. Eatery And Tap Room
M.E.A.T. actually has two locations, one in Boca Raton and one in Islamorada, down in the Keys. The spot in Boca Raton is a little place hidden away in a very unassuming strip mall off Federal Highway. They don't have very many outside tables, but we did manage to find room for our group of six to enjoy dinner. The outdoor ambiance is not the best, but what they're lacking in outdoor atmosphere they more than make up for in their food!
What I really loved about M.E.A.T. is that everything here is completely original and all homemade — including the ketchup. And it's got Guy Fieri's stamp of approval, so you know if Diners, Drive-Ins and Dives has been here, it's got to be good. I recommend the Nancy Pants or the Inside-Out Juicy Lucy Burger.
My son had the Nancy Pants and wolfed it down in record time. After tasting, we can see why it was voted one of the top 101 Burgers In America between 2015-2019. The Inside-Out Juicy Lucy Burger is stuffed with pimento cheese along with bacon, and it is another winner. It was actually named the best burger in Florida in 2015-2017.
We also tried the House Pulled Pork Sandwich. Topped with coleslaw, it was delicious. Their house-smoked chicken wings are also no joke and were actually featured on Triple D!
I'm not a beer drinker, but my husband got one of the craft beers and enjoyed it. If you like made-from-scratch, real food in a casual atmosphere, you'll like M.E.A.T. Eatery and Taproom.
If you can't get one of the few tables outside, they do have quite a bit of space inside and a very nice, large bar that you can sit at.
Pro Tip: Try the pork rinds for an appetizer. You'll get a large basket to share, and they're amazing!
3. Louie Bossi's Italian Ristorante
Louie Bossi's is an upscale Italian restaurant in Boca Raton, and it's one of the best. This place gets absolutely packed, so a reservation is a must. They're open every day of the week for lunch and dinner. The outside seating area is stunning. It reminds me of an Italian courtyard. It's so pretty, with beautiful live plants everywhere. It's a picturesque setting to have a relaxing meal.
The food here is old-school Italian, and it's homemade fresh daily. At Louie Bossi's they make all the pasta, bread, pastries, and gelato in house.
Louie Bossi's serves up all your Italian favorites, and they have some of the best pizza in Boca Raton. They also do a very popular brunch all day Saturday and Sunday. We love brunch, and with their large brunch menu, it will be easy to find something you like. And I recommend that you try one of their endless drinks at brunch. You can't go wrong with the Endless Bloody Marys or the Unlimited Mimosas!
Pro Tip: Parking here can be challenging, so spend a few dollars for the valet parking.
4. Flanigan's
Flanigan's is a laid back, neighborhood-type restaurant that's been around for years. The first Flanigan's was established more than 35 years ago, and they now have quite a few spots all around South Florida.
We like Flanigan's because it's a casual place with good food and great specials. Flanigan's is just comfortable. It's definitely not fancy, but that's okay because it's not supposed to be.
We like the big deck outside. Sitting outside at some places can be risky because sometimes you can wonder if the waitstaff forgot about you. Flanigan's isn't like that. Their waitstaff is super attentive, and the outside area is so big it's like half of the restaurant, so there's no way you'll be forgotten.
Another thing that's great about Flanigan's is its daily specials. Every day they have a different special. We were there on a Wednesday and took advantage of their pitcher and wing special. It was buy a pitcher and get 10 wings free.
The wings were good, and so was our dinner. I had the chicken caesar salad, which tasted really fresh and had a good caesar dressing. My older son had the shrimp scampi, and my other son had the chicken philly. Both were polished off with no complaints!
At lunchtime, we've gone for one of their lunch specials, like a burger and fries or their tilapia and fries. You just can't beat it — a good lunch that's less than $7.
And for sports fans, they have TVs all over the place and half-price beer, wine, and mixed drinks all day Saturday and Sunday so you can watch the big game with a cocktail and not have to spend a fortune.
5. JB's On The Beach
While not technically located in Boca Raton, it's only about a block down the road in Deerfield Beach, and it's an outdoor dining spot you'll love.
JB's is an upscale place with a casual vibe located right on the beach. They have both inside and outside dining, but you really should try for a table outside so you can get the beachside dining experience.
I sometimes like to order appetizers in place of an entree, and they have a nice selection of appetizers on the menu. I'd recommend the ceviche and the coconut shrimp.
It seems everyone loves JB's on the Beach, as they are very crowded every night, and especially on weekends. They are open for lunch as well as dinner and also serve brunch on weekends. No matter when you go, I would definitely make a reservation here.
Pro Tips: Make a reservation for outside seating for dinner so you can watch the sun go down! And while you're in the area, consider: