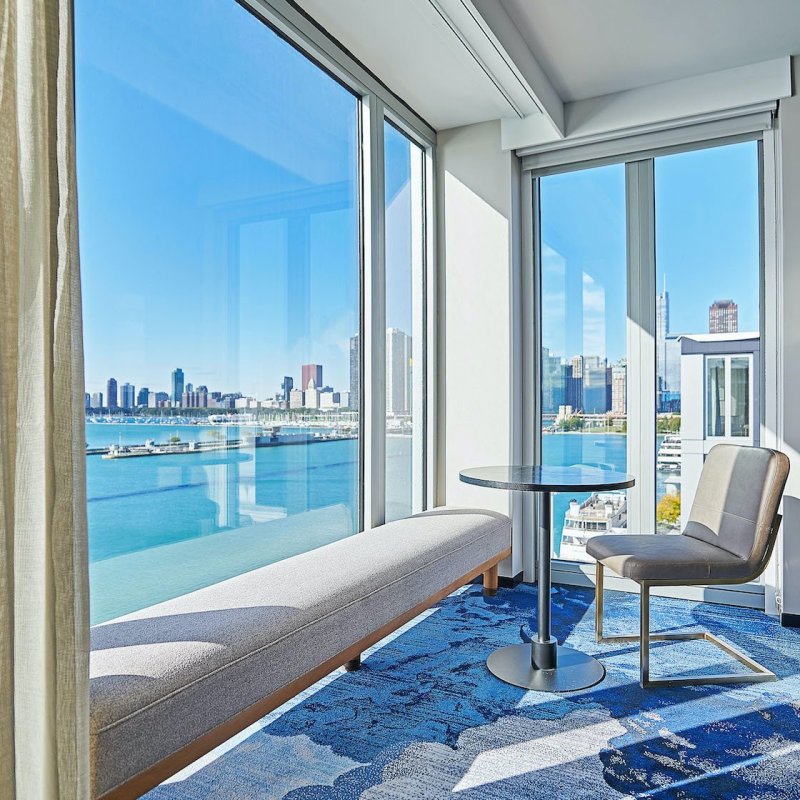 Chicago's Navy Pier is a historic landmark known for restaurants, stores, and attractions such as the 200-foot-tall Centennial (Ferris) Wheel. Until now, what it didn't have was its own hotel.
That situation changed last week, when Sable at Navy Pier opened its doors. "We have long envisioned a hotel transforming this iconic cultural destination into a place where overnight guests can experience the most spectacular views of our lakefront and city," Marilynn Gardner, president and CEO of Navy Pier, said in a statement. "We are so thrilled that it has come to fruition."
At roughly 800 feet long, the seven-story building is comparable to a 70-story building laid on its side, hotel management explains.
A Brief History Lesson
Built in 1916, Chicago's Navy Pier is a 3,300-foot-long pier on Lake Michigan's shore — and is home to 50 acres of parks, gardens, attractions, and exhibition facilities. During World War II, Navy Pier was a training center for new recruits in the United States Navy. A training ship, named the USS Sable, was docked at the pier during World War II.
Building the Sable hotel, named in homage to the training ship, was a $100 million construction job, a Chicago Sun-Times article reports. Construction started in the summer of 2018 and was finished last fall. The hotel's opening, however, was pushed back until now because Navy Pier has been closed due to COVID-19 restrictions in the state of Illinois.
The "New" Sable
Sable at Navy Pier has 223 rooms and suites "with a nautical theme that incorporates the naval history of the city's pier, with weathered brass, ship building materials, and the use of smooth curves to illustrate that of a ship's interior cabin," the hotel explains. Each room — naturally — has floor-to-ceiling windows, offering guests views of both the lake and the city's skyline.
"It's all about elevating the experience," Laurent Boisdron, general manager of Sable, said in a NBC Chicago story. "All of our guest rooms are facing the lake and you feel like you are on top of the lake, which is quite amazing and you have a beautiful view of the skyline."
What's Open
For now, anyway, Navy Pier remains closed due to the COVID-19 pandemic. Spokeswoman Payal Patel says that — hopefully — Navy Pier will reopen in late spring. Sable at Navy Pier, on the other hand, is now open.
About 20 rooms were rented for the first night, last Thursday, according to Robert Habeeb, CEO of Maverick Hotels and Restaurants, developer and operator of the Sable. He also said he's optimistic the hotel will have 50 percent occupancy during its first weekend. "I'm telling our first guests this may be the only time they'll have Navy Pier to themselves," Habeeb says in the Sun-Times article.
More information about Navy Pier and its plans to reopen may be found here. For Windy City inspiration, consider