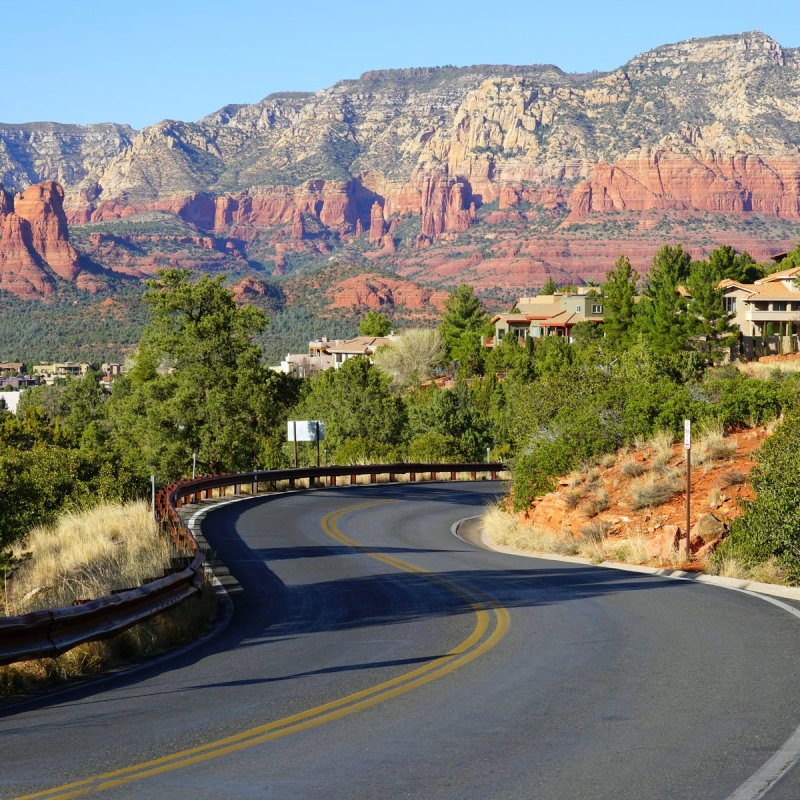 We asked our readers how they plan to travel in 2021, and the majority are planning to travel by car. In fact, road trip content topped our list as the most popular planned trip this year, beating out beach vacations, resort escapes, and big city trips. We hear you loud and clear, so we are bringing you new road trip inspiration every week, from every region around the United States. Buckle up and enjoy!
Whether you are just passing through while driving Route 66 through Arizona, or plan a lengthy stay, at just a hair shy of 114,000 square miles, Arizona offers up thousands of miles of highway and road to cruise. From the pulse of the big city to the awe of natural wonders, from small-town charm to Old West nostalgia, consider one of these magnificent memory-making journeys in your near future. Our writers have shared their favorite stops through six of the state's most iconic regions to ensure you don't have to worry about anything but filling up your tank along the way. Phoenix is at the center of many of these journeys, so consider spending some extended time there and making it your hub for exploring the rest of the Grand Canyon State.
Classic Arizona Road Trip: Phoenix To Sedona
One of the most well-traveled routes through Arizona will take you north from the Valley of the Sun to beautiful Sedona. To truly experience all that this region has to offer, we suggest that you forgo the traditional path and opt for the scenic diversion through the enchanting Verde Valley. Enjoy many great small towns, state parks, and a national monument along the way as you explore the southwest landscape along this classic Arizona trek between Phoenix and Sedona.
A Road Trip Full Of Arizona Treasures: Flagstaff To Page
While up north, consider a leisurely drive from Flagstaff to Page that will put you within reach of one of the United States' greatest natural treasures: the Grand Canyon. The drive will provide the opportunity to venture to either rim, and if time allows, you will want to experience both. While the Grand Canyon would be reason enough to make this trek, don't miss out on all of the great opportunities to explore here, from mountain forests to lovely Lake Powell. Read about our favorite stops between Flagstaff and Page as you enjoy a road trip full of Arizona treasures.
A Beautiful Desert Road Trip: Phoenix To Tucson
While the Grand Canyon is the most iconic feature of the state of Arizona, the second-most iconic would likely be the saguaro cacti of the Sonoran Desert. To see these botanical beauties for yourself, you need only head southeast from Phoenix to the state's second-largest metro area: Tucson. These two cities have enough energy and charm to keep you occupied for weeks and could easily consume your entire trip if you let them, so carve out time on both ends. However, don't be in such a rush to get from point "A" to point "B" that you forget to take your time and savor the journey on this truly beautiful desert road trip.
A Road Trip Through The Old West: Tucson To Bisbee
Hitch yourself to a (station)wagon heading to the Old West and mosey from town to town as you take in the sights and sounds of this must-experience road trip through southern Arizona. From the big city of Tucson to the quirky charm of the old mining town of Bisbee, there is plenty to enjoy, whether you are a fan of a good ol' fashioned American Western or not. Consider our favorite stops on an Arizona road trip through the Old West between Tucson and Bisbee.
A Road Trip To Arizona's West Coast: Phoenix To Lake Havasu City
There may not be "Ocean Front Property in Arizona" as fans of George Strait — and geography, for that matter — can attest. However, Arizona's land-locked nature does not mean that it is devoid of sandy beaches and excellent water sports. Set your sights on the white sand beaches of Lake Havasu City and enjoy these great stops during your road trip to Arizona's West Coast from Phoenix.
The 9 Best Stops Driving The Scenic Salt River Canyon
If you are looking for another great road trip idea from the Phoenix area, head east to Salt River Canyon. Explore historic towns including Globe and enjoy breath-taking natural wonders as you travel east to enjoy a scenic drive through the canyon itself. Make sure to enjoy these great stops along the way to scenic Salt River Canyon.
If you are in a road trip mindset and are looking to make plans for the spring or summer, consider our other great road trip content. Our team of travel experts have criss-crossed the U.S. and Canada, providing great insight and inspiration for your next road trip. Check back regularly as we add new articles each week and as we continue to grow our stock of road trips from around the world.