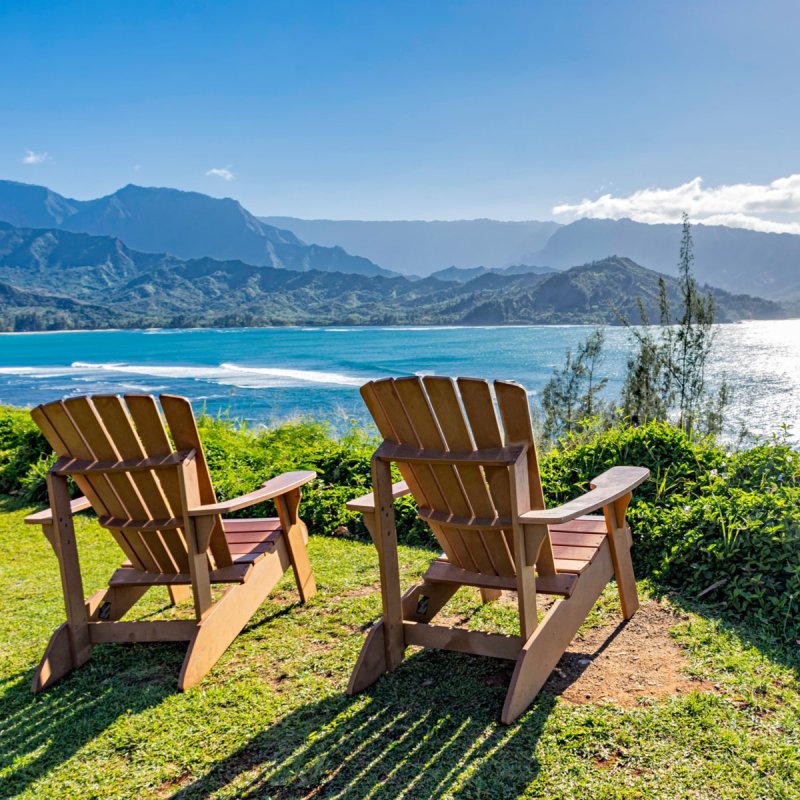 It's about to become much easier to travel to Kauai. Beginning April 5, tourists to the Hawaiian island will no longer need to stay in a resort bubble or spend time at another Hawaiian island first so they can skip Kauai's required COVID-19 quarantine period.
Last December, Kauai's mayor, Derek S.K. Kawakami, asked Hawaii Governor David Ige for permission for the island to opt out of Hawaii's Safe Travels program due to a rise in travel-related COVID-19 cases and Kauai's limited resources. Since then, due to its stricter quarantine rules, Kauai has been able to keep its COVID-19 case count down.
"Kauai remains one of the safest places in the United States throughout the pandemic, thanks to the efforts of our community-minded residents and health-focused travel restrictions," Kawakami said in a statement. "Our community's efforts have allowed us this opportunity to now safely rejoin the state's Safe Travels program."
What's Changed
Kauai is a rural community with limited resources, which prompted the move to implement stricter testing and quarantine rules. Those tougher rules required tourists to undertake a 72-hour mandatory quarantine at a participating resort bubble until they provided a negative COVID-19 test result. Alternatively, they could stay for three days on a different island, then travel to Kauai after receiving a negative COVID-19 test result. The least appealing option was to undergo a 10-day quarantine.
Those public health requirements paid off. As of March 11, Kauai only had 186 total confirmed cases, and only one person has died from COVID-19, SFGate reports. Compare that with the state of Hawaii, which had 27,023 cases of COVID-19 and 448 deaths as of March 10.
"More than 24,000 doses of vaccine have been administered on Kauai," Kawakami said. "By April, we will have offered vaccines to our hospitality industry and restaurant employees, and our healthcare workers, first responders, and kupuna [senior citizens] will have been fully vaccinated."
A Steep Price Paid
It is true that Kauai has been able to keep its case counts of COVID-19 down — and residents safe. Consequently, Kauai businesses, and sports and social activities, have been allowed to continue as normal when they followed containment guidelines, the Honolulu Star-Advertiser reports.
On the other hand, strict travel restrictions had a direct — and logical — impact on Kauai's tourism and revenue. Indeed, tourism, compared to the prior year, was down 96 percent, the SFGate article notes. What's more, due to a lack of tourists, many small businesses were forced to close. In the fourth quarter of 2020, Kauai lost 7,500 jobs.
Know Before You Go
Beginning April 5, travelers going to Kauai will be able to bypass the state's 10-day quarantine period — and they will not need to stay at a resort bubble to receive a quarantine exemption either. That said, there are strict guidelines to follow.
Before going to Kauai, travelers will need to take a pre-travel COVID-19 test from one of Hawaii's Trusted Testing and Travel Partners within 72 hours before they leave the continental U.S. for Kauai. Next, they must create a Safe Travels account and complete the Mandatory State of Hawaii Travel and Health Form.
The final step is to upload their negative COVID-19 test results to their Safe Travels account before traveling to Kauai. Negative COVID-19 test results may also be printed and carried by the traveler.
It's important to remember two key points. First, only results from one of Hawaii's Trusted Testing and Travel Partners will be accepted. Secondly, travelers arriving without first uploading their negative COVID-19 test result or providing a hardcopy of their negative test result will be placed in mandatory 10-day quarantine.
More details can be found by checking with the County of Kauai here.
Further Reading: