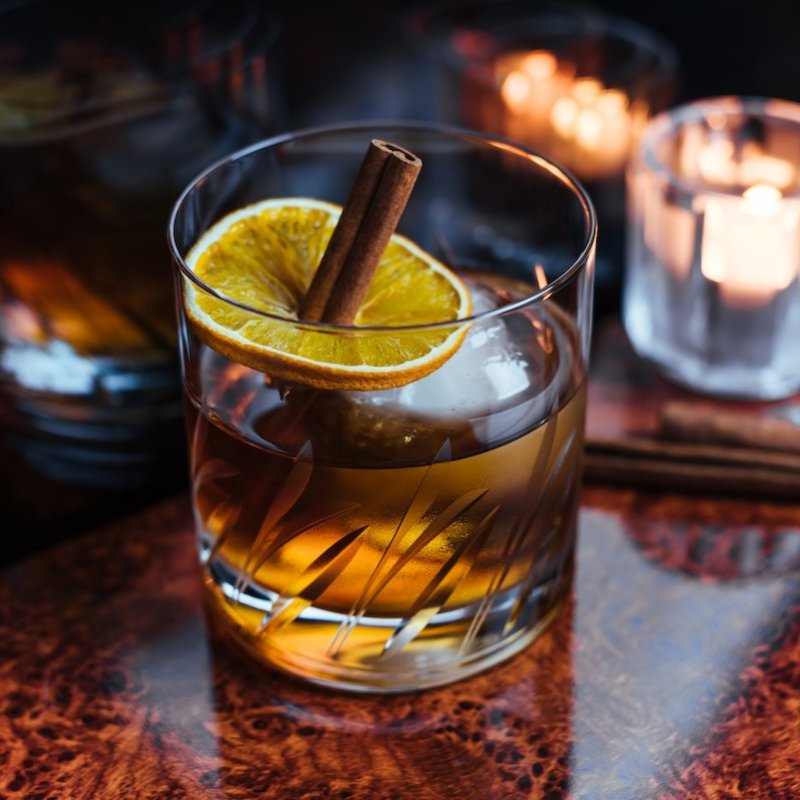 Traveling in recent times has been forced into our imagination for the most part. So, what if we could make that a little more fun? Why not taste our way around the world? Better yet, I thought to myself, why not drink our way around the world? During lockdown, I've discovered a range of new cocktails from different countries around the world, and I've had way too much fun making them and trying them out! Here's my list of cocktails from around the world you can try at home.
The Jaisalmer Golden Fort, India
The historic city of Jaisalmer with its famous Golden Fort provides the perfect setting for this unique cocktail. India is the home of gin, so what better place to imagine when you drink a gin cocktail? The Golden Fort cocktail is best made using Jaisalmer craft gin.
Ingredients:
50ml Jaisalmer Gin
100ml Darjeeling Green Tea
15ml Lemongrass syrup
Lemon Juice and a pinch of Matcha green tea powder
Ice
Method:
Fill a highball glass with ice and pour in Jaisalmer Gin. Add freshly brewed cold Darjeeling tea, fresh lemon juice, and finally, top with homemade lemongrass syrup and a pinch of Matcha green tea powder. Stir gently. (To make lemongrass simple syrup, add 500 grams of sugar to 500 milliliters of hot water and add two sticks of lemongrass into sugar syrup to infuse.)
Smokey Almond, Cyprus
Feel connected to the island of Cyprus with this Cypriot-inspired cocktail called the Smokey Almond, recommended by The Montague on the Gardens. While it is smoky, it is also refreshing, and the vapors never fail to add a bit of theatrics to the occasion.
Ingredients:
50ml Jack Daniels single barrel
25ml Amaretto
Half a lemon
Dash of syrup
Cherry soaked in bourbon
Fresh almonds
Method:
Add the Jack Daniels, Amaretto, and syrup into a shaker filled with rock ice. Shake well and strain into the display bottle. Add fresh a fresh cherry soaked in bourbon, fresh almonds, and a lemon twist.
Pro Tip
If you have a smoke gun or something similar, you can recreate the "served-at-the-table" effect.
Estrella, Greece
Georgios Dendrakis, bar manager of family-run hotel Abaton Island Resort and Spa in Crete, has shared his own Estrella cocktail recipe. This one is wonderfully simple to make and totally delicious.
Ingredients:
20ml Liqueur 43
10ml Dinapoja rose and carnation syrup
30ml sweet white vermouth
30ml fresh pomegranate juice
25ml fresh lemon juice
Method:
Combine the ingredients with ice and blend in a cocktail shaker. Serve in a chilled wine glass garnished with a slice of lime.
Vecchio Minatore, Italy
Head barman, Leonardo Giorgini, at Paragon 700, makes an amazing Vecchio Minatore. Named after a particular cut of diamond, like Paragon itself, the warming whisky and sweet honey notes are the perfect flavors to transport you to the sultry shores of Puglia, Italy. Mix up the below ingredients to try making it at home.
Ingredients
1 bar spoon honey syrup
3 dashes of angostura bitters and chocolate bitters
1oz bourbon whiskey
1oz Scotch whisky
Top with fennel foam
Pisco Sour With Rica Rica, Chile
The Rica Rica plant is a fragrant herb that grows wild in Chile's Atacama desert, but it's rarely used in cooking outside the region. At Tierra Hotels, they are proud to use this most Chilean ingredient in their cocktails.
Ingredients:
1 teaspoon Rica Rica
1 cup of pisco (used Alto del Carmen 35th)
1 cup simple syrup
1 cup lemon juice or lime
1 egg white (optional)
Angostura bitters
Pro Tip
As well as tasting delicious, this pisco sour could be doing you good, as Rica Rica is a local herbal remedy for treating an upset stomach as well as heart and kidney problems, altitude sickness, and circulation issues.
St David's Garden, Wales
Celebrate Wales and enjoy that delicious flavor of the garden by pairing the beautiful flavors of rich herbs, fennel, and spritzy citrus (from Eccentric Gin's Dewi Sant gin) with fresh mint, fresh cucumber, and elderflower syrup for sweetness.
Ingredients:
50ml Eccentric Dewi Sant Gin
25ml fresh lemon juice
15ml elderflower syrup
2 slicked fresh cucumber
6 fresh mint leaves
Cucumber and mint sprig for garnish
Method:
Add the cucumber to your shaker and muddle. Clap the mint, add to the shaker, then pour in the gin, lemon juice, and syrup. Fill shaker with ice and shake. Double strain into your cocktail glass and garnish with a cucumber wheel and mint sprig.
Norfolk Seadog, England
A unique cocktail, inspired by the Norfolk home of creators Gyre and Gimble based on their award-winning Callooh Callay coastal gin distilled in Norwich and recently awarded Best UK Contemporary gin at the World Gin Awards. The spirit itself is floral on the nose with hints of fresh sea air from foraged rock samphire and lavender. Distilled with seawater collected from Blakeney on the North Norfolk coast, the salty notes continue from nose to palate.
Ingredients:
50ml Callooh Callay gin
25ml fresh-squeezed lime juice
25ml sugar syrup
Fresh mint leaves
Method:
Blend with fresh lime and sugar syrup, shake with ice, and serve into a chilled glass for a refreshing cocktail that immediately conjures up the big skies and seas of the Norfolk coast.
The Yves Saint Laurent In Majorelle, Morocco
The Yves Saint Laurent cocktail is a tribute to its namesake and his connection with the Jardin Majorelle. Its electric blue trademark color, Majorelle Blue, corresponds with the prominent blue found within the gardens at La Sultana, Marrakesh.
Ingredients:
90ml Gine G'vine
45ml Cointreau
15ml Curacao
Lemon juice
Method:
Shake with ice and strain into a chilled cocktail glass. Use the lemon peel to garnish the glass.
Red Passion At Altitude, Switzerland
Created by Giulio Minutolo, Bar Manager at Kulm Hotel St. Moritz's Altitude Bar, explains his inspiration as follows. "Roses and their scent, along with fresh berries, are a powerful reflection of summer, so Red Passion at Altitude reminds us that warmer, sunnier days are ahead. Of course, red is also an important element of the Swiss flag, symbolizing health, life, love, and courage, all of which I hope will inspire those who drink Red Passion to look to the future with more vigor and positivity."
Ingredients:
40ml Mezcal
25ml Falernum
25ml Chambord
20ml lime juice
20ml rose syrup
3 raspberries
Method:
Place all the ingredients in a cocktail shaker and mix well, then pour into a double martini glass. For a final touch, spritz three times with rose essence and add some seasonal berries.
Mary Pear, Portugal
Take your tastebuds on a journey to the Algarve with this delicious cocktail. Made to perfection at the Bovino Steakhouse, Quinta Do Lago Resort, you can try it at home. Its sweet, herby, and floral flavors are reminiscent of Quinta Do Lago's luscious landscape.
Ingredients:
40ml Gin Mare
20ml St. Germain
50ml pear juice
20ml lime juice
10ml sugar syrup
Pear slices and rosemary for garnish
Method:
Combine all the ingredients in a cocktail shaker with crushed ice and shake well. Double strain into an old jam jar or tumbler. Add garnish and serve.
Cocktails In Bottles
Don't fancy mixing your own cocktail? You can order them ready-made, direct to your door, from these sellers.
The Dandy Lion, Scotland
I love that Buck and Birch uses ingredients sourced and foraged from their immediate area of East Lothian. I've come across soft drinks made with dandelion before, but never a cocktail, so I was keen to give this one a go! Made with their own Ana birch syrup caramel liquor, this is a cocktail you literally won't find anywhere else.
Ingredients:
Dandelion wine
Ana liqueur
Dandelion jam
Apple
Citrus
The Nordic Negroni
You can order a cocktail in a bottle, ready-made and delivered to your door from Drinks Fusion. I chose the Nordic Negroni, of which there are three — Arctic Bramble, Cloudberry, and Linton and Bilberry. All are made with Nordic berries hand-foraged in Northern Sweden.
Cosmo De Provence, France
Cocktail in a Bottle offers a new, French version of the classic Cosmo cocktail, infusing lavender and herbs to create something very special. New artisan food and drink platform, Melted Inside, showcases the range of cocktails available, but this one really stood out for me. Made with vodka, orange liqueur, cranberry juice, lemon bitters, herbs de Provence, and lavender, it's a real taste of France.
Related Reading: