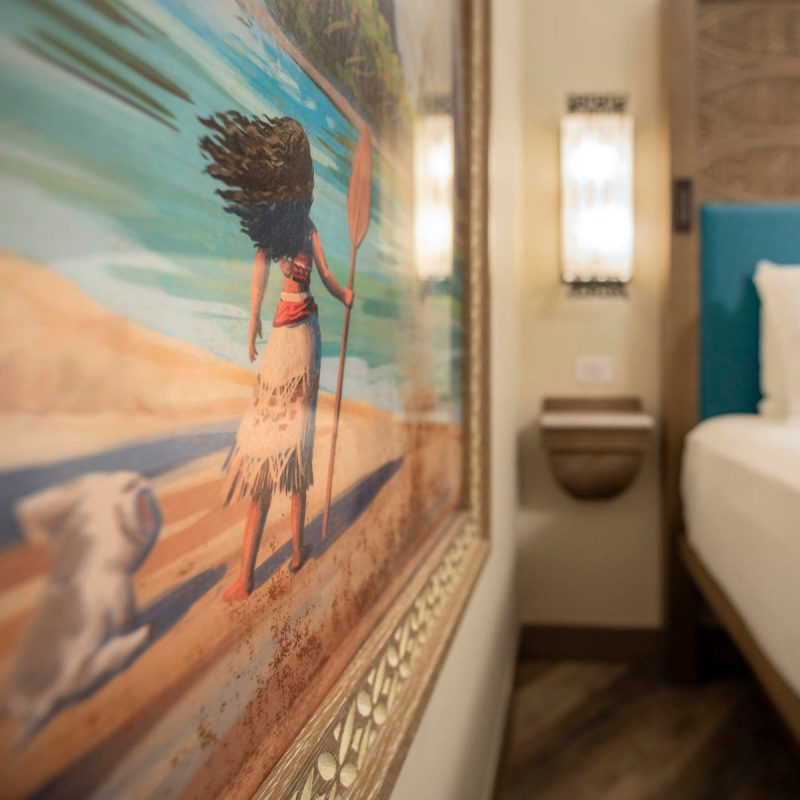 Disney's Polynesian Village Resort has been closed for a year, but a lot has been going on behind the scenes. The Walt Disney World property has been given a refresh, and the company gave the public a first look at the new look over the weekend.
The hotel is getting Moana-inspired updates in its rooms, with all new furnishings and fixtures to go with new patterns and textures from the 2016 film.
Visitors won't need to look too far to find characters and references to the story in the rooms, including the heart of Te Fiti and the titular character herself. But this isn't a completely themed experience; Moana just serves as the inspiration.
The color palette on the walls features bold Polynesian patterns with a character or two sprinkled into the design. These bold designs contrast with the soft wood colors of the furniture and floor.
The ocean floor is the inspiration for the bathroom tiles and details carved into the vanity, part of the fresh, modern look for these rooms.
"Drawing inspiration from enduring fantasies of the South Pacific, Disney's Polynesian Village Resort is a tropical oasis along the shores of Seven Seas Lagoon, across the water from Magic Kingdom Park," Disney said in a statement announcing the changes. "Open since 1971, the resort transports guests to a romanticized American version of the South Seas."
The room decor isn't the only change at the hotel. The resort is also developing a dramatic new porte cochere featuring a high-pitched, open-truss, thatch-covered roof with pops of color. The area also features four chandeliers inspired by glass floats, fishing nets, and oversized bamboo elements mirroring the chandelier inside the lobby.
Although the hotel hoped to reopen last October, it is now targeting a late July debut and is accepting bookings. The villas at the resort, located separately from the hotel, are open now.
Open since 1971, the Polynesian Village Resort is located along the shores of the Seven Seas Lagoon, across the water from the Magic Kingdom Park. Getting there is a breeze thanks to a monorail station located near the porte cochere. That station is also getting an updated look as part of the remodel, with new wooden screens and tropical colors.
Planning your Disney vacation? See all our Disney content here, and consider our best Orlando ideas, too.