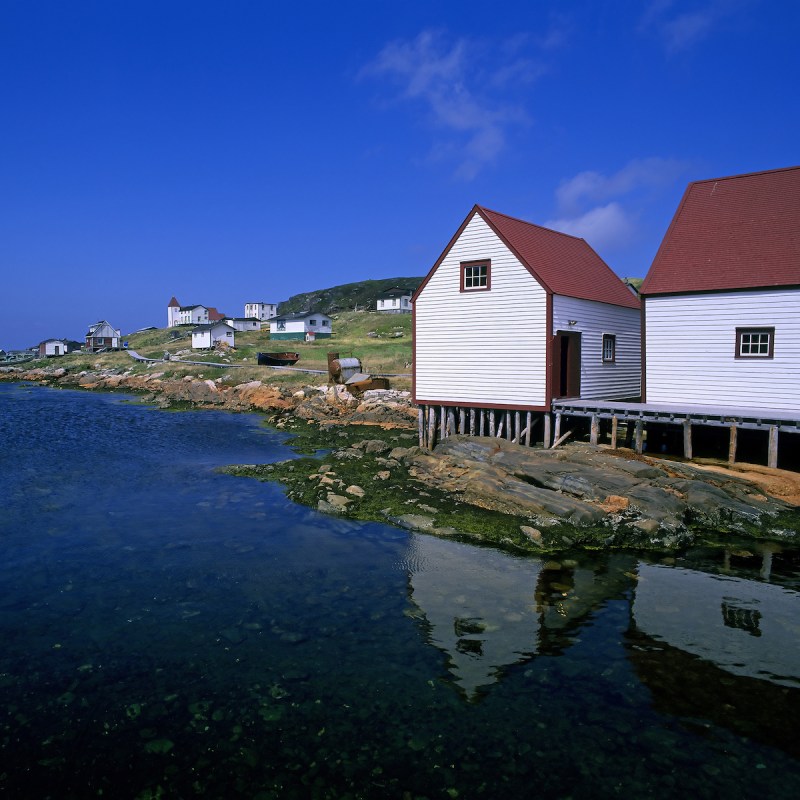 It's considered bad form in travel writing to use phrases like charming, quaint, and hidden gem. These cliches are overused, but in Newfoundland, I argue that they aren't used enough. If you're road-tripping through Canada's easternmost province, at times it feels like you're stumbling across nothing but hidden gems!
Visitors galore flock to the capital city of St. John's, and plenty of guests make their way to the pretty coastal towns that make up Iceberg Alley. But that leaves thousands of adorable small towns waiting for intrepid travelers to drop in. These are some of the places that stand out in my memories from when I lived in Newfoundland myself — plus, there's one special place that's now on my travel bucket list, thanks to a TravelAwaits reader. So go ahead and call these small towns, villages, hamlets, and coves charming and quaint. If ever there was an apt occasion to use those adjectives, it's now.
1. Battle Harbour
The community of Battle Harbour has a motto that must be the envy of little-visited destinations the world over: "There's off the beaten path. And then there's this place." They aren't exaggerating!
Located on Battle Island off the coast of Labrador, Battle Harbour is nine miles from the next closest community — by boat! — and you can only visit between June and September. This genteel community, once a bustling center of commerce and trade in the 1700s and 1800s, was known as the Capital of Labrador. Today, it's regarded as one of the most beautiful National Historic Sites in Canada. The Battle Harbour Historic Trust maintains the buildings, runs cultural programs, and preserves much of the once humming community as a living museum. If their small but growing Instagram page is any indication, this might just be the most beautiful spot in all of Newfoundland and Labrador.
Pro Tip
Battle Harbour was once the salt cod capital of the world. You can experience a glimpse of this powerful industry by going on a fishing excursion from the island. Afterward, you can spend the night in one of the restored homes where homemade quilts still cover the beds.
2. Brigus
At times, Brigus looks a little bit like western Ireland. At others, it resembles a village in Victorian England. But the truth is that it's 100 percent Newfoundland. Immensely walkable, with winding lanes, old homes, and colorful buildings, Brigus has stone walls, lush perennial gardens, and plenty to see and do. This compact community has plenty of history as well. At Hawthorne Cottage National Historic Site, the life of Captain Bob Bartlett, known as the greatest Arctic ice navigator of the 20th century, is chronicled.
Every August, Brigus welcomes thousands of people to the community's annual blueberry festival. With fireworks, dances, pie-eating contests, parades, raffles, craft sales, and — you guessed it, plenty of blueberries — it's one of the best small-town festivals in Canada.
Pro Tip
If you can't make it to the blueberry festival, the Country Corner restaurant and gift shop serves up legendary blueberry crisp (seriously, do not wear a white shirt while eating it). Locals also love E and E Drive In, which is beloved for its milkshakes. Yep, they have blueberry! And also my personal favorite, toasted marshmallow, plus lemon pie, cotton candy, and Froot Loops.
3. Trinity
Trinity is break-your-heart pretty, a place so nice it should be in the movies. And it has been! Trinity was used as a filming location for The Shipping News and The Grand Seduction. The red, yellow, white, mint, peach, and bright blue buildings look darn good on camera. Trinity is also home to museums, art galleries, dinner theater programs, whale watching, iceberg spotting, and hiking.
And, most importantly, in my opinion, Trinity is home to a small restaurant called Oh My Cheeses. As the name implies, it specializes in grilled cheese sandwiches. Glorious! You can read a review of it and Trinity's long list of eateries here. Pack your stretchy pants!
Pro Tip
Just how good is the hiking in and around Trinity? In the nearby community of Port Rexton, you'll find the Skerwink Trail, which was named one of the top 25 walks in North America and Europe by Travel + Leisure magazine.
4. St. Mary's Harbour
If the quest to find the most adorable village in Newfoundland was a competition, St. Mary's Harbour (or just plain old St. Mary's to locals) just might win the whole thing — in part because it has a couple tricks up its sleeves. First, it's home to the Claddagh Inn. This warm, welcoming bed and breakfast has ample amenities, a great view of the harbor, and a truly homemade breakfast (the ketchup served alongside the frittatas is made by the owner's mom!). The Inn is also home to Padraig's Folly, the tiniest pub in Newfoundland!
Believe it or not, there was a time when St. Mary's was even cuter than it is today. For years, the community was also home to a miniature village! A tiny replica of a traditional Newfoundland fishing village. This artistic achievement was built by Frank Mullet as a faithful tribute to his childhood village of Oderin. Alas, it was badly damaged in a storm and no longer remains.
Pro Tip
A visit through rural Newfoundland is much more meaningful when you understand the history of resettled communities like Oderin. Hundreds of communities were resettled by the government, mostly in the mid-1900s. In some cases, economic decline and geographic isolation, combined with heavy-handed government pressure, left locals with no real choice but to move. In others, resettlement was forced without community consultation or cultural considerations in the case of many Inuit settlements in Labrador. It's a topic of conversation best approached with sensitivity and respect.
5. Ferryland
Ferryland is the heart of Newfoundland's Irish community. Irish music, folklore, traditions, language, and even accents thrive here. When locals speak, it's with a lilt not found anywhere else! But today, it's attracting visitors and archeologists from around the world. This is where Lord Baltimore founded the Colony of Avalon in 1621 before heading down to Maryland to settle his namesake city. Today, archaeologists are at work to uncover the housing foundations and cobblestone streets from the 17th century — it's like a village emerging within a village!
Pro Tip
If you can visit from June to September, do so. That's when the Southern Shore Dinner Theatre is in full swing, combining food, humor, history, and theater in a memorable performance. It's also the perfect opportunity to try a plate of Newfoundland turkey dinner, complete with dressing, potatoes, turnips, and a serious amount of gravy.
6. Green Bay South
Thanks to TravelAwaits reader Natalie, the villages along Green Bay South have hit my travel radar. This beautiful area, which stretches between the communities of South Brook and Brighton, is picture-perfect: You have fishing boats in harbors, salt-worn buildings by the shore, and colorful houses aplenty. The communities embody the warmth and friendliness that Newfoundland is known for, and you won't be in the area long before you have some new friends.
While Green Bay South is well known as an iceberg-watching zone in spring and summer (check out the Maple Ridge Trail to spot icebergs, whales, and wild berries) don't discount an autumn visit when the fall colors are spectacular. And they'll look even better while enjoying a beer. On Pilley's Island, the Bumblebee Bight Brewery is the first in the region to make craft beer and they offer accommodations as well.
Pro Tip
Across the waters from Green Bay South is its sister region, Green Bay. In the community of King's Point, check out the striking King's Point Pottery. The entire building looks and feels like a work of art. Some 365 artists and craftspeople are represented inside.
7. L'Anse Aux Meadows
No one said that the most adorable small towns in Newfoundland had to be from the modern age, did they? L'Anse aux Meadows was surely a stunner of a town around 1000 A.D. when it was North America's premier Norse settlement. These early Viking visitors beat Columbus by about 500 years.
Remarkably, L'Anse aux Meadows really does have a village feel to it. A combination of excavation work and restoration work allows visitors to get a feel for what the Viking encampment might have looked like. Nearby is a recreated Viking port of trade, Norstead. Here, you can observe traditional skills and crafts (like ax throwing and yarn spinning) and sit back in a chieftain's chair while brandishing a sword.
Pro Tip
You can eat better than any Viking at the Norseman Restaurant, which serves up lobster, scallops, steak, and lamb just a few minutes down the road from L'Anse aux Meadows. The owners also operate bed and breakfast style accommodations and vacation rentals at the Valhalla Lodge. Literary fans will be keen to know that this is where Annie Proulx wrote The Shipping News.
Practical Considerations
Whether you plan on flying or taking the ferry to Newfoundland, you'll have to carefully plan your transportation when you arrive. With no public transportation to these small towns, having your own vehicle is essential. Before driving at night, ask locals about the risk of moose on the roads. They are a serious problem along many highways. And come winter, snow tires are non-negotiable. Plan accordingly and stay safe!