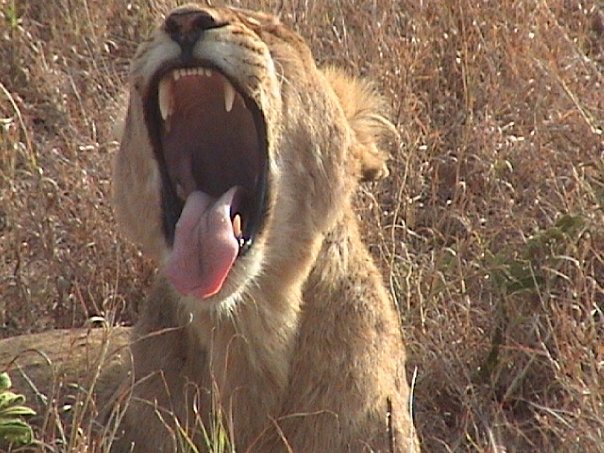 When I started planning my first safari trip to South Africa two decades ago, my very basic itinerary items involved wanting to "see wild animals." As the newly-appointed, and very junior, editor of a guidebook to the country, I knew that Kruger National Park was where to find the "Big 5" of African legend — lion, leopard, rhino, elephant, and cape buffalo — and that the plushest safari lodges were located in the adjoining private reserve called the Sabi Sand.
I was filled with book knowledge, and could not have been more excited about my "bucket list" trip, but I also had almost no experience in the outdoors. Born and raised a suburban Jersey girl, I had spent my early decades on urban vacations avoiding nature, and I was worried about how I'd fare in the bush, with carnivores, insects, and snakes, away from my usual creature comforts.
First Impressions
To get ready, I ransacked my wardrobe for khaki and tan-colored clothes, doused everything with permethrin, and bought some Malarone (which is still the only anti-malarial I'll take). I had my books, and my book knowledge, and honestly, very little else.
Luckily, Kruger National Park was the ideal entry point for a newbie. Even the open-air jeep ride from the dirt landing strip to the safari camp, bumping along through dense foliage, down golden dirt paths, and past elephant-size baobab trees and truck-size elephants lumbering down the road, was an adrenaline rush. And the complete immersion into pristine wilderness was surprisingly soothing. With no street noises, all I could hear was rustling grass and bird calls, immediately putting me at ease. Even the air smelled fresher and cleaner than anywhere else, scented with wild rosemary and thyme as the jeep jostled branches on our ride.
Wild Wildlife
Since I traveled off-season (May, the end of the autumn season in the southern hemisphere), the lodge I first stayed at (the luxurious Ulusaba) was mostly empty, so it was just myself and two of my South African friends on my first evening drive to search for wildlife. The ranger who took us out was happy to move at my speed; which is to say the highly trained ranger stopped every time I blurted (quietly, so as not to frighten the animals), "LOOK THERE!" We sat staring at my very first giraffe in the bush for so long that he needed to remind me there were other things to see.
We rolled on and spotted a lion just outside of camp. The large male raised his head and roared. More than just a sound, it was vibration, rattling right through my stomach as the reverberations flew across the miles in the wild to reach another lion. I couldn't catch my breath, it was so exhilarating. But instead of sitting and enjoying the moment, I whipped out my camera.
My two South African friends who grew up going to the bush, however, didn't have their cameras out. In fact, they only had binoculars. "Look, it's a lion!" I said.
"Yes, yes," they said, "very nice," and instead of fiddling with a camera, zeroed in with their binoculars.
"Odd," I remember thinking.
Surprises Around Every Corner
I would have told you, had you asked 20 years ago, that I wasn't a morning person. That nothing could get me out of bed before sunrise. But deep in the bush, when the wake-up call comes before the sun comes up, it seems unfathomable not to want to spring out of bed to greet the wildlife just beyond my door. Early morning starts mean seeing wild animals when they're at their most active, before the heat of the day sets in and they go for their mid-day siesta.
And the animals continued to surprise and delight (and I had new, wonderful lingo to describe it all). Not just a few zebra, but a whole dazzle on the savannah; a tower of giraffe nibbling acacia; a bloat of hippos in the water; and a pride of lions after their hunt. Hundreds of wildebeest, dozens of elephant. And it wasn't just the big animals that got my attention, but the little ones, too. Those insects and reptiles I had worried about? Fascinating. Who needs screens when you can watch the circus-like stunt of a dung beetle pushing a ball 10 times his size? Or spot as many bird species as there are stars in the sky (and you can see all the stars here, without any light pollution or nearby cities.)
The Ever-Changing Bush
Another thing I discovered on my first safari is the deep commitment to conservation that drives the safari lodges in the Sabi Sand. Every South African safari lodge I've visited over the years — Ulusuba, Mala Mala, Londolozi, Singita Sabi Sand, and Kruger National Park — invest in protecting the wilderness, endangered species, and the animals who call Kruger home. But over the years, they've started to face some incredibly difficult battles. I knew I was lucky to go on safari and to spot the Big 5, but seeing a rhinoceros, both white and black, was all but guaranteed in 2001. In fact, I saw multiple rhinos during my first visit.
Since then, poaching has made seeing rhino in the wild almost impossible in many places in Africa. According to Save the Rhino, rhino numbers have dropped 59 percent in Kruger just since 2013. Sightings are often now kept a secret so poachers can't also find the animals whose horns are prized as aphrodisiacs in some corners of the world. It's really driven home that visiting Kruger is more than just seeing wildlife, but protecting it, too.
Out Of Africa, Always Something New
I'm happy to say that my "once in a lifetime" trip was actually just a first trip, creating what's become a life-long interest in both conservation and nature.
Many of the lessons of that initial safari have informed the dozen more I've taken in the last 20 years. Like my friends that first trip, I'll make space for binoculars, but not big cameras. I'd rather snap with my phone and have time to soak up my surroundings than keep an eye on expensive equipment or miss the bigger picture of where I am.
Back at home, my family now visits national parks in the United States, which I had never done growing up, and we hike locally and explore natural areas whenever we can.
I support wildlife conservation efforts both in Africa and at home, never taking for granted that an animal I see in front of me will be there for future generations.
If you're thinking about visiting Kruger National Park, I can only say "do it!" One great thing about visiting is that you'll have exposure to the wilderness and wildlife at any price point. Luxury lodges give you a more intimate experience, with roughly one professional guide and one expert tracker assigned to each open jeep of six passengers. This allows you to ask lots of questions and get closer to wildlife. But even less luxe options in the private concessions bordering Kruger will get you into the park and give you a front-row seat to where animals roam wild in their natural habitats and leave you with memories to last a lifetime, or get you started on a lifetime of wildlife viewing.