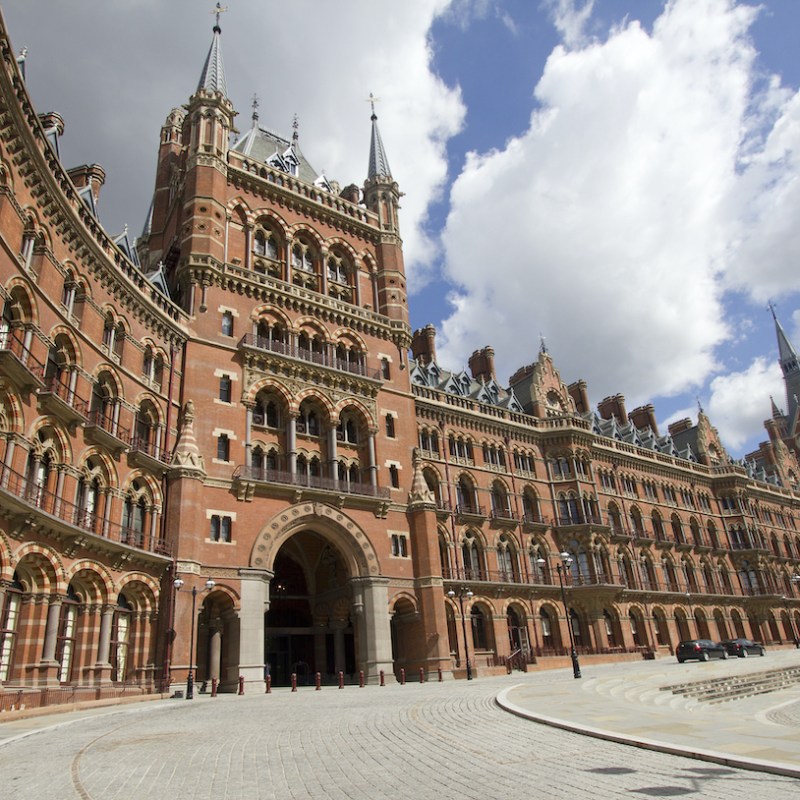 For me, nothing evokes Fernweh (a longing to travel) as much as train stations. The German word, which has no real translation into English, was coined by German poets of the 19th century and has found its way into English just like Kindergarten. Seeing trains arriving and departing to faraway destinations, passengers jumping on board, and hearing the departure whistle moves me much more than any airport ever can. If in addition, the train station has an interesting history or is itself a work of art and great achievement of architecture, you will understand my fascination.
There are truly spectacular train stations in Europe that are far more than a convenience and a starting point to get from A to B but also reflect the art and culture of the countries they are in. Here, I share the train stations with the most interesting pasts, like Istanbul's Sirkeci Gare of Orient Express fame and Valencia Nord, decorated with hand-painted local tiles from top to bottom. Train travel, especially in sleepers is making a great comeback because air travel is more restricted than ever due to the pandemic, and people are eager to rediscover the joy and benefits of slow travel.
On your next trip to Europe, consider starting your journey in one or the other of these nine truly outstanding train stations.
1. St. Pancras, London
Considered one of the most elegant train stations in the world, St. Pancras in London, which today is the major international hub for the Eurostar, was built in 1868 by the Midland Railway Company and intended to make a statement about the company, creating a masterpiece of Victorian Gothic architecture and splendor.
Timekeeping is of course an essential element of running a railway, and the story of the three clocks of St. Pancras is a unique one. The vaulted glass and iron roof was a bold innovation for the time as it is not rounded but elegantly peaked.
Then and now, travelers from and to St. Pancras want their comforts and so it's no surprise that the terrace outside houses Europe's longest champagne bar.
For additional St. Pancras inspiration, consider
2. Estacion Del Norte, Valencia, Spain
Valencia, an important port on the east coast of Spain, is famous as the birthplace of paella and vast orange groves. Trade necessitated the construction of a major railway station, Estacion del Norte, located next to the bull ring. Built in 1917, the station is an important work of Valencia Art Nouveau, an outstanding feature of which are the deep blue ceramic tiles from Manises. Practically every inch of the walls and floor are decorated with tiles, depicting everyday scenes, the local costumes, and the orange harvest. Enter the station and admire the former ticket hall where even the tills are covered with tiles.
3. Sirkeci Gare, Istanbul
Located in the European part of Istanbul close to Sultanahmet, Sirkeci Gare, the pink and white art deco train station, owes its existence to the legendary Orient Express. An example of the above-mentioned Fernweh was the growing trend in the 19th century of affluent Europeans traveling to the East — and they wanted to do so in style and luxury. Projects for the Orient Express were developed and a splendid train station in Istanbul was needed. Built by German architect August Jasmund, Sirkeci Gare was opened in its final shape in 1890. The style became known as European Orientalism so that elements of East and West blended seamlessly together. The station its a vaulted roof, cast-iron pillars, and painted tiles originally had four platforms. It was also modern insofar as there was gas lighting and heating in winter with huge tile stoves.
The station restaurant, which served exquisite meals, became a meeting point for artists and celebrities of all kinds.
The first Orient Express left Paris on October 4 1883 and arrived at its final destination, Istanbul, 80 hours later. The service ended in 2009. Other routes of the Orient Express still run trains to Sofia and other destinations. A new suburban line, the Marmaray Commuter Line now runs underneath.
But the magic of the station's heyday persists when you visit Sirkeci Gare today. The restaurant and bar are as good as ever. Within the station, you find a small museum with artifacts pertaining to the Orient Express and, surprisingly, a community room where several times a week, Sufi (whirling dervishes) perform. Museum entry is free, to watch the dervishes you pay a small fee.
Want more? Read Erika Ebsworth-Goold's reflections on riding the Orient Express: what it's really like on the iconic train.
4. Antwerp Centraal, Belgium
There is only one word for Antwerp Centraal: monumental. Located at the river Scheldt and linked to the North Sea by the Westerschelde estuary, Antwerp is an important center of commerce and therefore needed a main railway station to match. First opened in 1905, it was completely renovated and modernized in 2007, now featuring a monumental steel platform roof and a huge stone building housing ticket halls and other facilities. Despite its huge proportions, the station has a feeling of lightness and elegance to it which also earned it the title of the fourth most beautiful train station in the world.
5. Sao Bento Train Station, Porto, Portugal
If you want to learn about an entire country's history whilst waiting for your train, Sao Bento in Porto is the place to do it. Located in the city center of Porto, the train station was opened to the public in 1916 and erected on the site of a former 16th-century Benedictine monastery which was destroyed by fire. The station is impressive from the outside, but the true attraction lies on the inside: Over 20,000 tiles decorate the walls, depicting scenes from Portugal's history in blue and white. It took artist Jorge Colaco 15 years, from 1905 to 1916, to place all the tiles. The tiles, called azulejos, are of Arab origin and found all over Portugal. Ceramists of the 19th century started to use motifs like flowers and fruit and included them in art deco buildings.
This is one train station where you won't mind if your train is delayed because there is so much to see.
6. Atocha, Madrid, Spain
Atocha is Madrid's largest train station. The first building was opened in1851 but years later was destroyed by fire. A new station was erected in 1892 in the spectacular form of wrought iron renewal. The platforms were partially covered with a roof in the shape of an inverted hull. The next incarnation of Atocha debuted in 1992 when the main concourse was taken out of service and converted into a massive tropical garden with birds, flowers, tropical trees, and waterfalls.
Tragedy struck in 2004 when a terrorist bomb exploded, severely damaging the station, killing 191 people, and wounding many more.
Since then Atocha has been refurbished and a memorial of the attack has been erected with a virtual shrine where people can leave messages or handprints with specially designed consoles.
Should you happen to wander through or change trains in Atocha, spare a thought to the victims of violence.
7. Helsinki Central, Finland
Opened in 1919, Helsinki Central is widely considered one of the best art deco buildings in the Finnish capital. Its most distinguishing features are its Finnish granite facade, a clock tower at the outside, and two pairs of statues, called The Lantern Carriers, at the entrance. It's a very busy station with 19 tracks, part passenger and part freight. Every president of Finland and his/her guests are entitled to a special treat: a 504-square-foot lounge exclusively for their use.
8. Amsterdam Central, Netherlands
Amsterdam Central is the heart of the city, not only because of its location but also because it is the transport hub for many train lines, bus lines, taxis, and links to the airport and everywhere else you can think of, including boat trips.
Opened to the public in 18889, the station is built in the Neo-Renaissance style, although increasing traffic made modern additions and amenities necessary. An insider tip: If you need to change trains in Amsterdam Central, plan for sufficient time. The platforms are far apart and you need to negotiate escalators with your luggage. Departure boards are there but sometimes not easy to see.
9. Rossio Railway Station, Lisbon
Considered the most authentic Portuguese architectural style, the Rossio Railway Station's Manueline architecture is what makes it so special and beautiful. The Manueline style dates back to the early 16th century, which coincided with the Age of Discovery, meaning many features of the voyages and sights of the newly discovered lands were incorporated into Manueline buildings. Rossio, although not Lisbon's main train station, is worth visiting because of its Neo Manueline style, a clock in an elegant turret, and two horseshoe-shaped arches that mark the entrance, plus plenty of elaborate wrought iron works over the platforms. A little gem for fans of unusual architecture.
Love train travel? Consider