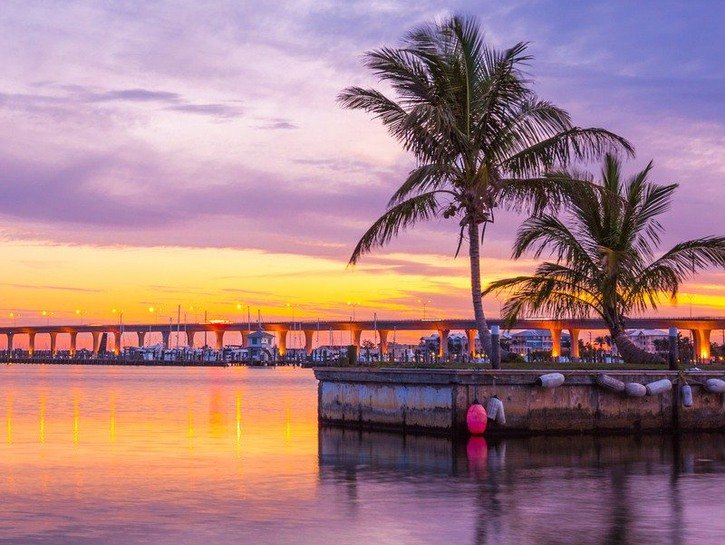 February might be the shortest month of the year, but it sure delivered more than its share of challenges as winter creeps ever so slowly to an end. As always, our writers provided a much-needed escape as they shared from their deep stores of travel experiences, inspiring wanderlust in each of our readers. We have rounded up our top 15 most popular articles from the month and have shared them with you below. From charming small towns to castles, hot springs, and disappearing lakes, enjoy these great articles as we eagerly look ahead to the blooms of spring that are — hopefully — just around the corner!
15. This Was Wealthy America's Most Coveted Vacation Destination Circa 1900
For over three millennia, this island has attracted vacationers, and around the turn of the 20th century, it attracted the likes of Pulitzer, Vanderbilt, and Rockefeller. Click to discover where you can find this coveted vacation destination and how you can relax in the shade of the same ancient oaks as some of the most affluent individuals in American history.
14. The Most Popular Airbnb In Idaho Is … A Potato?
Have you had your "eye" out for unique, spacious lodging in Idaho? Are you wanting to try something in "starch" contrast to a traditional hotel? I know I "yam"! You have to view the photos to see just how a-"peeling" this place really is! Read more on how you can stay in the most popular Airbnb in Idaho. Did I mention it's a potato?
13. Beautiful U.S. Train Journeys That Won't Cost A Fortune
With thousands of miles to traverse from one coast to the other, the United States' beautiful landscape can easily be missed if time isn't set aside to simply take it all in. A train ride allows you to take your eyes off the road and put them on your surroundings. Want to explore the U.S. by train and not break the bank? Consider one of these beautiful train journeys that won't cost you a fortune.
12. Charming Small Towns Along The Oregon Coast
A drive down Oregon's coast will take you near rugged rock formations, onto driveable beaches, and through some truly charming small beach towns waiting to welcome you. Here are our writer's five favorite charming towns along the Oregon coast.
11. Nebraska's Most Endearing Small Towns To Explore
The "Great Plains" are called "great" for a reason, and Nebraska is at the center of it all. Once you have visited Omaha and Lincoln, venture further west and explore what the rest of the great state has to offer. These are our writer's picks for eight of Nebraska's most endearing small towns you will want to make time for soon.
10. This State's Lost Lake Is Disappearing Down A Curious Hole
Each spring, this lake all but disappears down a 7-foot hole, and where the water goes before the lake eventually refills is still mostly a mystery. If you are interested in discovering where you can experience this intriguing phenomenon, here is everything you need to find the "lost lake" and ensure you don't wind up at the wrong site with a similar name — over four hours away!
9. Beautiful Natural Hot Springs To Enjoy Around The World
The same powerful forces that create destructive lava flows also produce the natural soothing water found in healing hot springs scattered around the globe. From Iceland to New Zealand and Alaska to Chile, read how you can experience nine of the most beautiful natural hot springs around the world!
8. Incredibly Charming Small Towns To Visit In Florida
Florida is a well-known warm-weather escape for those in colder climates, and being so well-known often means crowded beaches, which can overwhelm those looking for a break from the hustle and bustle of their normal lives. If you are looking to truly get away from it all, consider one of these five incredibly charming Florida small towns for your next trip.
7. Adorable Small Towns To Visit Near Seattle
If the Pacific Northwest is more what you are looking for, journey to the Seattle region for some great coffee and a unique music scene. Once you have had your fill of the bustling city, consider a day trip to one of these five adorable towns on the outskirts of Seattle and enjoy the small-town experience.
6. See The Northern Lights Live No Matter Where You Live!
To catch even a glimpse of the elusive northern lights is on many a bucket list, and yet many live out their entire lives without enjoying the spectacular light show in the sky. While nothing can truly compare to experiencing them in person, click to discover how you can catch a live glimpse for yourself from the comfort — and warmth — of your own home!
5. Incredibly Charming Quaint Towns To Visit In California
California is nothing short of stunning: From mighty redwoods and beautiful beaches to picturesque deserts and sprawling vineyards, the state offers a wide range of experiences to enjoy for all ages. If you are ready to experience a quieter side of the Golden State, explore one of these quaint towns in northern California, or venture to one of these charming towns in southern California during your next visit.
4. Most Romantic Hotels In North America
As St. Valentine's Day falls in February, it should come as no surprise that our readers found this article on the seven most romantic hotels across North America to be so captivating. But romance doesn't have to die just because the month has come to an end; keep the flame alive by looking into these grand hotels for yourself!
Now on to the top three!
3. Things I Wish I'd Known Before My African Safari
Is an African safari on your bucket list? Do you feel your desire is an unobtainable pipe dream? While these wildlife experiences can be expensive, there are ways to keep the dream alive and affordable. Our writer Vanessa Chiasson shares the 11 things she wishes she would have known before her African safari in Botswana.
2. Beautiful Midwest Castles You Can Actually Visit
As a St. Louisan, when I — like many others — hear the word "castle," I envision the towering turrets and murky moats of medieval Europe. A trip to visit the castles of Europe seems daunting and far off, but did you know that you can visit a number of eye-catching castles right here in the U.S.? Make time to visit these nine beautiful castles throughout the Midwest.
And our most-read article in the last month was …
1. Reasons This Country Is The Best Place To Retire Internationally
Are you quickly approaching retirement and looking for a change of scenery? This tropical country was named the best retirement destination by International Living and we couldn't agree more. Click to discover for yourself which country ranks as the best place to retire internationally and what makes it so enticing to so many.
We hope you enjoyed reading through our most-read articles. If you did, consider subscribing to our weekly email to receive travel news and inspiration in your inbox every Sunday morning. As winter fades into spring, we hope you will find ways to enjoy the great outdoors this next month!