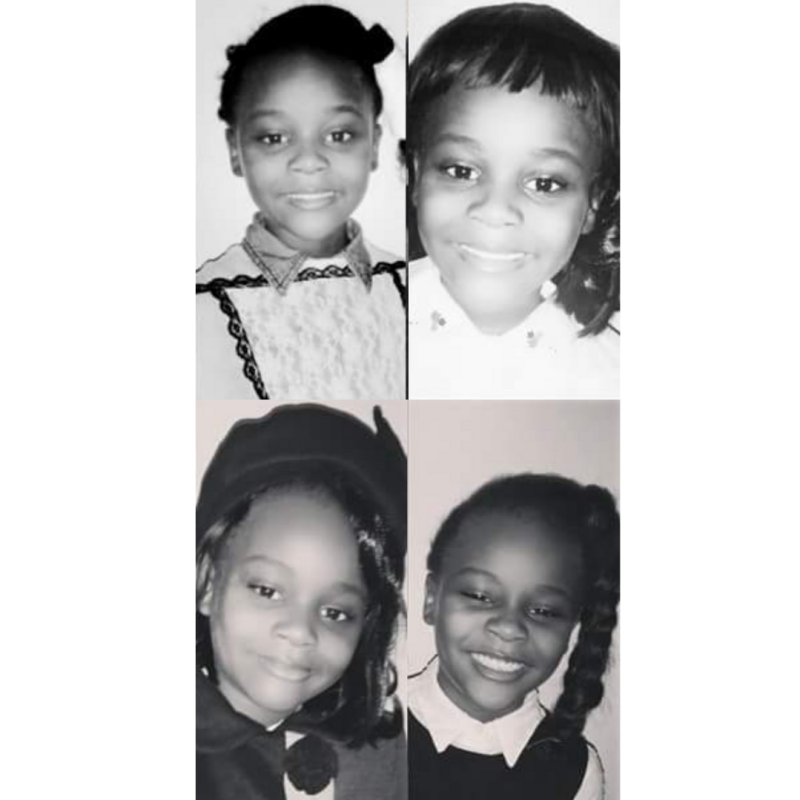 Six years ago, in January 2015, I realized that I had not recognized Black History Month in any way for several years. My daughter, Ava Noelle Rogers, had just turned five, and she had no idea that the month of February was dedicated to celebrating Black lives, accomplishments, and excellence. I drew inspiration from an elementary school project I had done 19 years earlier and I decided to teach Ava about a different woman every day of February 2015. Like a lot of children, Ava loved playing dress-up. So, to make history fun and help her become more engaged, I decided to photograph Ava dressed as notable Black women. I shared our photos on my Facebook and Instagram accounts.
When I started our photo tribute, I thought that I was only teaching my daughter. However, it soon became apparent that I was reaching thousands. We featured new, daily Black History Month tributes every year through 2019. We skipped 2020 after our 2019 finale picture where Ava portrayed me. We and our social media audience missed our tribute so much that we brought it back for 2021. Ava is now 11 and she still enjoys learning about and portraying all the amazing women. It seems likely that we will continue for years to come, eventually including my younger daughters, who are one and four.
It's important for Ava and every other brown girl to know about the outstanding accomplishments of Black women, because representation matters. I wanted Ava — and now her two little sisters — to see themselves in people who look like them. Seeing Black women become the first or the best or the most successful reiterates the idea that they can achieve anything. And while Black History Month remembers Black lives and accomplishments, it should be celebrated by all. Black history is American (and world) history.
Here, we share our photos and the stories of the girls and women who inspired them.
Harriet Tubman
Ava: Age 5, 2015
Harriet Tubman was an African American woman born into slavery. She was a Union spy during the Civil War, and she was a renowned abolitionist, activist, and women's suffragist. She escaped captivity and then made more than a dozen missions to rescue other enslaved people. Tubman personally helped at least 70 people escape to freedom. She was also instrumental in coordinating the Underground Railroad, which was a network of secret routes and safe houses aided by abolitionists. Thousands of other enslaved people were able to escape to free states and Canada through the Underground Railroad.
For about seven years in the 1850s, Harriet Tubman lived near the British Methodist Episcopal Church, Salem Chapel in St. Catherines, Ontario, Canada. The church was founded in 1820 by African American escapees and was originally called Bethel Chapel. It was a safe place for abolitionists and civil rights activists, and Tubman used the church as an integral Underground Railroad location. In 1999, Salem Chapel was designated a National Historic Site of Canada. In 2005, Tubman — who is still the church's most celebrated member — was designated as a National Historic Person.
The British Methodist Episcopal Church, Salem Chapel has guided tours of the church and museum. Among other things, the museum features a Harriet Tubman bust and antislavery artifacts, like original documents and a rare book collection. Because of COVID-19, tours are currently on hiatus. When they reopen, visitation will be by appointment only. The museum is not wheelchair or scooter accessible. Learn more at stcatharines.ca.
Four Little Girls
Ava: Age 5, 2015
The 16th Street Baptist Church bombing was an act of supremacist terrorism. The bombing occurred in Birmingham, Alabama, on Sunday, September 15, 1963. Almost 20 sticks of dynamite were attached to a timing device and detonated under the steps of the church. The explosion injured more than 20 people and four little girls: Addie Mae Collins, 14; Carol Denise McNair, 11; Carole Robertson, 14; and Cynthia Wesley, 14 lost their lives. The 16th Street Baptist Church bombing was a pivotal tragedy in the Civil Rights Movement and it ultimately led to the passage of the Civil Rights Act of 1964. At the time, Dr. Martin Luther King, Jr. described the disaster as "one of the most vicious and tragic crimes ever perpetrated against humanity." In 2015, Ava paid tribute to the Four Little Girls with the hopes that she could become who they never had the chance to be.
In 2013, President Barack Obama honored Collins, McNair, Robertson, and Wesley with a posthumous Congressional Gold Medal. On the girls' behalf, the Birmingham Civil Rights Institute received the medal for display or to temporarily loan to other museums.
To see the Congressional Gold Medal and other Civil Rights exhibits, visit the Birmingham Civil Rights Institute in Birmingham. BCRI is located just minutes away from the historic 16th Street Baptist Church. The museum is fully accessible and is currently open to the public, operating with new COVID-19 policies. Advanced online timed ticketing is required. Learn more at bcri.org.
Misty Copeland
Ava: Age 5, 2015
Misty Copeland is an African American ballerina. She is a ballet dancer for American Ballet Theatre (ABT), which is one of the top three classical ballet companies in the country. Copeland was 13 when she started dancing, but it was clear that she was a talented prodigy. She learned quickly and danced beautifully. After studying ballet for only five years, Copeland joined the ABT Studio Company. Soon after, in 2001, Copeland became a member of the corps de ballet at ABT. In 2007, she earned a spot as a soloist. On June 30, 2015, Copeland made history when she became the first Black woman to be promoted to principal dancer in ABT's 75-year existence.
The American Ballet Theatre features performances at the Metropolitan Opera House in New York City. Misty Copeland has danced in countless shows with ABT, with performances in favorites like Romeo and Juliet and The Sleeping Beauty.
ABT recently announced the cancellation of ABT spring and summer 2021 performances at the Met, due to COVID-19 restrictions on non-essential gatherings. However, they have scheduled digital productions and outdoor, socially distanced performances nationwide for spring 2021. For more information, visit abt.org and metopera.org.
Jeri Lynne Johnson
Ava: Age 6, 2016
Jeri Lynne Johnson is an African American conductor and composer. In 2005, Johnson became the first Black woman to win an international award for conducting when she earned the Concordia Conducting Fellowship. Jeri has conducted symphonies in places like Chicago, Colorado, Germany, and the United Kingdom. In 2008, Johnson founded the Black Pearl Chamber Orchestra in Philadelphia. She is Black Pearl's artistic director. Johnson is also the cover conductor for the Delaware Symphony Orchestra in Wilmington, Delaware.
On March 6, 2021, Black Pearl will celebrate the contributions Black, female composers and performers have made to classical music. The event will feature string quartet and woodwind quintet performances, playing music by Black, female composers. The event will also celebrate Florence Price, the first Black woman to be recognized as a symphonic composer and the first to have a composition played by a major orchestra.
The celebration will be held at The Barnes Foundation, which is open for visitation under specific COVID-19 guidelines. Black Pearl has performances scheduled throughout 2021, with accessibility and COVID-19 protocol determined by venue. To learn more about Black Pearl or to buy tickets, visit blackpearlco.org.
Serena Williams
Ava: Age 6, 2016
Serena Williams is an African American professional tennis player. She started playing professionally in 1995 and she has been named among the best athletes of all time. Williams is an Olympic gold medalist, and she has countless accolades. She has won 23 Grand Slam singles titles, the most by any player in the Open Era, and the second-most of all time. The Women's Tennis Association (WTA) ranked her world No. 1 in singles on eight separate occasions between 2002 and 2017. Williams currently ranks world No. 1 with the WTA.
Serena Williams is campaigning for the 24th Grand Slam title of her career. She missed her recent chance when she lost the 2021 Australia Open to Naomi Osaka. However, Williams will be back on the court at the Miami Open presented by Itau. The tournament will take place March 22 to April 4, 2021, at Hard Rock Stadium in Miami Gardens, Florida.
To allow for social distancing and follow COVID-19 restrictions, operations for the 2021 Miami Open have been changed. Ticket packages purchased for the 2021 tournament will roll over to the 2022 tournament. Tickets for the 2022 Open are on sale now. To buy tickets, visit miamiopen.com.
Ann Cole Lowe
Ava: Age 7, 2017
Ann Cole Lowe was an African American fashion designer. Her unique, couture gowns were a favorite among high society women, and she was renowned as the first black person to become a noted fashion designer. In 1946, Cole designed the dress that Olivia de Havilland wore to accept the Academy Award for Best Actress, but it was labeled Sonia Rosenberg. To get credit for her work, Ann and her son opened Ann Lowe's Gowns in New York City in 1950. In 1953, she designed the wedding dress and bridesmaid gowns for Jacqueline Bouvier's wedding to then-Senator John F. Kennedy.
The Costume Institute at the Metropolitan Museum of Art in New York features a five-piece collection of Lowe's designs. The National Museum of African American History and Culture in Washington, D.C., has three other Cole gowns on display.
Visitation to the Metropolitan Museum of Art is by reservation only. Ticket availability is limited due to capacity constraints. The museum is wheelchair accessible and admission is free for a caregiver accompanying a visitor with a disability. To make a reservation, visit metmuseum.org.
Mariya Russell
Ava: Age 11, 2021
Mariya Russell is an African American professional chef. In May 2019, Chicago restaurant Kumiko and Kikko opened with Russell as Chef de Cuisine. Her command of Japanese ingredients and techniques were highlighted in her cuisine. In Fall 2019, Kikko was awarded a Michelin star and Russell became the first Black woman in the 93-year history of the Michelin Guide to command a Michelin-starred kitchen.
Kikko is currently on hiatus. Anyone looking to experience a similar cuisine can visit its sister restaurant, Kumiko. Kumiko can be found on the corner of West Lake Street and Desplaines, with attractions like Chicago History Museum and Shedd Aquarium nearby. Kumiko is operating under COVID-19 restrictions, with the dining room closed. They offer online ordering for delivery and carryout. Check out the menu at barkumiko.com.
Jessica Nabongo
Ava: Age 11, 2021
Jessica Nabongo is the founder and CEO of Jet Black. She is the first documented Black woman to visit every country in the world. By 2016, Jessica had already visited 60 countries. So, in 2017, she decided to visit 195 total UN member countries and observing states, including the Vatican and Palestine, by her 35th birthday in October 2019. For 2.5 years, she documented her journey via her Instagram account and blog @TheCatchMeIfYouCan. Jessica arrived at the Seychelles — the final destination on her list — on October 6, 2019.
The Republic of Seychelles, or "the Seychelles," is an African archipelago country made up of a group of 115 islands in the Indian Ocean. Mahe, the country's main island, is its economic and cultural hub and has an international airport. The Seychelles is known for its beautiful beaches and warm, tropical climate. To learn more about the Seychelles and plan a trip, consider Everything You Need To Know Before Visiting The Amazing Seychelles.
Editor's Note: For additional inspiration based on Chauncia and Ava's photo collection, consider: