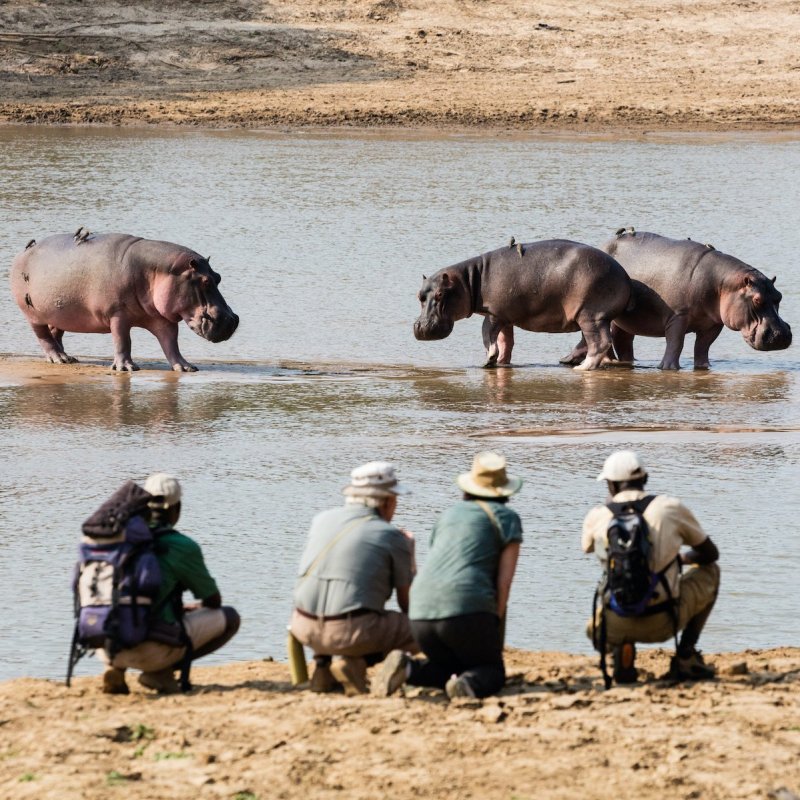 While the traditional way to undertake any African safari may be the game drive, there is a myriad of other ways to experience this magical continent, ranging from the thrill of a walking safari to the charm of a boat or even floating high above in a hot air balloon. I'd be hard-pressed to choose my favorite, as I love anything that gets me out and experiencing the African bush.
On The Land
1. Game Drives
Game drives, in either open or closed (with pop-top) 4×4 vehicles, are pretty much standard fare on all safaris and are how most people experience their safari. Your guide should have extensive experience and intimate knowledge of the local area and be an expert on game movement and other ecological aspects. And whilst it doesn't sound very restful to be getting up at the crack of dawn on holidays, you should expect your morning drive to depart early because you are more likely to encounter wildlife out hunting and grazing in the cooler conditions. Most lodges will offer late afternoon game drives, which in parks where regulations permit, can turn into night drives with your guide using a spotlight to find nocturnal creatures. Game drives allow you to cover a wide range and get the closest to big game.
2. Walking Safari
A walking safari is a more adventurous activity — and a totally different experience than a game drive. You will generally set off at a slow pace with your guide, with the primary objective of exploring the signs of different wildlife species, and this can be anything from footprints and dung to sounds and smells. A walking safari is where you get to see those small details often overlooked on game drives. You won't get as close up to wildlife when you are on foot, but that is not a bad thing. Remember, they are wild animals, after all! But you will get to really immerse yourself in the sights and sounds of the bush. But of course, those occasions when you do come across big game on foot can also be both adrenaline-charged and highly rewarding.
Most walking on safari is done in the mornings with a trained and armed guide, and depending on the park and lodge as well as your desire, a walking safari will generally last for 2 or 3 hours. You can sign up for a more specifically focused walking safari, though, and then you should expect to spend 6 or 7 hours on your feet during the course of the day. The South Luangwa National Park in Zambia is said to be the birthplace of walking safaris, and you'll find some of the continent's best on-foot experiences here. Remote Africa Safaris offers fantastic walking safaris in the Luangwa Valley. I have been with them on many a walking safari over many years, and they never fail to excite. From following in the footsteps of black rhino to having a herd of buffalo, several hundred strong, saunter past me as I stood, as motionless as possible, in the bush.
Do not come expecting groomed pathways and manicured trails. This is nature at its wildest and best.
3. Horse Riding Safari
If you are an avid horseback rider or even a competent weekender, to be able to get up close to some of Africa's wildlife on horseback is quite possibly one of the ultimate safari thrills. Exploring the bush on horseback is a real privilege and a pretty unique experience.
While some lodges offer short horse rides, a few operators offer multi-day riding safaris suited to more experienced riders. These longer safaris typically involve spending up to 7 hours a day in the saddle, with nights out in the bush in more adventurous fly-camps or mobile tented camps, which adds to the whole safari experience. If this is your fancy, you should look for an established horseback safari operator with well-schooled horses and experienced guides. The concept of a horseback safari originated in Kenya in the 1970s, and Kenya, Botswana, and South Africa are all well known for the horseriding safaris they offer.
Another option to consider is Simalaha Horse Safaris in Zambia, which has a permanent elegant tented camp overlooking the Zambezi floodplains, only 80 miles upstream of the famous Victoria Falls. Their horse riding safaris are designed for experienced riders, spending 4 to 6 hours in the saddle, covering 15 to 20 miles each day, with opportunities to meet local herdsmen and villagers who, for centuries, have lived and herded their cattle alongside wildlife on these plains.
Many of these dedicated riding safaris operate through big game country, where dangerous game can be encountered. I recommend that when booking, you communicate frankly about the standard of your riding to ensure you do not end up on a trip that is not suitable. In most cases, children will need to be 12 years or older.
4. Photographic Safari
We all love taking photos on holidays, be it selfies on our phones or using the latest high-tech DSLR. So if your interest is wildlife photography and you are keen to improve, or just do more of it, going on a photographic safari could be the answer. Generally ranging anywhere from 4 days to 2 weeks, on a photographic safari you will be accompanied by a professional photographer and will be offered practical photographic advice and an opportunity to review and improve your skills, whilst enjoying all the attractions of being on safari.
Captivated by Africa's landscapes, people, and wildlife, travelers have always been inspired to make a visual record of this continent. Early adventurers painted what they saw; modern visitors can capture special encounters with a camera. Good photography demands time and patience as well as a good knowledge of local conditions and the subject, especially when your lens is pointed at a wild creature! Often, when on a regular safari, keen photographers feel they lack the freedom to stake out a waterhole for hours or wait patiently for a lion pride to catch up with a herd of buffalo. They need an experienced guide who can keep them informed of the likely movements and behavior of the animals they are pursuing and get them into the best front-row position for that perfect shot.
Bobby Jo Vial of Duma Safaris runs a fantastic series of African wildlife photography safaris annually. They showcase everything from the incredible primates of Uganda to the fantastic creatures of Madagascar and Serengeti National Park in Tanzania.
On The Water
Life revolves around water, and it's no different on safari. Wildlife clusters around water holes and rivers, tentatively drinking as predators eye them up for a meal. Hippos and crocodiles spend their days below the surface with only eyes and snout poking out above the murky water.
5. Boat Safaris
A boat safari is a perfect way to explore this environment, cruising along and admiring the wildlife, both those in the water and those visiting on the bank. Every animal must come to drink, and a boat safari is bound to be sprinkled with an interesting range of creatures.
There are plenty of different types of scenic boat trips to entertain you, from a houseboat, like the luxurious Zambezi Queen, to a sunset cruise on the Zambezi River upstream of the famous Victoria Falls. The more adventurous amongst you should definitely consider taking your water-born safari to the next level, with perhaps a multi-day canoeing trip on the Orange River in Namibia. I did this with my two boys when they were both still at school. Alternatively, perhaps you should kayak on Uganda's White Nile or raft on the Zambezi River, which has some of the best rafting in the world. Last but not least is a journey on a dugout canoe known as a mokoro. If you're choosing a mokoro, then you must be exploring the Okavango Delta, as that is where mokoros are used to explore the shallow floodplains and channels of this wonderful wetland paradise.
For the fishermen amongst you, one of Africa's most challenging fish, the Tigerfish, is found principally in southern Africa's great rivers and lakes, including the Zambezi River and Lake Kariba, where many places offer tigerfishing. So if fishing is your thing, make sure to add the Tigerfish to your safari wish list.
Water-based safaris offer a whole new perspective to your travels and will often allow you to get a lot closer to wildlife than in a vehicle or on foot. Still, you need to be comfortable on the water, and some activities will require more stamina than others.
In The Air
Africa is a scenically stunning continent. While safaris and game viewing usually take place at ground level, there are a number of ways you can enjoy the fantastic scenery from the air, as untamed stretches of wilderness unfurl beneath your feet.
6. Helicopter Safaris, Hot Air Balloons, The Flight Of Angels, And Beyond
Soar in a hot air balloon, cruise by microlight, ascend in a helicopter, or admire it all from a light aircraft transfer or charter flight between your safari destinations, like in the Okavango Delta. These flights offer a wonderful view of these regions from the air, and you should always have your camera at the ready!
Scenic helicopter and microlight flights, known as the Flight of Angels, are available over Victoria Falls. Namib Sky offers beautiful hot air balloon flights over the stunning sand dunes of the Namibian desert, or perhaps a flight with Serengeti balloon safaris, over the open grass plains of this incredible park, is more what you have in mind. For the romantic at heart, Segera Retreat Lodge in Kenya offers the Out of Africa experience, where you can take a flight in the actual yellow biplane from the Oscar-winning movie.
However you fancy experiencing your time on safari — on the ground or in the air, in a vehicle or on foot, high adrenaline or calm composure — an African safari can be tailor-made to give you just the experience you desire and offer memories to last a lifetime.
Related Articles: