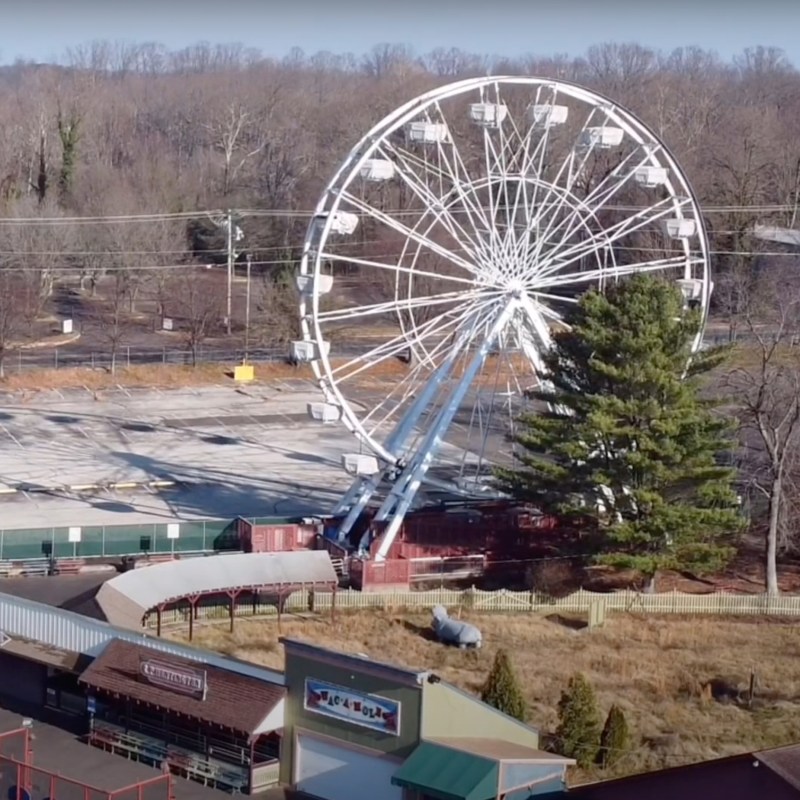 Do you remember the movie We Bought A Zoo? The movie, starring Matt Damon, told the true story of a family who bought a real zoo that was forced to close, and turned into a soaring success. Well, that real-life story could be unfolding again, but this time it's not a zoo that needs saving — it's an amusement park.
Clementon Park, an amusement and water park, is located in Clementon, New Jersey, just outside of Philadelphia, and has been a staple in the area since 1907. The park closed in September of 2019 and is now looking for a new owner.
"We are actively seeking a buyer for this iconic park and expect significant interest in the auction," said Bill Firestone, president of a CRG, the firm in control of the property and the sale. "The property includes a 25-acre lake, dam, amusement rides, a water park, and a full liquor license."
An auction to find a buyer is set for March 23, 2021.
The park, which featured such rides as The Thunder Drop, The Ring of Fire, The Sea Dragon arc swing ride, the Tilt-a-Whirl, and the Flying Elephants ride, will hopefully find an owner that wants to keep the park together, but the auction listing notes that if not, it will be sold off in pieces.
Among the water park rides listed in the auction are the Viper, a bobsled-style water slide, and Sky River Rapids, a raft ride.
The new owners will also find a spring-fed lake with a new dam and a six-bedroom historic house.
"All park furnishings and support equipment including over 300 assorted configuration picnic tables with attached benches in steel frame and wood, food prep and concession equipment, maintenance equipment, and much more!" the listing reads.
In 1907, the original park was opened by Theodore Gibbs and his two sons. It was part of a movement of "trolly parks" built around the country to anchor trolly lines and encourage the public to ride and enjoy the park. The Gibbs family owned the park for more than a century before it was sold in 2011.
An inspection of the property is scheduled for March 19. Bids will be taken on March 23, 2021. All prospective bidders can register online at CRG's website.
Related Articles: