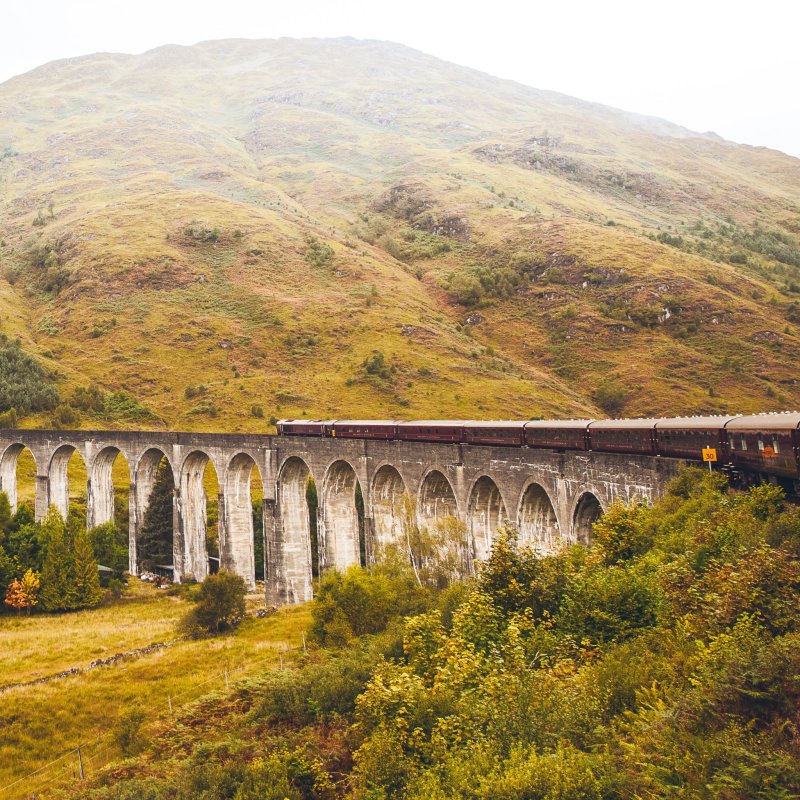 Scotland is overflowing with beautiful landscapes and breathtaking views that draw in millions of tourists every year. Maybe the only thing better than witnessing these sights in person is getting to do so from the comfort of a luxury train.
The Belmond Royal Scotsman, a beautiful and comfortable luxury train, is an especially fun way to tour the rolling hills and dipping valleys of the Scottish countryside. Guests book their own private cabin, take their meals in a beautiful dining car, unwind in the onboard spa, and experience the sights of Scotland through guided tours.
The path and destination of the train varies depending on the tour, but all rides take guests to some of the most beautiful sights that Scotland has to offer. The train stops at popular landmarks, such as Glamis Castle, Eileen Donan Castle, and Alnwick Castle, and provides guided tours of the magnificent structures.
The journeys also take visitors to outdoor dining locations, set up evenings with astronomers to give tours of the night sky, provide private tours of whiskey distilleries, and allow for day-long activities such as golf, whitewater rafting, clay-pigeon shooting, and fishing.
The Royal Scotsman first launched in 1985 and has been hosting guests ever since. Today's visitors get to experience the updated Pullman cars, beautiful wooden-paneled suites, and incredible spa, in addition to the wonderful views.
While the train is moving between its destinations, guests can congregate in the observation car and enjoy appetizers and drinks, with access to an open-air veranda. The beautiful scenery of the country passes by from the comfort of a sofa or armchair.
For their private rooms, guests choose from a twin cabin, double cabin, single cabin, or interconnecting cabin, accommodating everyone from a solo traveler to an entire family. These roomy cabins fit beds, nightstands, dressers, and a small bathroom. All rooms feature their own large window, allowing guests to drift off to sleep while looking at the rolling Scottish landscape.
There are also two spa-treatment rooms available, providing guests with high-quality facials and massages. This provides guests the opportunity to unwind from their days of exploring without ever having to leave their train.
The dining car offers sit-down meals with an incredible menu offering everything from salads to seafoods, as well as a generous collection of wine, liqueurs, and malt whiskies. For those particularly fond of the drink, one of the available train tours is entirely whiskey-themed, partnered with The Scotch Malt Whisky Society.
When choosing which tour to book, there are many different options. Some are themed, such as the whiskey tour, and may stand out for that particular reason. The tours vary in length, usually lasting either a single weekend or a full week. There are several rides to choose from every month, with a variety of experiences available to guests. Prices depend on the guest's cabin choice and the tour's destination and length, but all guests can expect to spend several thousand per person, no matter their selection.
The train holds roughly 40 guests, meaning the tours are often fully booked months in advance. The train comes out of a hiatus starting in April and has limited reservations available for the several subsequent months. For those particularly enchanted with the concept, the train is also available for private bookings from large groups, such as for wedding parties or corporate retreats.
Traveling through Scotland's beautiful landscapes is already a tourist's dream, and the Belmond Royal Scotsman is a wonderful way to see landmarks and nature, all with the convenience and from the comfort of a luxury train.
Related Reading: