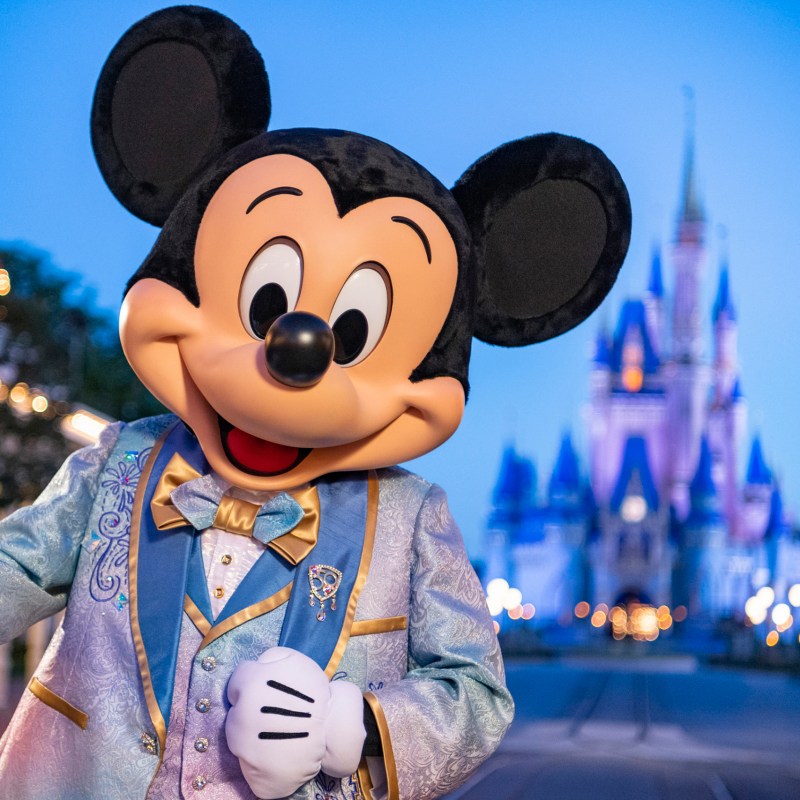 It's hard to believe that Walt Disney World is really turning 50! But its spins around the sun continue to add up, so why not celebrate Disney style?
To mark this golden anniversary, Walt Disney World Resort has announced it is throwing "The World's Most Magical Celebration" beginning October 1, 2021. It will run for 18 months, allowing anyone who wants to experience the magic in-person time to plan their adventure and be part of the fun. The celebration will involve all four Disney theme parks and tons of new experiences to enjoy.
"This milestone is such a big deal, we've even coined a new word — 'EARidescence' — to describe what you'll see when you visit," Disney said in a statement. "Our Disney teams are creating all sorts of new decorations that will shimmer and sparkle all day and into the night."
Cinderella Castle Makeover
The iconic symbol of all things Disney, Cinderella Castle, is getting a celebratory makeover. Located inside Magic Kingdom Park, the castle will have golden bunting added to its spires as well as a new 50th-anniversary crest as part of its look.
Sparkle Throughout The Parks
When the sun goes down, the lights will go up. The castle, along with the Tree of Life at Disney's Animal Kingdom, The Hollywood Tower Hotel at Disney's Hollywood Studios, and EPCOT, will transform into the "Beacons of Magic." Pixie dust will magically surround the castle and fireflies will buzz happily around the Tree of Life. And the Hollywood Tower Hotel will be getting new, bright touch-ups to illuminate the night, too.
Over at EPCOT, the new lighting plan will brighten the park like never before. "Lights will shine across the reflective panels of Spaceship Earth, connecting to one another and resembling stars in a nighttime sky," said the company online. "This permanent new lighting will continue beyond 'The World's Most Magical Celebration' as a defining feature of the park."
Mickey And Minnie's New Attire
And guess who else is getting a new wardrobe? Mickey Mouse and Minnie Mouse will be all decked out with new, custom-made duds fashioned from EARidescent fabric. The color palette here will feature pastel blues, purples, and a dash of aquamarine, accented nicely with gold highlights on their shoes and Minnie's bow. Want more Disney to tide you over till October? Consider