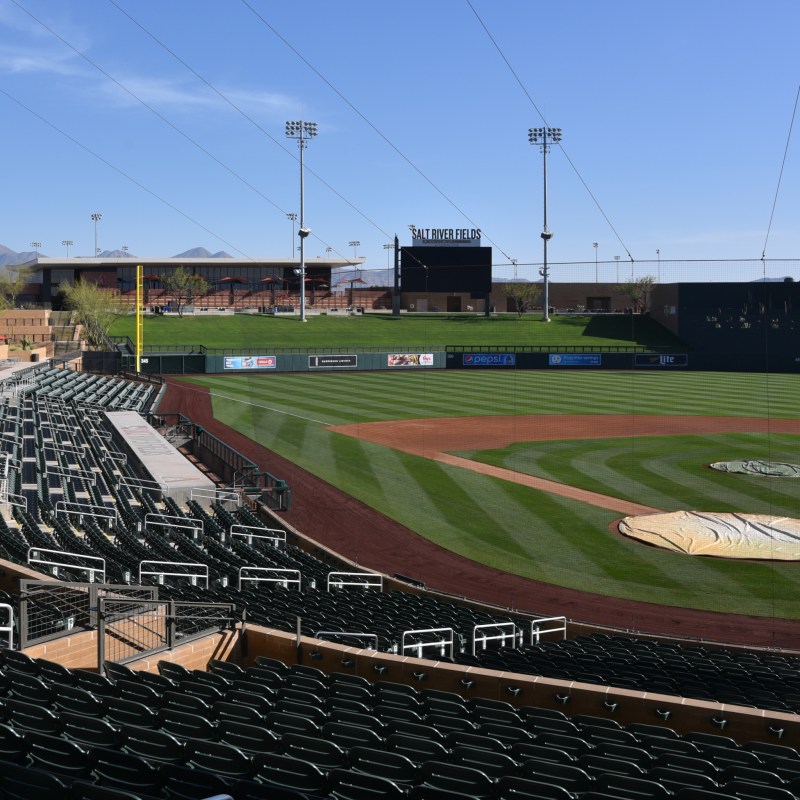 Major League Baseball went through its abbreviated 2020 regular season without any fans in the stands at games. With spring training fast approaching for the upcoming season, things will be slightly different.
Baseball fans who haven't been up close and personal with their sport will have an opportunity — albeit limited — to get a fix in the coming weeks.
While capacity will vary from team to team, fans will be allowed when spring training games begin February 28 in both Arizona and Florida. There are 15 teams in each state.
"If there's some way we as an industry can provide, you know, some kind of relaxation or respite from all this tension we're all facing with COVID, I think it would be fantastic," Matt Hoy, a senior vice president with the Minnesota Twins, told Fort Myers-based broadcaster WINK.
In Arizona, teams will operate in the neighborhood of 20 percent capacity at games. That means anywhere from about 4,000 fans at games hosted by the Chicago Cubs, who have the largest stadium, to about 1,800 fans for the Los Angeles Angels.
"We'll make it safe," Mesa, Arizona Mayor John Giles said. "Baseball is loved in our community, but it's not as loved as the public health, so we'll make sure that the appropriate safeguards are in place so that these games can be played without risking additional spread of the virus."
That involves spacing fans out throughout the stadium, sitting them in small groups away from those not in their party.
On Friday, Major League Baseball announced a revised spring training schedule and protocols because of the pandemic.
In Florida, where teams are spread all across the state, teams will be split into three pods of their nearest opponents and play only within their groups to greatly reduce the amount of travel. The teams will also dress at their own ballparks and make the bus trip in uniform. This has already been the case in Arizona, where all the teams play in the Phoenix area, and travel distances are minimal.
In addition, Major League Baseball has eliminated split-squad games, reduced the number of players invited to camp, and eliminated exhibition games against college teams.
Major League Baseball has also delayed the start of the minor league season, thus keeping those players away from spring training facilities until after the major leaguers have broken camp and headed out for the start of the regular season.
The changes are all part of the league's 2021 health and safety protocols, which also include:
For the entire season, including spring training, players and coaches may not attend indoor gatherings of 10 or more people, indoor restaurants, bars and lounges, fitness and wellness centers, entertainment venues, gaming venues, or any other activity prohibited by state or local governments.
For spring training, players, coaches, and any members of their household must quarantine at home except for club-directed baseball activities at club facilities, travel with the team, individual outdoor activity, outdoor dining, and essential activities like medical care.
Team members will also have to wear face masks in the dugouts and clubhouses at all times unless they are on the field during a game or for pre-game workouts.
The spring training schedule runs from February 28 to March 28. The regular season begins on April 1.
For the latest travel news, you can find the most up-to-date information here.